This content contains affiliate links. When you buy through these links, we may earn an affiliate commission.
It's 2023, and yet, somehow, we are still surprised when a graphic novel wins one of the big literary awards. For the people at the back: Graphic Novels are Novels. Graphic novels are simply a story or concept presented with images as part of the medium. The imagery can complement, highlight, or outright contrast. But they are still a form of storytelling. And yes, graphic novels (as well as graphic nonfiction) can win literary awards — and have done so. Sure, it attracts a little controversy, but we are recognising great storytelling without judging the medium.
Graphic novels are a format, not a genre. When it comes to literary awards, you can tell instantly if the judging panel is open to considering graphic novels by the categories for the awards. If there are various genres (e.g., drama or prose), and "graphic novel" is a category, then they are less likely to consider graphic novels with any serious respect — I'm looking at you, Canada Council. 
Graphic novels, comics, and manga are no longer relegated to the "easy reading" shelves of our lives. Over recent years, our creators have achieved more recognition and accolades for their unique and creative ways of sharing their stories. There are many literary awards set up specifically for comics (including graphic novels and manga). The Eisner Awards are the most famous, followed closely by the Kirby Awards and the Ignatz Awards. Each of these recognises how awesome graphic storytelling can be, and rightly so. However, nothing quite beats the feeling of seeing a graphic novel take out a Pulitzer or walk away with a Costa when facing a community that still doesn't think it's a "real book." Here are the most notable examples of comics that have been recognized — shortlisted, longlisted, or awarded — by major literary prizes.
The Big Name Literary Prizes
Pulitzer Prize
Maus, A Survivor's Tale: My Father Bleeds History by Art Spiegelman
The Pulitzer Prize dates back to 1917 and is presented by Columbia University for achievements in published work within the United States. It is one of the most highly-regarded literary prizes in the world, considered second only to the Nobel Prize for Literature. The awards are made in 23 categories covering journalism, arts, fiction, and letters — which is essentially literature or writing as an art form. In 1992, Maus was awarded the Special Citation; to be fair, I don't think they really knew what category to include a graphic novel, and this was the best they could come up with. Up until Maus, the only illustrated work considered for Pulitzer Prize awards was for Editorial Cartooning. Maus has since been held as one of the most influential comics of all time, changing the Western view of comics to include serious art forms.
The Hugo Award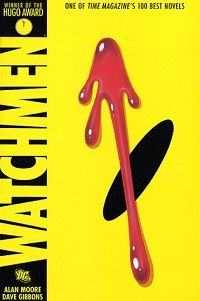 Watchmen written by Alan Moore, art by Dave Gibbons, colour by John Higgins
Every fan of science fiction or fantasy knows about the Hugo Awards. They are the ultimate annual literary award for the best science fiction or fantasy works, awarded by the World Science Fiction Society. They've been awarded every year since 1953, eagerly anticipated and enthusiastically supported. Watchmen was the first graphic novel to ever win a Hugo Award in the Other Forms category, as they were yet to understand how to categorise graphic novels. It still took some time, but in 2009 the Hugo Awards introduced a new category specifically for graphic stories; the first recipient was Girl Genius, Volume 8: Agatha Heterodyne and the Chapel of Bones by Kaja & Phil Foglio, colours by Cheyenne Wright. Watchmen still stands as the only graphic novel to have won a Hugo Award outside of the Graphic Novel category.
Literary Awards in the USA
National Book Award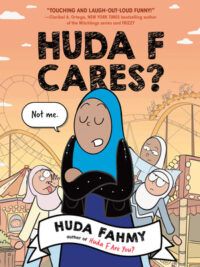 Huda F Cares? by Huda Fahmy
The National Book Awards have been flashed around since 1935, with a small disruption between 1942 and 1949. It took 70 years before a graphic novel was even considered for an award, with American Born Chinese for Young People's Literature. It was the first graphic novel ever shortlisted for a national literary award in the USA. It took another 10 years for a graphic novel to win, with March: Book Three as the first graphic novel to win in the same category. This year, another graphic novel has made it as a finalist: Huda F Cares? by Huda Fahmy. This hilarious sequel to Huda F Are You? is really insightful, sharing Fahmy's personal experience with both her family and her Islamic faith. Stay tuned for the 2023 Winner Announcement on 15 November!
Kirkus Prize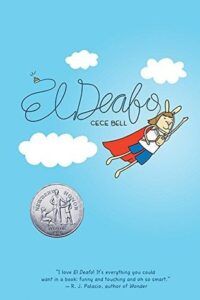 El Deafo by Cece Bell, colour by David Lasky
The Kirkus Prize is one of the newer literary prizes available to U.S. authors of fiction, nonfiction, and young readers' literature. The Kirkus Review started the Prize in 2014, and it is described as one of the most lucrative prizes in literature. Books reviewed by Kirkus Reviews and received a Kirkus Star are automatically selected for nomination. Unlike other literary awards, the Kirkus Prize has never shied away from graphic novels. In its inaugural year, El Deafo by Cece Bell was nominated for Young Reader's Literature. This beautiful, funny story is a game-changer for kids growing up hearing impaired and a favourite for one of our family friends. Five years later, New Kid was the first graphic novel to win a Kirkus Prize in 2019.
American Library Association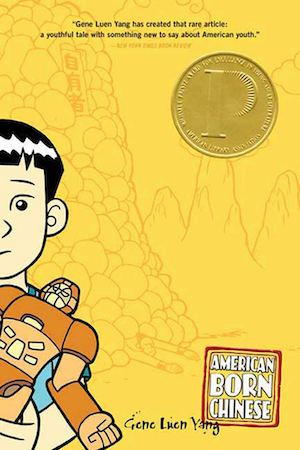 American Born Chinese by Gene Luen Yang, colour by Lark Pien
First up: congratulations to the American Library Association, the oldest and largest library association in the world (147 years old with around 50,000 members). While they do have a category for Best Graphic Novels, the total number of literary prizes and medals is staggering (check out the full list here). Since 2007, they have also been the most open to considering graphic novels for their general awards. #GraphicNovelsAreNovels. I am very proud to say there are too many to list in this already very long article. However, notable mentions to New Kid, winner of the 2020 Newbery Medal and the 2020 Coretta Scott King Book Award, and March: Book Three, winner of the 2017 Michael L. Printz Award, 2017 Robert F. Silbert Informational Book Medal, and 2017 YALSA Nonfiction Award.
Literary Awards for the UK
Booker Prize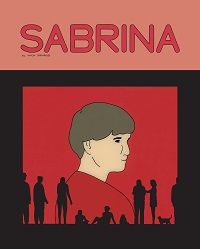 Sabrina by Nick Drnaso
The Booker Prize has had a few names over the years, but it has always been a high-profile literary award extending beyond the United Kingdom. It is now simply known as the Booker Prize, awarded to the best novel written in the English language and published within the UK and Ireland. It also has quite the reputation for being "elitist," not helped by Booker judges declaring graphic novels to be "mere comic books" and not worthy of consideration.
Fortunately, that changed with a new Chairperson in 2013, and five years later, Drnaso's Sabrina was the first graphic novel to be nominated for the Booker Prize. At the time, it created quite a scandal: how could a book with pictures possibly compare to the eloquent prose of contemporary yet structured literature? It was due to the storytelling, the implementation of (very) simple artwork, and the thoughtfulness of the subject. In fact, it was a turning point for graphic novels within the UK and the "elite" literary community.
Costa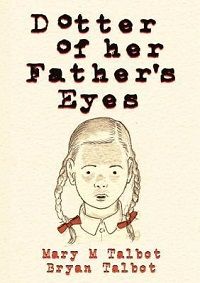 Dotter of Her Father's Eyes by Mary M. Talbot and Bryan Talbot
Some critics believe the Costa Awards provoked the Booker Prize to consider Sabrina and graphic novels in general. If that's true, then I'm very happy to read more Costa nominations. The Costa Book Awards once recognised English-language books by writers based in the UK and Ireland. They were previously known as the Whitbread Book Awards and then changed their name in 2005 with the introduction of a new sponsor. Unfortunately, the Costa Awards are no more, finishing in 2022. A shame since they were considered to be of equally high literary merit but more populist than the Booker Prize.
In 2012, the Costa Awards nominated two graphic novels: Dotter of Her Father's Eyes by Mary M. Talbot and Bryan Talbot, and Days of Bagnold Summer by Jeff Winterhard. Dotter of Her Father's Eyes went on to win the Costa Award for best biography. For a literary award known for having a better sense of what the public wants to read, the Costa Awards was one of the few that kept up to date with graphic novels.
International Literary Awards with Graphic Novel Winners
Singapore Book Awards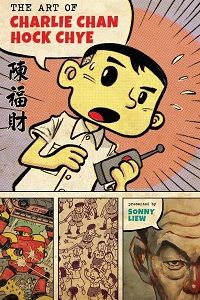 The Art of Charlie Chan Hock Chye by Sonny Liew
Singapore's first graphic novel to win a national literary prize caused quite the controversy. The Art of Charlie Chan Hock Chye is an honest retelling of Singapore's history. So honest, The Singapore National Arts Council withdrew a publishing grant for the book ahead of its launch, stating it "potentially undermines the authority or legitimacy of the Government." Ironically, this statement helped with marketing the book, gaining the attention of many literary awards, including the Eisners (specifically for graphic novels) and, most notably, the Singapore Book Awards. The story is told through the eyes of a comic book artist named Charlie Chan. Laced within the historic and political commentary is a celebration of comics as an art form and the place of creators in Singapore.
The Walkley Awards (Australia)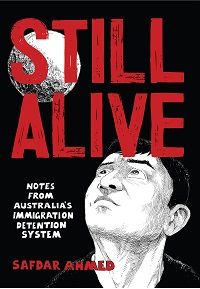 Still Alive: Notes from Australia's Immigration Detention System by Safdar Ahmed
The Walkley Awards are Australia's most esteemed awards in the field of journalism. They cover all media including print, television, documentary, photographic, radio, and online. 2015 was the first time a webcomic won a Walkley, with Villawood: Notes from an Immigration Detention Centre by Safdar Ahmed. Since cameras are not allowed into the Villawood Detention Centre, Ahmed drew his own pictures and incorporated the creative skills of some of the detainees to capture the story and environment within the Centre. Following this success, Ahmed expanded on the webcomic and published his book, Still Alive. The powerful graphic novel was greatly anticipated, and last year, it was awarded NSW Premier Book of the Year and the Multicultural NSW Award: proof that not only can graphic novels win literary awards, but webcomics can win journalism awards too.
Governor General's Literary Awards (Canada)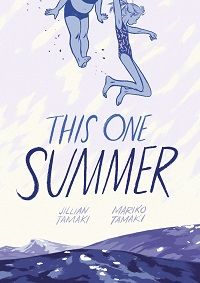 This One Summer by Mariko Tamaki and Jillian Tamaki
In 2008, the Canadian Governor General's Literary Award created quite an uproar within the graphic novel community. Skim by Mariko Tamaki and Jillian Tamaki was nominated as a finalist in the children's literary category. However, the Canada Council excluded credit for Jillian as the artist in the same book. Fellow Canadian graphic novelists Seth and Chester Brown wrote an open letter to the Canada Council, pleading for a review of the nomination and the absence of Jillian's worthy recognition. The letter was supported by many other creators, including Art Spiegelman (mentioned above with Maus). Unfortunately, the Council refused to review the nomination, claiming it was "too late," but would keep this in consideration for future nominations.
In 2014, both Mariko and Jillian were nominated for their book This One Summer, though they were nominated across separate categories: Jillian won the award for Children's Literature (Illustration), and Mariko was a finalist in Young People's Literature (Text). Clearly, the Canada Council still doesn't understand exactly what a graphic novel is, considering they have separate nominations across separate categories for the collaborative creators of the same book. Nevertheless, it goes to prove graphic novels can win literary awards in any category you throw them into.
---
While there will always be literary awards to cater directly to graphic novels, there is something to be said about graphic novels being judged and celebrated for simply being novels. For more award-winning graphic novels, check out fellow Book Rioter Summer's Top 20 here. You can also find The 23 Most Influential Comic Books of All Time here, including a few faves from this list.