This content contains affiliate links. When you buy through these links, we may earn an affiliate commission.
Pen names are nothing new in the world of publishing. Charlotte Bronte of Jane Eyre fame published under Currer Bell; Charles Lutwidge Dodgson published Alice in Wonderland as Lewis Carroll. There are plenty of reasons why someone may elect to use a pen name in lieu of one's legal name, such as a legitimate fear that the book wouldn't publish or sell well under a woman's name; or to protect the writer from retribution for what they wrote.
What I found interesting as a lover of mysteries, especially cozies, is the proliferation of pen names for genre fiction authors. I've interviewed several people who have several, if not many, pen names for their books. Sometimes, it seems the pen name was associated with a single series, or sometimes, it may be associated with different genres, from cozy mystery to romance. I decided to talk directly to a few authors to understand their reasons for using pen names with different series.
Branding
When I first started working on this article, it seemed like the easy answer was that the multiple names were all due to branding. Ellen Bryon, television writer and author of the award-winning Vintage Cookbook series, summed it up best, "If you're writing erotica and cozy mysteries, you may not want your readers getting those mixed up."
Several authors noted that the request came from the publishers and editors. Ellen Byron's publisher asked her to use a pen name for her first series, Catering Hall Mysteries. Olivia Matthews, the cozy writer behind the Spice Isle Bakery series, had written romance suspense and contemporary romances under different names but was advised with her cozy mysteries to use another pseudonym since mystery readers may not want to read anything written by a romance writer.
With Anastasia Hastings, author of the recently published Of Manners and Murder, her pen names were used with different types of genre fiction. For instance, she wrote the Pepper Martin series under the name Casey Daniels, where Pepper Martin sees ghosts. But when she had the idea for a cozy series that took place around antique buttons, Hastings said, "For the same publisher, the publisher was worried if it had the Casey Daniels name on it, people would expect ghosts, so that's how I became Kylie Logan."
Some authors make their pen name part of the brand in fun and unusual ways. Hastings has at least 11 pseudonyms. Byron noted that one author has really leaned into her multiple pen names; her website is J.H. Authors (Julianne Holmes, J.A. Hennrikus, and Julia Henry) with the tagline: One Woman. Three Names. Many Books.
Matching the Tone
For some authors, the pen name helps match the tone of the book. While Byron's publisher asked her to use a pen name for her first series, the Catering Hall Mysteries, Byron decided to choose a meaningful name for the series. "My series is very much inspired by my real family, the Italian side of the family. My mom was born in Italy," Byron said. Her main character lives where her Nana, aunt, and uncle lived and uses the same area (though different names and addresses) in the series. "Using the pen name to honor my Nana seemed like a good idea," Byron said, plus "it was also very appropriate for the series is about an Italian-American girl in Queens."  That's how Maria DiRico was born.
For Hastings, "The pen name says a lot about the sort of the tone of the book and the voice I use in a book." She chose Anastasia Hastings because it sounds historical, matching the historical mystery series. Hastings noted that she recently wrote a proposal for a new series and thought: "This is a Casey Daniels book. Because in my head, it's the same voice that Casey used in the Pepper Martin series. So, for me, that has a lot to do with it. What's the tone? What's the voice?" Though she said that some books with certain pen names have morphed in tone a bit since she started writing them.
No Big Secret
Neither Byron nor Hastings keep their pen names secret. For Hastings, with her many pen names, she said, "With the internet, people are going to find out. It's not worth trying to, it's no big secret. My readers know all my different names, and I'm sure readers are smart enough. If you just look on the copyright page of a book, you'll see the writer's real name."
For Byron, her experience was a little different since she launched her first series in 2020, so she didn't go to conferences and readings under Maria DiRico. "I never had that experience that some people who have pen names have where someone yells to you at a convention, 'Oh, Maria,' and you don't turn around because you don't know who they're talking to." By the time book events resumed, most of Byron's readers knew that DiRico and Byron were one person.
Being Multiple People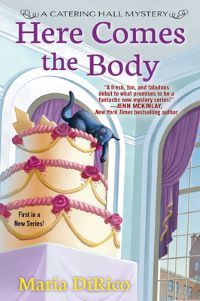 Byron and Hastings have different feelings about their experiences with pen names. Bryon found it a bit challenging. She recalled that when she was filling out a nine-page publicity form for her first book, "Ellen Byron could have listed 25 years of television shows and award nominations and a couple of wins. Basically, Maria de Rico didn't exist until that very moment, so she didn't really have much to share."
However, Byron explained that her last name, Byron, was a pseudonym to begin with. She had thought she wanted to become an actress, but people kept mispronouncing and misspelling her given last name. So she decided to change it to her father's middle name, and it has stuck for over 40 years. "It's much easier to come to market and brand one name," Byron said.
Hastings brought up the well-known cozy writer Elizabeth Peters, who wrote another series under the name Barbara Michaels and her nonfiction works under her real name, Barbara Louise Mertz. Hastings recalled, "[Peters] once told me if you're not at least two people, you're boring. So there you go."
Thanks to Hastings, Matthews, and Byron for taking the time to talk about their pseudonyms. For folks who want to learn more about contemporary writers with more than one name, check out this list of contemporary authors using pseudonyms. You can also learn about five authors whose true identity has never been learned!