Do you find filling up your car with gas a chore? How about letting a robot do it for you? That's right, a robot. A Denmark based company called Autofuel has introduced a new robotic refueling system that can fill up your car without you ever getting out of the comfort of your front seat. Sounds futuristic, right? Well, it's actually already in place in Finland. 
CLICK TO GET KURT'S FREE CYBERGUY NEWSLETTER WITH SECURITY ALERTS, QUICK VIDEO TIPS, TECH REVIEWS 
How the gas-pumping robot works 
Step 1 
When you sign up for the Autofuel system, you put in your car details such as make, model and license plate, what kind of fuel you want, and your payment details. You will also receive a special gas tank cap to swap out on your car, but some new cars already have this cap installed from the factory. This cap has a sensor that communicates with the robot and allows it to open and close the fuel door. 
ARE YOU PROTECTED FROM NEW THREATS? SEE THE BEST ANTIVIRUS PROTECTION REVIEWED HERE 
Step 2 
Now you're ready to use Autofuel. You pull up to the gas station, and the system will scan your license plate and recognize your car. From the company's cloud database, the robot receives your specific car details, along with your payment details and preferred fuel type. Then, the robot charges your credit card automatically and shows you the price on a screen. Then you'll receive parking instructions on the screen, such as "move forward" or "stop". 
Step 3 
When your car is in position, the robot will start the fueling process. It will use a camera and a laser to locate the fuel door, open it with the sensor, and insert the nozzle. It will pump the exact amount of fuel you requested, and once completed, a message will pop up on the screen, such as "Thank you for using Autofuel." Then, the robotic arm will close the fuel door, the light will turn green, and you're free to go. 
The system can be completely automatic and start functioning when it recognizes the vehicle, or it can integrate with a mobile app from which the user can start the system. The auto fuel system has been designed as an addition to the existing dispensers on the market so you can always choose between automatic refueling and manual refueling at your convenience. 
MORE: BEST WAYS TO SAVE MONEY ON GAS WITH APPS & LOYALTY PROGRAMS 
The robot can handle any type of fuel and vehicle 
Autofuel can refuel any vehicle with any fuel. It is installed next to the existing dispenser on the fuel island, and it can work with most of the dispensers. 
Whether you need regular liquid fuels or alternative fuels, such as electricity or hydrogen, Autofuel can adjust its robotic tool to match your vehicle's fuel type. AutoFuel acts as a bridge between vehicles and energy sources, and it does not require any human involvement.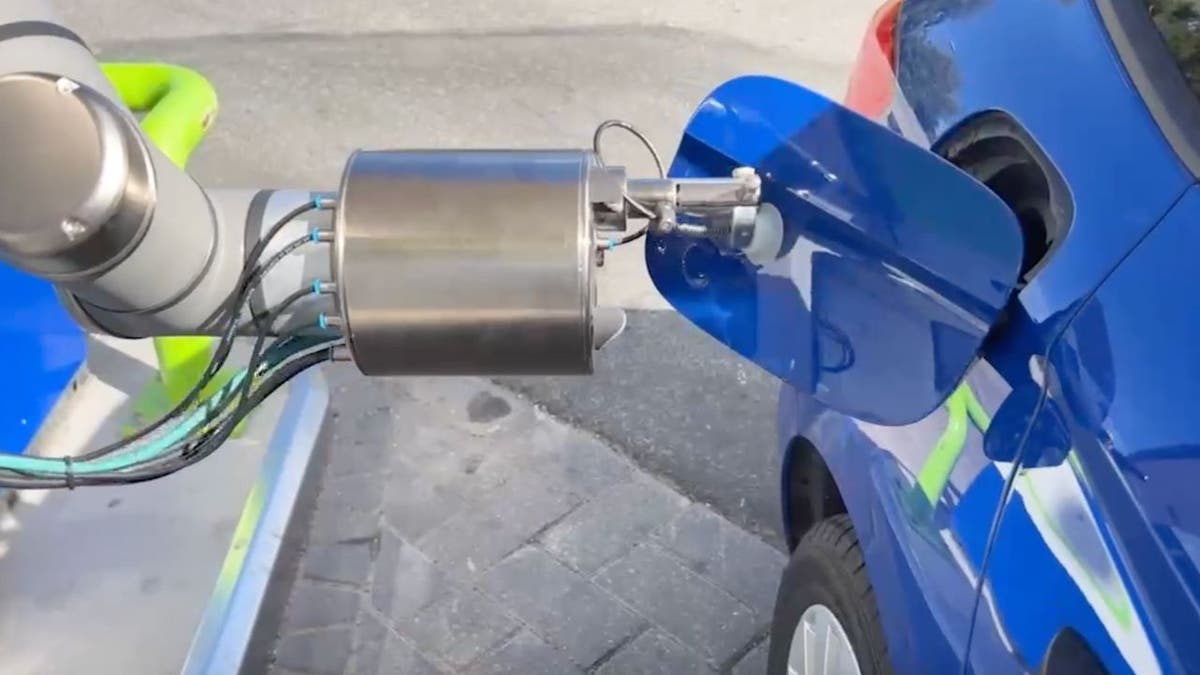 MORE: JUST WHEN YOU'VE SEEN IT ALL… FLYING FRUIT-PICKING ROBOTS TAKE FLIGHT   
The benefits of the gas pumping robot 
Autofuel is not only a cool and innovative way to fill up your car, but also a convenient and safe one. 
You don't have to get out of your car, which can be a hassle in cold or rainy weather. 
You don't have to touch the dirty or sticky nozzle, which can be a health risk. 
You don't have to worry about overfilling your tank, which can be a waste of money. 
You don't have to deal with cash or cards, which can be a security risk. 
Autofuel is also good for the environment, as it reduces the emissions and spills that can occur from manual refueling. It also saves time, as it can fill up your car faster and more efficiently than a human. And it saves space, as it can fit in any standard gas station without taking up extra room. 
MORE: BEST CAR ACCESSORIES 2023 
When can I expect the robot in my area? 
Autofuel is currently only available in Finland, where it has been tested and approved. It has been installed in several gas stations across the country, and it has received positive feedback from customers. 
The CEO of RoboFuel, the company behind Autofuel, tells us he has his sights on the U.S. and hopefully, it will be available here soon. In fact, the company hopes to make AutoFuel the global standard for refueling, and to revolutionize the way people interact with their cars.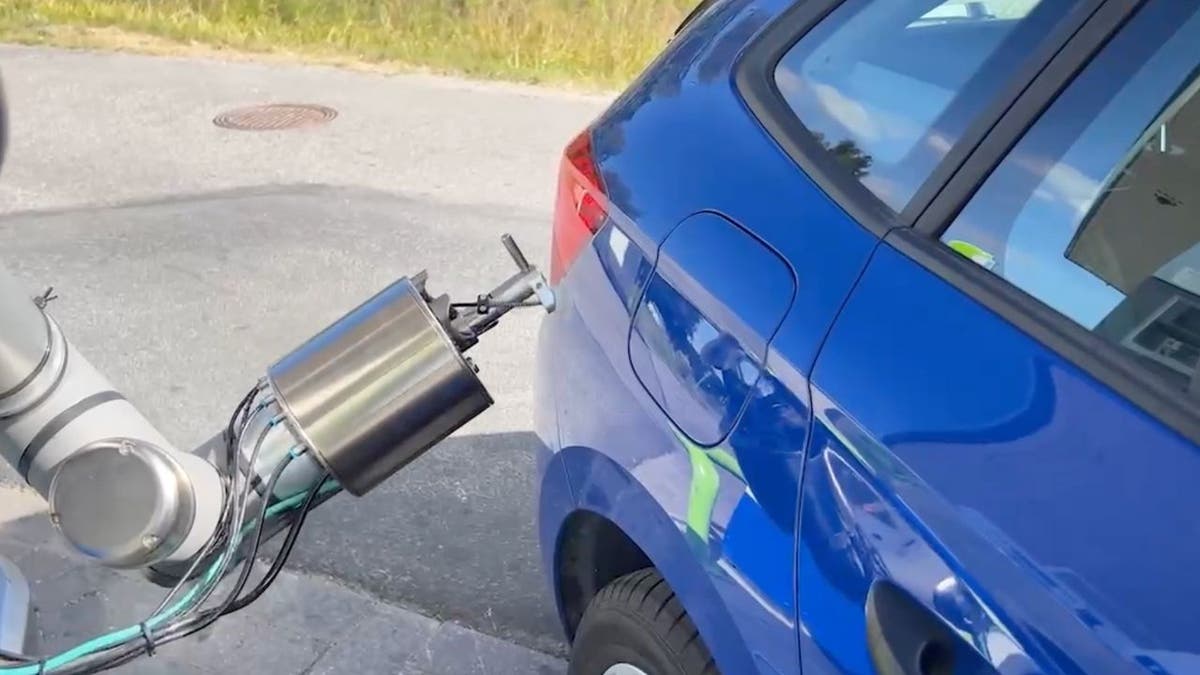 GET MORE OF MY SECURITY ALERTS, QUICK TIPS & EASY VIDEO TUTORIALS WITH THE FREE CYBERGUY NEWSLETTER – CLICK HERE 
Kurt's key takeaways 
Just like everything else in our lives, robots could soon be taking over tasks we once handled ourselves like filling up our gas tanks. Imagine never having to get out of the comfort of your car to fill up your tank ever again. We may soon say, "Remember when we used to pump our own gas?" Those were the days. 
Would you try AutoFuel or do prefer pumping your own gas? Is this one more way that we are relying too much on technology for things that we used to do ourselves? Let us know by writing us at Cyberguy.com/Contact
For more of my tech tips & security alerts, subscribe to my free CyberGuy Report Newsletter by heading to Cyberguy.com/Newsletter
Ask Kurt a question or let us know what stories you'd like us to cover
CLICK HERE TO GET THE FOX NEWS APP
Answers to the most asked CyberGuy questions: 
What is the best way to protect your Mac, Windows, iPhone, and Android devices from getting hacked?
What is the best way to stay private, secure, and anonymous while browsing the web? 
How can I get rid of robocalls with apps and data removal services?
Copyright 2023 CyberGuy.com. All rights reserved.