This content contains affiliate links. When you buy through these links, we may earn an affiliate commission.
Sometimes looking for comics is like plucking a clover from a field: you're almost guaranteed to find a good one, but the hardest ones to spot are often the most special. Underrated comics are like that. These comic book gems aren't very well known — or well reviewed — but they're a special treat for those who find them. And unlike big-name comics, you'll have something to recommend that your comic book-loving friends have probably never heard of before. These underrated comics are among the least well-known according to Goodreads, but that doesn't mean they aren't worth a read. In fact, I'd say they're worth a read because they're so underrated.
Now, to be clear, I didn't just go on Goodreads and pick out the 10 comics and graphic novels with the fewest ratings, for two reasons. First, those titles would likely be either just released or unreleased and that's obviously not a good marker of whether something is underrated. Just because people haven't had a chance to read something yet doesn't mean they won't. Second, a graphic novel that's "underrated" is one that isn't very well known but deserves to be. I hate to say some comics deserve to not have many ratings, but, well, we've all read some comics like that, haven't we? So these 10 comics are ones that not only don't have a lot of ratings on Goodreads, but are also worth your time and TBR space. They're good comics, is what I'm saying.
So check them out already, why don't you?
Rocket Salvage by Yehudi Mercado and Bachan
Goodreads ratings: 66
A former space racer working in the salvage yards has resigned himself to being a family man and leaving his life of high-octane adventure behind. But life with a clone son and a super-genius daughter turns out to be pretty high-octane even without the races. When the family becomes the target of an interstellar manhunt, though, he'll have to show his kids a thing or two about high-speed getaways before they're turned into space dust.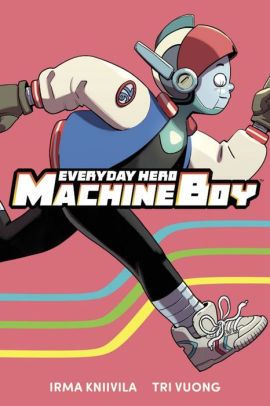 Everyday Hero Machine Boy by Irma Kniivila and Trí Vương
Goodreads ratings: 151
A machine boy falls from a doomed city in the sky, leaving a wake of destruction in his path. It's not until Karate Grandpa turns on his heart that Machine Boy finally understands his true life's desire: to be a hero. From fighting giant bugs to rescuing cats stuck up trees, Machine Boy is determined to become a force for good. But when his heart begins interacting with other dangerous debris from space, he wonders if a boy made of metal can really make a positive difference in the world.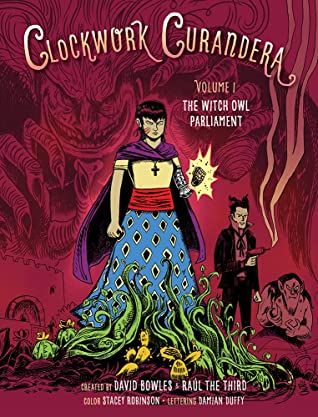 Clockwork Curandera: The Witch Owl Parliament by David Bowles, Raúl the Third, Stacey Robinson, Damian Duffy
Goodreads ratings: 193
This Frankenstein retelling set in an alternate version of colonial Mexico features a curandera brought back to life by her grieving brother. Part human and part machine, Cristina's new existence is an abomination to both the Republic she lives in — where non-Christian magic is all but forbidden — and the healers she once studied under. But despite all those who shun her, she's determined to use her new abilities to protect the people and land that she loves.
The Heart Hunter by Mickey George and V. Gagnon
Goodreads ratings: 298
On an island where all are cursed to wear their hearts outside their bodies and live forever until they find their soulmate, some people choose immortality over love. Those people turn to the Heart Hunters. Trained assassins, heart hunters take out a person's soulmate before they ever get the chance to meet. But when one Heart Hunter is hired by the King, it's her own life that's changed forever.
Eve by Victor LaValle, Jo Mi-Gyeong, and Brittany Peer
Goodreads ratings: 419
A girl raised in a virtual reality awakens to discover a world completely unlike the one she has always known. In order to save her father, she must set out into the climate-devastated real world alongside her robotic protector and confront the lies — both big and small — she has been told all her life in order to protect her.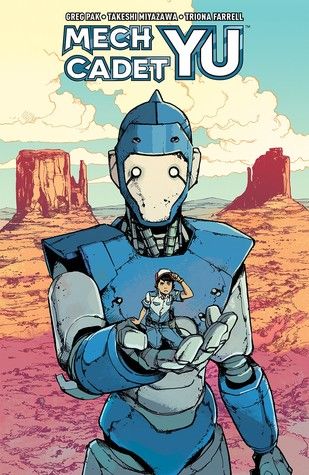 Mech Cadet Yu by Greg Pak, Triona Farrell, Takeshi Miyazawa
Goodreads ratings: 476
At the Sky Corps Academy, giant alien robots bond with human fighters to take on alien threats. But when a robot bonds with a janitor's son instead of the new class of cadets, he must prove himself to the Academy brass and his fellow cadets in order to do what he's always dreamed of: saving planet Earth.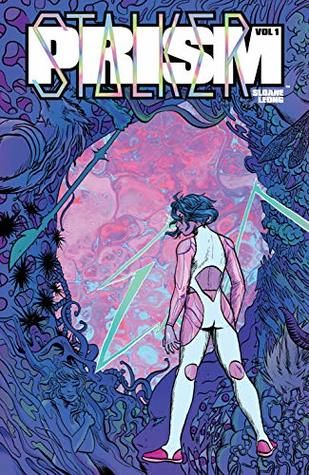 Prism Stalker by Sloane Leong
Goodreads ratings: 580
A young refugee living as an indentured servant on an alien planet is offered an opportunity for a different life: join a military firm to help colonize a newly discovered planet teeming with strange, psychic energy. Veep soon finds herself training in strange techniques on an even stranger and more violent planet. But as someone who's already lost a home planet, can she really help conquer another?
Godshaper by Simon Spurrier and Jonas Goonface
Goodreads ratings: 604
In a world where the laws of physics have stopped working and all humans are accompanied by a personal god, those without gods are known as Godshapers. They can affect the gods of others. Ennay, one such Godshaper, takes to the road, looking for odd jobs alongside a humanless god named Bud. But despite their best efforts to keep a low profile, the two soon stumble across a mystery that will change the world of humans and gods forever.
Catboy by Benji Nate
Goodreads ratings: 1,284
If your cat is your best friend, this adorable graphic novel is for you. When Olive wishes on a shooting star, her cat Henry becomes a person — sort of. He's enough of a person to wear clothes and hang out with her, anyway. The story is just as sweet as it sounds.
Crowded by Christopher Sebela, Ro Stein, Ted Brandt, Triona Farrell, Cardinal Rae
Goodreads ratings: 1,757
An assassination crowdsourcing app plagues everyone from politicians to everyday people in the near-future world of Crowded. When Charlie suddenly finds herself targeted by a Reapr campaign, she hires the lowest-rated bodyguard she can find on the Dfend app. Vita's a much better bodyguard than her ratings would suggest but if she can't help Charlie find out who wants her dead — and why — they might not make it through the next 30 days before the Reapr campaign is up.
Read even more underrated comics and graphic novels:
The Best Graphic Novels You've Never Heard Of
15 of the Most Underrated Books on Goodreads