Never get too invested in a celebrity relationship. Unfortunately, in the world of Hollywood, couples break up and make up on a dime. Just when you start thinking a specific couple is in it for the long haul, an Instagram story announcing their separation will bring you back to reality. The art of a celebrity breakup announcement has evolved in recent years, and these days there are a number of ways public figures can announce their split—social media, podcasts, magazine interviews just to name a few. Because of that, it can be easy to miss out on these important relationship updates, so we're keeping track of all the celebrity breakups all year long, so you don't continue supporting a couple that ended things months ago.
Justin Trudeau and Sophie Grégoire Trudeau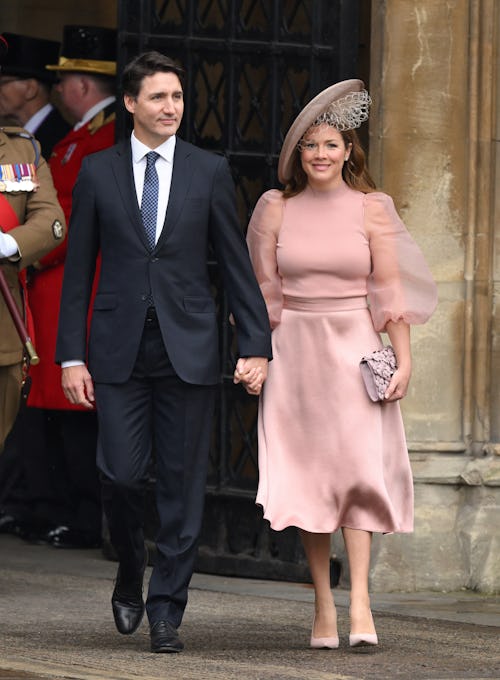 Canadian Prime Minister Justin Trudeau and his wife, Sophie Grégoire Trudeau, are separating after 18 years of marriage. The couple issued a joint statement on Instagram explaining the reason for their separation.
"Sophie and I would like to share the fact that after many meaningful and difficult conversations, we have made the decision to separate," the statement read.
Trudeau and his ex-wife, a former television presenter, first met as children in Montreal and later reconnected in 2003. They tied the knot two years later and share two sons, Xavier and Hadrien, as well as a daughter, Ella-Grace.
"As always, we remain a close family with deep love and respect for each other and for everything have built and continue to build," the statement added. "For the well-being of our children, we ask that you respect our and their privacy."
It seems that the couple will stay on good terms for the sake of their children. The Prime Minister's office stated that while they have signed a "legal separation agreement," they will be seen together frequently.
"Both parents will be a constant presence in their children's lives and Canadians can expect to often see the family together," the statement said. "The family will be together on vacation, beginning next week."
Tina Knowles and Richard Lawson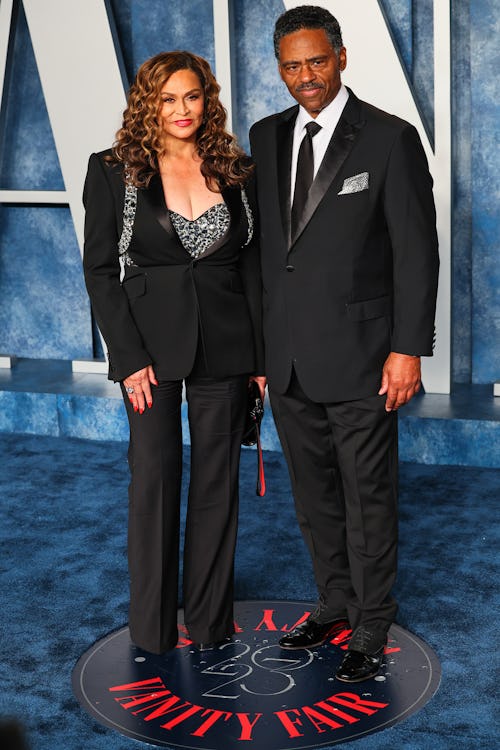 Beyoncé's mom Tina Knowles has filed for divorce from actor Richard Lawson after eight years of marriage. Per documents obtained by PEOPLE, Knowles' filing cited "irreconcilable differences" as the cause of their separation.
Rumors of a split between the couple began earlier this summer when fans noticed that Knowles did not join her husband on his "Black Terror" press tour and changed her Instagram bio from Tina Lawson to Tina Knowles.
Knowles and Lawson began dating in 2013 and tied the knot during a lavish yacht ceremony in Newport Beach, California. This was the second marriage for both—Knowles having split from Beyoncé and Solange Knowles' former manager and father, Matthew Knowles, in 2009. Lawson was previously married to Denise Gordy who he shares a daughter, the actress Bianca Lawson. The couple do not share any children.
Rosalía and Rauw Alejandro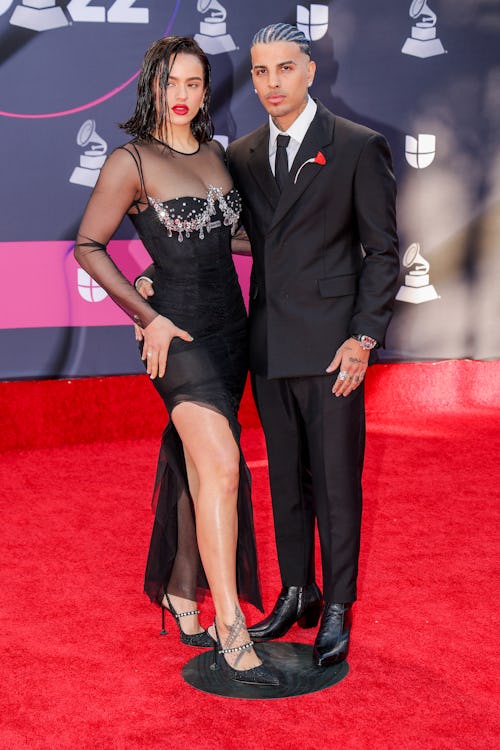 Rosalía and Rauw Alejandro have officially split after announcing their engagement in March, PEOPLE learned. The pair were first romantically linked in 2021 and went public with their relationship shortly after.
The exact reason for the breakup is unknown, however, it seems like they ended things on mutual terms, "despite the love and respect" they share.
The day before the announcement, Rosalía concluded her Motomami tour and took to Instagram with a rather cryptic message. "Motomami has been a hurricane that has brought and taken away so much in my life that I don't even know where to start," the singer said on the platform.
Rosalía and Aljenadro revealed their engagement through the "Beso" music video, off of their joint EP RR. In a March joint interview, the musicians shared the affection for eachother. "Rosi has a more solid music base than I do in the sense that I'm more extroverted in my music, but she's far more disciplined," Alejandro told Billboard. "But she's a freak-crazy workaholic. Piano lessons, dance lessons, voice lessons; what else can you learn when no one sings like you?"
"You are far more relaxed," Rosalía added. "You're someone who really lets go. It's as if you have a lot of faith and just an organic feel. You're always telling me to relax, to let go more. And just telling me that teaches and helps me. You balance me."
Dominic Fike and Hunter Schafer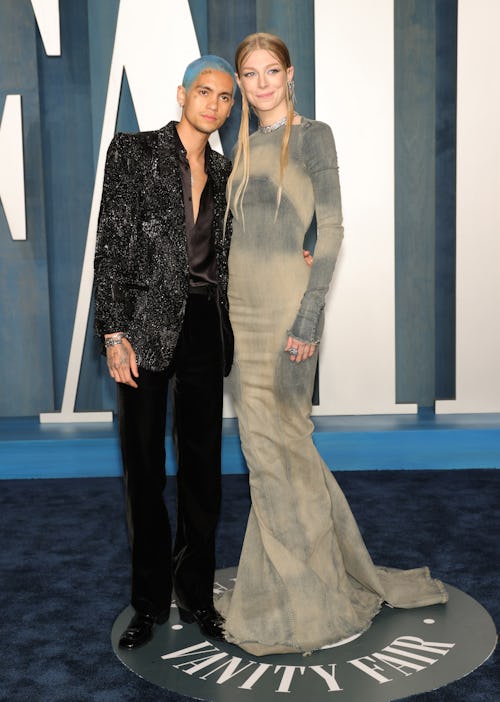 Euphoria stars Dominic Fike and Hunter Schafer are officially over after dating for a little more than a year. In a recent interview, Fike confirmed the split, saying he "wants to be alone for a while."
"I'm just done being in relationships right now," Fike said during the same interview. He also recently gave the Los Angeles Times a slight look into the reasoning behind the pair's breakup.
"I could make music around her, which was crazy," he said. "I was looking through songs the other day and found one that I made with her, I was like, 'Man, that was so cool.' But the fact of me saying that—of being uncomfortable being alone—that's a bad thing. So I decided to just be alone for a while."
The couple first sparked dating rumors in January 2022 and made their relationship official about a month later via a kissing photo. Despite the breakup, they seem to be on fairly cordial terms (which is probably a good thing considering they're co-stars).
"I have a better dynamic with everybody. I mean, well, I don't know. Almost everybody," Fike explained of the dynamics on Euphoria. "I think it'll be fine. We're all adults, kind of. I'm trying."
Ricky Martin and Jwan Yosef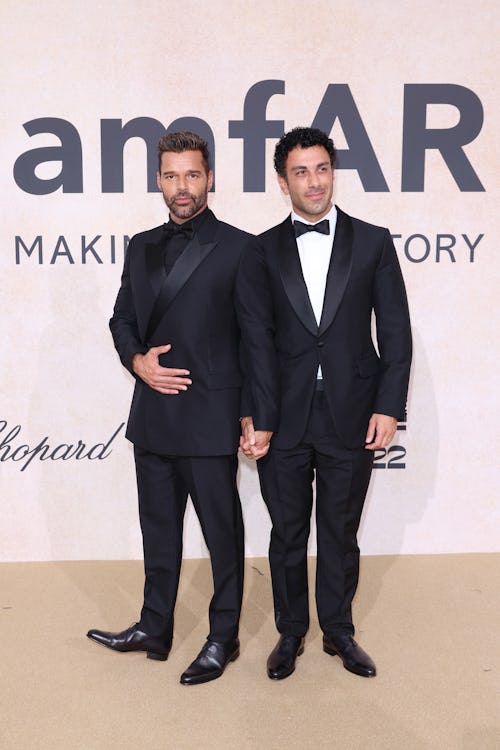 Ricky Martin and Jwan Yosef have called it quits after six years of marriage. The pair announced their split on July 6th in a joint statement released to PEOPLE.
"We have decided to end our marriage with love, respect and dignity for our children and honoring what we have experienced as a couple all these wonderful years" the statement read.
Martin and Yosef first met in 2015 and tied the knot two years later. The couple share two children together: Lucia, 4, and Renn, 3. Martin also has two children, twins Matteo and Valentino, that he welcomed via surrogate in 2008.
The pair ended things on good terms, it seems, saying: "Our greatest desire now is to continue having a healthy family dynamic and a relationship centered on peace and friendship to continue the joint upbringing of our children, preserving the respect and love we have for each other."
Bill de Blasio and Chirlane McCray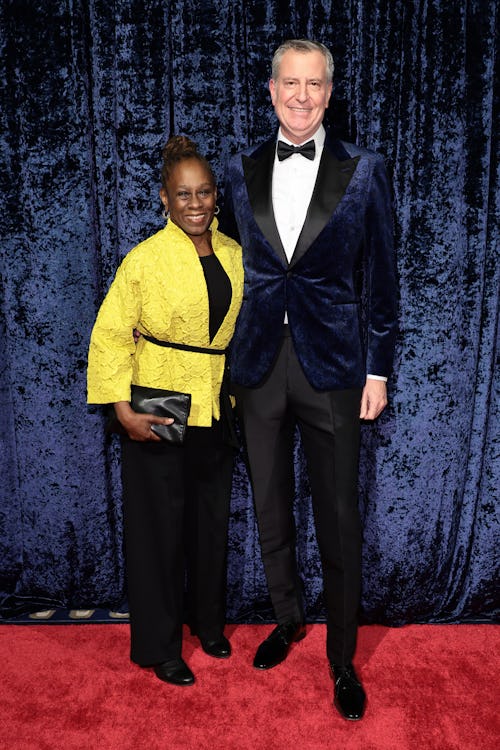 Former New York City mayor Bill de Blasio and Chirlane McCray announced to The New York Times that they have separated after over two decades of marriage. The couple, however, still plan to live together but will start to date other people.
"I can look back now and say, 'Here were these inflection points where we should have been saying something to each other,'" de Blasio said. "And I think one of the things I should have said more is: 'Are you happy? What will make you happy? What's missing in your life?'"
The pair married in 1994 in Brooklyn's Prospect Park and share two children, Chiara and Dante, together. While they do not plan to divorce, de Blasio blames much of their marital problems to his busy political schedule, mayoral status, and navigating the COVID crisis.
"Everything was this overwhelming schedule, this sort of series of tasks," he explained. "And that kind of took away a little bit of our soul."
Billy Porter and Adam Smith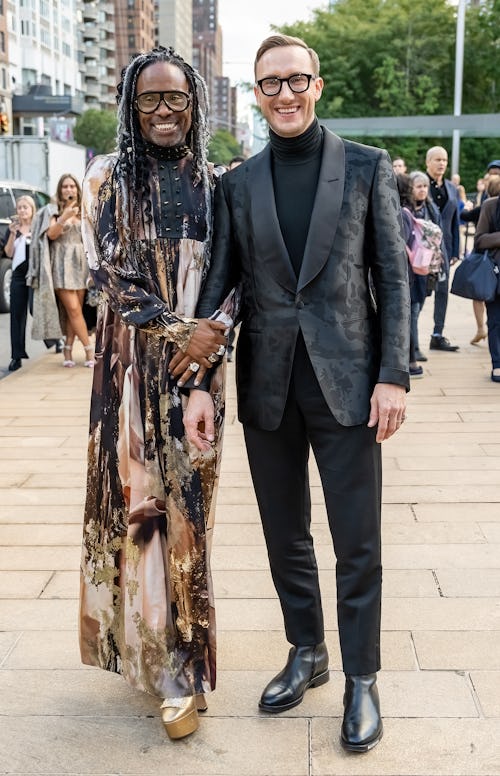 Billy Porter and Adam Smith have ended their marriage after six years. The pair started dating after meeting in 2009. After rekindling their romance in 2015, they got engaged in 2016 and tied the knot just two weeks later.
"I can confirm that Billy Porter and his husband Adam Smith have made the sad decision to end their marriage after six years," Porter's representative Simon Halls said to PEOPLE.
The pair got married so quickly, in part, due to then imminent inauguration of Donald Trump. "We were discussing, and Billy had actually brought up to me that it's important for us to get married while [Barack] Obama is still President and before January 20," Smith previously explained.
"The decision was an amicable and mutual one and was made after much consideration," Halls continued. "They continue to love and support each other as they embark on this next chapter. There will be no further comment from either parties and it would be appreciated if their privacy be respected."
Kyle Richards and Mauricio Umansky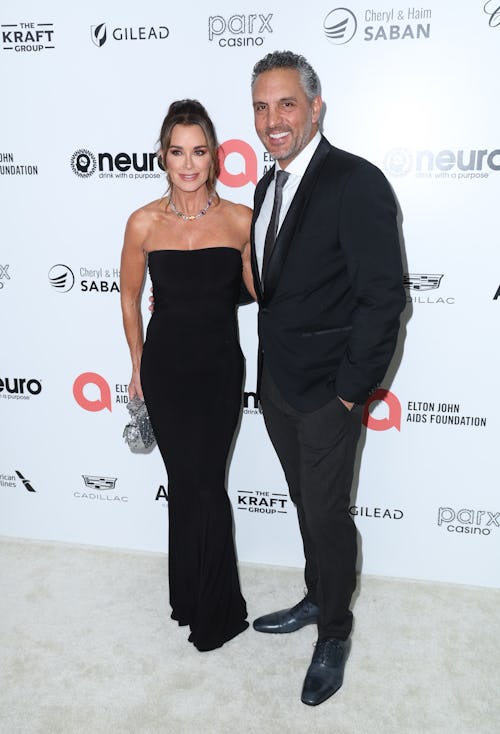 On July 3rd, PEOPLE reported that Kyle Richards and Mauricio Umansky had separated after 27 years of marriage. Richards, who is the aunt of Paris Hilton, and Umansky have appeared on The Real Housewives of Beverly Hills since 2010.
"Kyle and Mauricio have been separated for a while now but are still living under the same roof," a source told the outlet. "They remain amicable as they figure out what's next for them and their family."
Richards has a daughter, Farrah, from her previous marriage to Guraish Aldjufrie. She married Umansky in 1996 and they share three daughters together: Alexia, 27, Sophia, 23 and Portia, 15.
However, a day later, the couple took to Instagram to address the report and reiterated that they are not divorced. "In regards to the news that came out about us today…Any claims regarding us divorcing are untrue," the statement read. "However, yes, we have had a rough year. The most challenging one of our marriage. But we both love and respect each other tremendously. There has been no worngdoing on anyone's part. Although we are in the public eye, we ask to be able to work through our issues privately."
Avril Lavigne and Tyga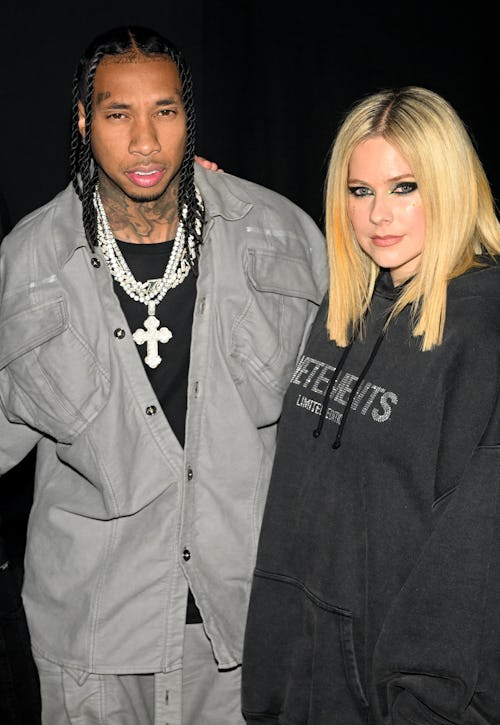 Things are done between Avril Lavigne and Tyga who started dating earlier this spring. Per Billboard, the pair have split after only three months but remain "great friends."
Lavigne and Tyga sparked dating rumors as early as February when they were seen hugging outside of Nobu in Los Angeles. They made things official shortly after in mid-March during Paris Fashion Week. Their spring romance started just days after Lavigne and her then-fiancé Mod Sun called off their engagement of ten months.
"Avril and Tyga are genuinely friends and nothing more," a source said in February. "There was absolutely no third party involved in the split."
While the romance between the two musicians was brief, it did include coordinating looks at a pair of runway shows in Paris as well as Tyga gifting Lavigne an $80,000 black and white diamond necklace. Tyga famously was involved in an on-and-off romance with Kylie Jenner, though the pair split for good in 2017.
Shawn Mendes and Camila Cabello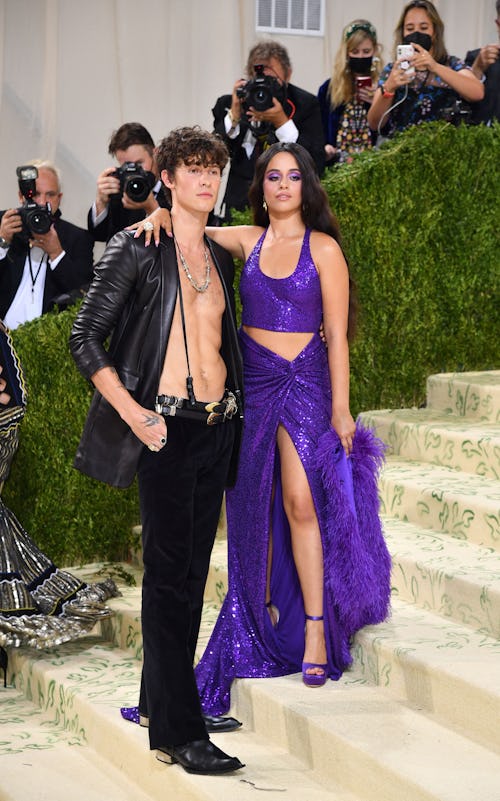 The second time was not the charm for Shawn Mendes and Camila Cabello. About six weeks after rekindling their romance, the pair have called it quits again.
"Shawn and Camila have a lot of history and they tested the waters again after coming back into each other's lives," a source told The Sun. "But it was just a fling and they've put an end to it now."
Mendes and Cabello began their relationship in 2019 and split near the end of 2021 after nearly two years of dating. In April of this year, they again sparked dating rumors after they were caught together at Coachella and Taylor Swift's Eras tour, but ultimately decided to go their separate ways.
"They realized it was probably a mistake to give things another shot," an insider said to the outlet. "Things ended between them the first time for a reason, after all."
Taylor Swift and Matty Healy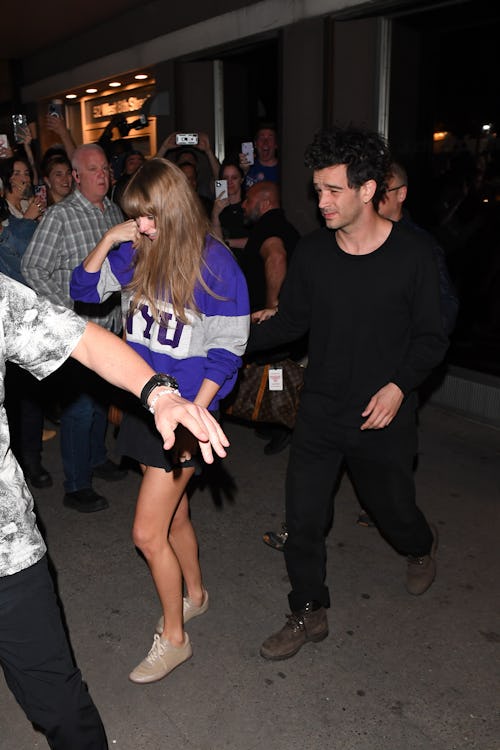 Taylor Swift and Matty Healy have ended their brief, and much talked about, relationship after about three months according to TMZ. "[Taylor] had fun with him, but it was always casual," a source close to the singer told People. "There is no drama, and who knows what could happen again. It was a good time and ran its course."
The pair first sparked dating rumors in April when they were pictured multiple times at the Electric Lady Studios in New York City as well as various stops on Swift's Eras tour. Healy also hung out with Swift's dad during the Philadelphia stop of her tour. The artists have known each other since 2014 when Swift attended a 1975 concert, the band in which Healy is the frontman, but remained as friends up until this year.
"Everyone who really knows her has been saying all along that this was a fun, good time thing that would last as long as it lasted and would be no big deal once it was done," a source told Page Six.
Billie Eilish and Jesse Rutherford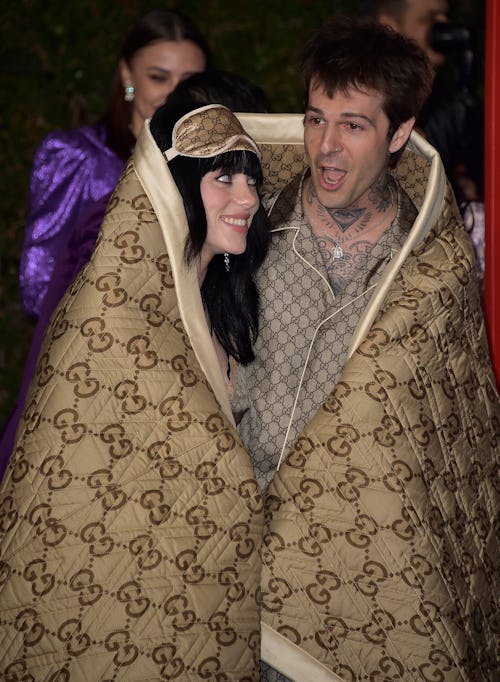 Billie Eilish and Jesse Rutherford called it quits after less than a year together. "We can confirm Billie and Jesse did split amicably and remain good friends," a representative for Eilish said in a statement to Page Six.
Rumors of a romance between Eilish, 21, and Rutherford, 31, began swirling in October of last year. The pair made it official just one month later by way of a controversial Instagram post where they wore costumes poking fun at the public criticism surrounding their age difference.
Despite the musicians' short relationship, they did manage to make a few public appearances together—most notably in Gucci pajamas at the LACMA Art + Film Gala and at the Vanity Fair Oscars Party.
In a November interview with Vanity Fair, Eilish spoke about her relationship with the musician: "It's really cool, and I'm really excited and I'm really happy about it," she said of the relationship. "I managed to get my life to a point where I not only was known by a person that I thought was the hottest, but pulled his ass. Are you kidding me? Can we just [get a] round of applause for me."
Jeremy Allen White and Addison Timlin
After three years of marriage, Addison Timlin has filed for divorce from her husband, Jeremy Allen White, according to TMZ. Not much is known about the circumstances surrounding the split at this time.
White and Timlin first met on the set of the 2008 film, Afterschool. It was revealed they were dating in 2013, and in 2018, Timlin gave birth to their first child, daughter Ezer. A year later, White and Timlin tied the knot at a Beverly Hills courthouse, and in 2020, they welcomed their second daughter, Dolores.
When White took home the Golden Globe for his role in The Bear earlier this year, he spoke about Timlin on stage. "I love you deep in my bones, thank you for all that you do, thank you for everything that you've done," he said.
Cher and Alexander Edwards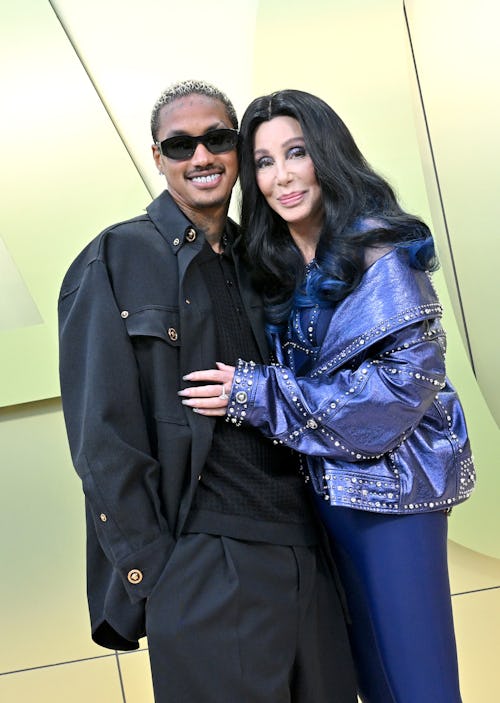 Cher and Alexander "AE" Edwards have split after about five months of dating, according to TMZ. Not too much info is known about the break-up between the 76-year-old singer and her 37-year-old now-ex. However, there were previous rumors the two were engaged, though those have been debunked upon their split.
Speculation around the couple initially began in November 2022, when Cher posted a photo of AE on Twitter. The singer then followed up the picture with another Tweet, writing that she would not defend their relationship and 39-year age gap. "I'm Not Defending us," she said. "Haters are Gonna Hate…Doesn't Matter That we're Happy & Not Bothering Anyone." It was also during that time that she confirmed she met AE in Paris during fashion week, though she didn't clarify when they started dating.
In December, Cher showed off a large diamond ring on Twitter, leading many to believe the pair got engaged. The singer played into that speculation, flashing the ring to the paparazzi during an outing and responding, "It's going OK," when asked about the engagement. Now, though, we know Cher and AE were simply having fun, and he never actually popped the question.
Glen Powell and Gigi Paris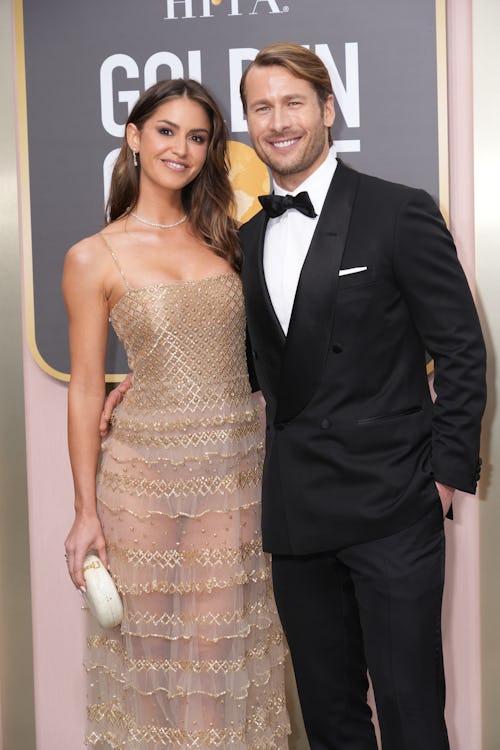 Glen Powell and model Gigi Paris called it quits, but it seems like their break up may not have had anything to do with Powell's current costar, Sydney Sweeney, as many assumed. According to People, Powell and Paris broke up weeks before the rumors with Sweeney hit the Internet.
"Gigi and Glen had broken up several times," a source told the site. "They had been on the rocks since Top Gun came out. Gigi was never happy with the long distance filming and when she came to Australia they both decided to break up for good." Powell just wrapped work on his new romcom, Anyone But You, with Sweeney in Australia, and it was the photos and videos of them on set that led many to believe something was going on between the actors. Then, Paris unfollowed Sweeney on Instagram, but the source insisted that had nothing to do with the rumors.
"Gigi only unfollowed Sydney on social media because Sydney never followed her back," they said. "This had nothing to do with Glen and Sydney. Gigi is aware that Glen and Sydney never hooked up. He takes his work very seriously and it was tough on the relationship."
Halsey and Alev Aydin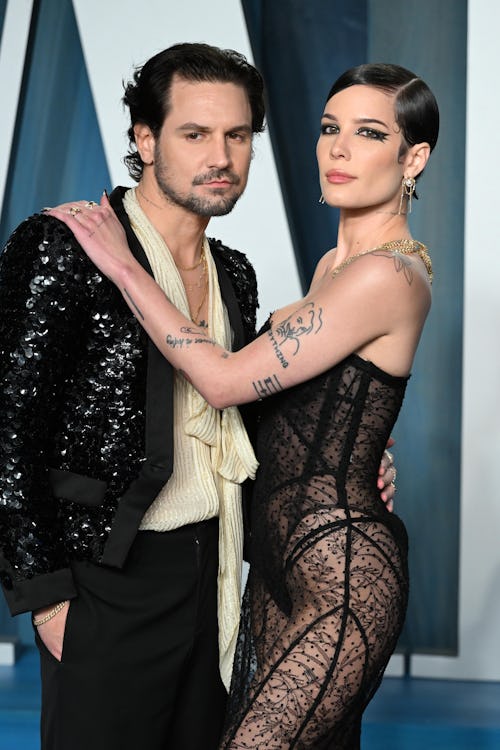 Hasley has split from her film producer boyfriend, Alev Aydin, People confirmed. According to a source, the breakup was "amicable" and they plan to co-parent their son, Ender Ridley Aydin, whom they welcomed in July 2021.
The singer was initially linked to Aydin in 2019 when they attended a Los Angeles Lakers game together. Then, in January 2021, Halsey announced the pregnancy on Instagram with a photo shoot. Over the years, the couple has shared moments from their relationship in interviews, as well as on social media, with the singer most recently posting about Aydin on Valentine's Day
According to court documents, Halsey filed a petition on April 5th where she asked for full custody of the 21-month-old with "reasonable visitation" for Aydin.
Taylor Swift and Joe Alwyn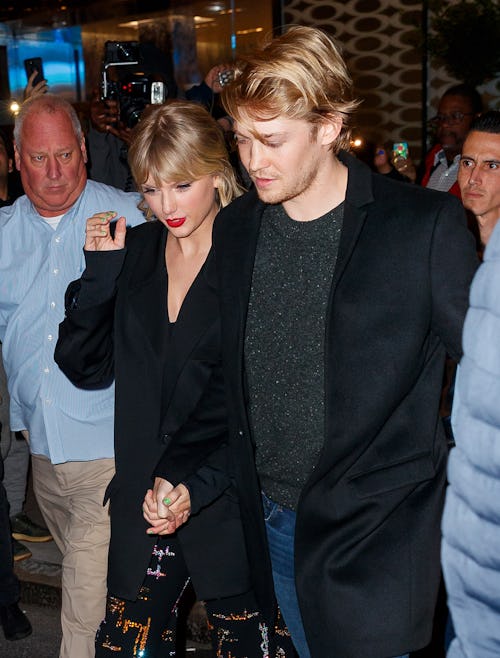 Swifties worldwide were in shambles when it was revealed that the songstress and her boyfriend of six years had called it quits. According to Entertainment Tonight, the split was "not dramatic." A source close to the couple said the relationship had just "run its course." Apparently, they ended things a few weeks ago, which is why the Billy Lynn's Long Halftime Walk actor hasn't been seen at any of Swift's Eras Tour shows.
Swift and Alwyn started dating in late 2016 and were extremely private throughout their relationship. Of course, Swift wrote many songs about her boyfriend while they were together, including "Lavender Haze," on her most recent album, Midnights. Alwyn also wrote a few songs with Swift under the pseudonym William Bowery, and is credited on tracks like "Sweet Nothing," "Exile," "Betty," and "Champagne Problems," among others.
Elle Fanning and Max Minghella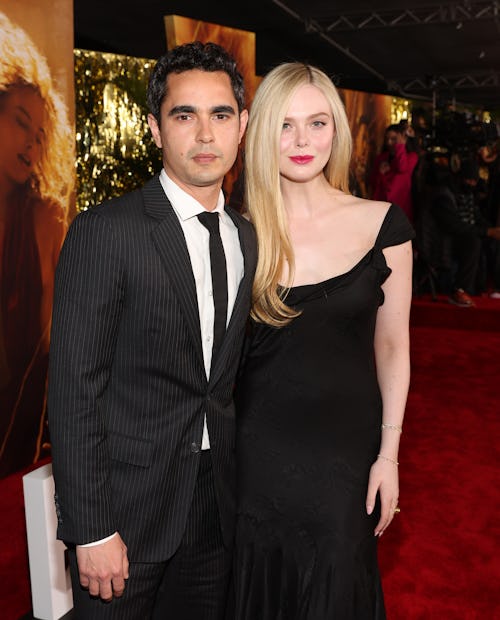 Fanning very casually confirmed her split from actor Max Minghella during an interview with Harper's Bazaar U.K. Fanning and Minghella started dating around 2018 after meeting on the set of Teen Spirit, a film starring Fanning which Minghella wrote and directed. The two kept things fairly private during their multi-year relationship, though they did make their red carpet debut at the Met Gala in 2019, and Fanning most recently joined Minghella at the premiere for his latest film, Babylon in December.
Brie Larson and Elijah Allan-Blitz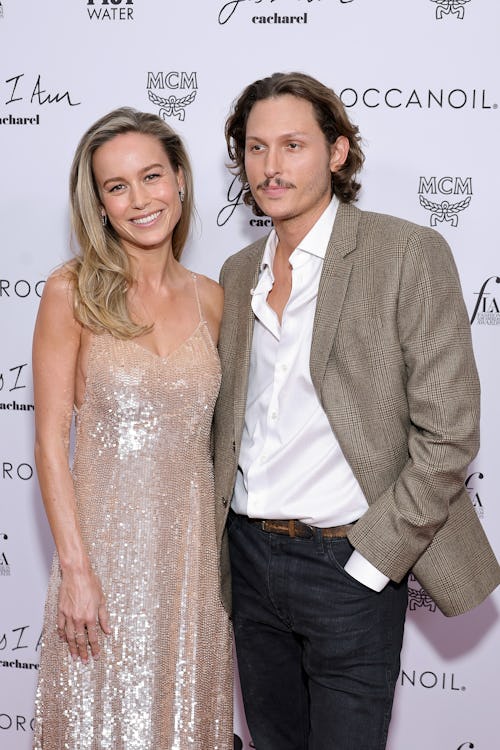 Larson announced her split from the virtual reality director during an interview with Harper's Bazaar. The actress was giving an update on her life and mentioned, "I don't have a next job. I don't have a home. I don't have a partner. I don't have a plan. I'm just completely open."
The actress sparked dating rumors with Allan-Blitz in July 2019 when they were photographed kissing just six months after she called off her engagement with actor and musician Alex Greenwald. The two made their debut as a couple at the Oscars in 2020 and later attended many events together to promote their joint projects like the 2022 short film, Remembering.
Reese Witherspoon and Jim Toth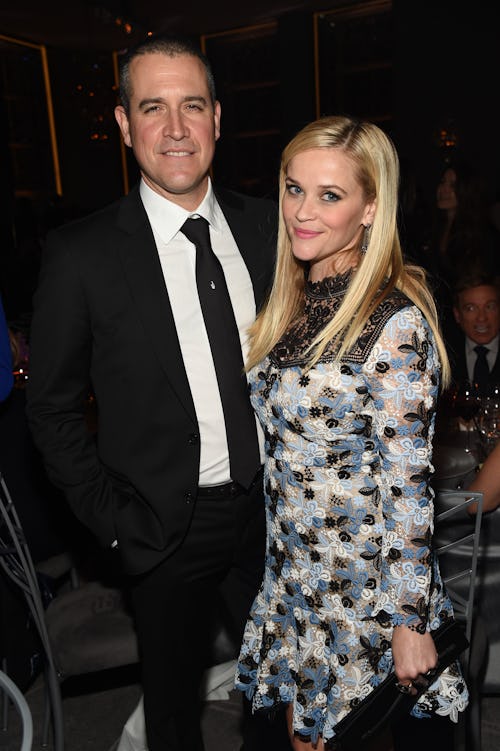 Many were shocked when Witherspoon took to Instagram in March to announce that she and her husband of 11 years, Toth, were getting a divorce. "We have enjoyed so many wonderful years together and are moving forward with deep love, kindness, and mutual respect for everything we have created together," they wrote in a joint statement.
Reese and Toth got engaged in December 2010 and married just four months later on her ranch in Ojai, California. The two share a 10-year-old son together named Tennessee James.
Maisie Williams and Reuben Selby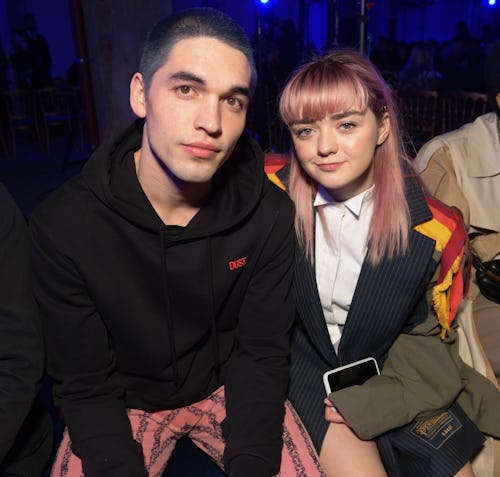 Williand and Selby split in February after five years together. The Game of Thrones star shared the news on her Instagram story, marking "the end of an era."
Williams and Selby were known as quite the fashionable pair when they were together, often sitting side-by-side front row at various fashion shows. Selby also helped design a handful of William's red carpet looks, including her JW Anderson dress for the Emmys in 2019 and Met Gala look in 2021. Despite breaking up, Williams promised that their working relationship would continue.
"Since we met 5 years ago, our connection always extended deeply into our shared, and separate, creative careers…and it will continue to do so," Williams said in the statement.
Avril Lavigne and Mod Sun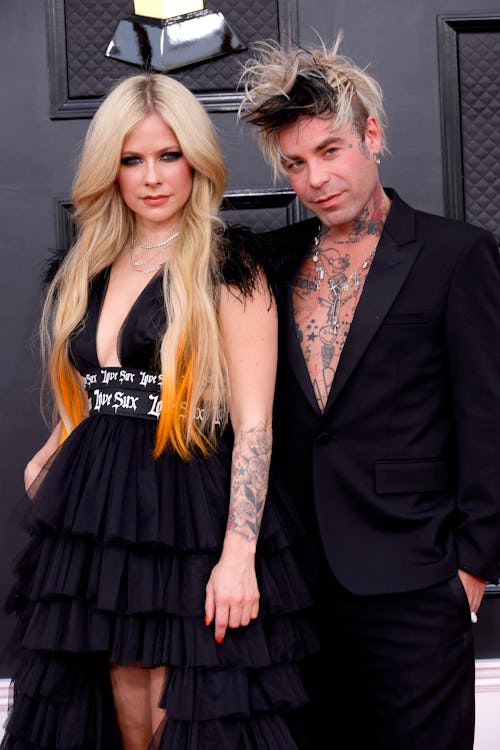 The two artists went their separate ways in February, ending their year-long engagement following two months of being on-and-off, according to People. The news came after Lavigne was spotted out to dinner with the rapper Tyga in Los Angeles.
When the photos of Tyga and Lavigne came out, it apparently came as a shock to Mod Sun, as his rep told People that the pair was "together and engaged" as far as he knew. At that point, though, it seemed Lavigne had already moved on and Tyga and the Canadian singer would later go on to to attend Paris Fashion Week together as a couple.