This content contains affiliate links. When you buy through these links, we may earn an affiliate commission.
There've been some rumblings on book blurbs lately in Book World. Vivienne Woodward explored some overused words in book blurbs, and Esquire got into how broken the system of author-written blurbs is. Both articles are looking at the problem with blurbs from different angles, but the conclusion is the same: they're a little played out. And yet, they don't seem to be going anywhere soon.
The fatigue readers and the book world at large seem to be experiencing with book blurbs is one I've felt and tried to keep in mind as I write these new release round-ups every week. I don't have the answer to the book blurb problem, but I'm curious to see how its obvious existence works itself out.
With that said, the blurbs I've written below describe narratives exploring the ugly side of beauty, women behaving badly, a memoir detailing a bohemian childhood, and more.
Rouge by Mona Awad
From she of Bunny fame comes Rouge, a similarly unsettling book that looks at our relationship with beauty, mortality, and mother-daughter dynamics. When her mother mysteriously dies, beauty-obsessed Belle travels back to Southern California, where she finds herself dealing with her mother's debts and unanswered questions. When an odd woman in red shows up at her mother's funeral, Belle is intrigued by the woman's promise of answers and is convinced to go to the La Maison de Méduse, the cult-like spa her mother was a devotee of before she died. At the spa, a terrifying secret is revealed about her mother — and herself.
Peach Pit: Sixteen Stories of Unsavory Women, edited by Molly Llewellyn and Kristel Buckley
This checks a lot of boxes for me. Its title and subtitle evoke femininity and female sexuality, but a darker side; its cover has a kind of nostalgic, vapor wave-y vibe; and its contributor list consists of an all-star group of writers, including Deesha Philyaw, K-Ming Chang, Lauren Groff, and others. Here, women and girls are at their most unhinged — a Black woman gets revenge on the men she meets on dating apps, a disabled teen has the devil as a girlfriend, and a woman falls in love with a female scammer. These 16 stories are for those who support women's rights — and women's wrongs.
Omega Farm: A Memoir by Martha McPhee
Here, award-winning author McPhee gives an account of her unconventional childhood. When the pandemic first hit in 2020, McPhee traveled with her husband and kids back to her childhood home in New Jersey. There, she finds a house of struggle — her mother has dementia, and the house is in a state of disrepair. Being there, McPhee couldn't help but be sucked back into her childhood at Omega Farm, where she grew up with a big family, lots of art, and chaos. As she cares for her mother and the estate, she contends with the parts of her past that were benevolent, just as she does the more sinister ones.
The Death I Gave Him by Em X. Liu
When Hayden's father is murdered in their lab and the camera logs erased, he knows why — the killer was after the Sisyphus Formula, the potential immortality elixir he and his father developed. As the lab goes on lockdown, Hayden realizes the four other people he's stuck with — research intern Felicia, lab tech Gabriel, head of security Paul, and his uncle Charles — are all viable suspects. He'll muddle through secrets and his father's lies and try to maintain his sanity while he commits to his father's dying wish to avenge his death.
If you got Shakespeare teas from this, you're right. This is a queer retelling of Hamlet that spices it up with sci-fi and locked-room thriller elements.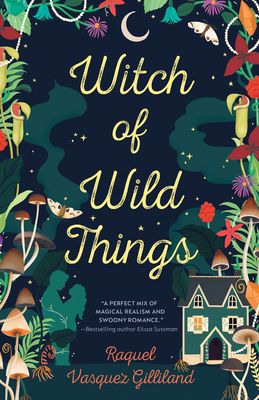 Witch of Wild Things by Raquel Vasquez Gilliland
This romantasy is delightfully full of plant witch magic and is in time for my fellow seasonal readers. The women of the Flores family were cursed years ago because of a female ancestor who offended the gods. Now, they all have a sprinkling of magic. It's this magic that Sage Flores has been trying to avoid ever since her sister Sky died eight years ago. Now, as she begrudgingly returns home, she folds back into her old life. She resumes her old job at the Cranberry Rose Company, where her ability to communicate with plants comes in clutch. But it's also where she's reunited with her first love, Tennessee Reyes, who broke her heart back in the day. But the Tennessee of today is more mature and — as she contends with the rare plants they have to find and ghost sisters — he may prove to be hard to resist.
The Free People's Village by Sim Kern
Sim Kern is the person who launched the #TransRightsReadathon back in March this year. Here, they explore how the U.S. would have looked had Al Gore won the 2000 election. Instead of a War on Terror, there's a War on Climate Change, which leads to 20 years of Democrat control. Laws are enacted to cut carbon, green infrastructure projects that make some United States cities verdant paradises, and carbon taxes. If this sounds like a dream come true, it is, but only for a few. Through English teacher/punk rocker Maddie Ryan and her fight to save Houston's Eighth Ward from becoming an electromagnetic hyperway, Kern explores the harm of gentrification, even when it's done by those who consider themselves to be progressive.
Other Book Riot New Releases Resources:
All the Books, our weekly new book releases podcast, where Liberty and a cast of co-hosts talk about eight books out that week that we've read and loved.
The New Books Newsletter, where we send you an email of the books out this week that are getting buzz.
Finally, if you want the real inside scoop on new releases, you have to check out Book Riot's New Release Index! That's where I find 90% of new releases, and you can filter by trending books, Rioters' picks, and even LGBTQ new releases!