The Tata Nano, when it was launched back in 2008, was the most affordable car in India. It was a dream that Mr. Ratan Tata, the Emeritus of Tata Group, had, and he brought it to reality. The model, however, due to its poor marketing term "Cheapest car in India," could not become a success which Mr. Tata wished it to be. The model was then discontinued after appalling sales. However, it always remained as one of those cars whose comeback was highly anticipated. Now we are not sure if this car will be making a comeback or not, but recently, a few different renders of this hatchback imagined with futuristic looks have been shared online.
Nano futuristic off-roader concept
Picture credit
The first render of what could be an extremely impressive hatchback shows the car as a fully-fledged off-road vehicle. This particular render takes the old Tata Nano and transforms it with a widebody kit and a lifted off-road suspension. The car also features some massive five-spoke alloy wheels along with equally massive all-terrain tires. The car has been converted into a two-door vehicle as well. The original Tata Nano was a four-door hatchback. Additionally, this render has also been given a massive light bar and a roof rack on top as well. The front and rear of the car in the render have also been equipped with LED headlights and taillights as well.
Tata Nano electric concept car
Picture credit
Next up on this list is another futuristic concept of the Tata Nano. This Nano concept is even sportier and more futuristic looking than the last one. The render shows the Tata Nano as a two-door electric car. It has also been equipped with a widebody kit along with even larger wheels. The unique part about the wheels of this render is that it features a celestial design on the outer rim. Overall, the wheels are huge and feature a five-spoke design. The same celestial design has also been incorporated into the headlights as well. The render also has been given a massive spoiler as well.
Tata Nano electric black and gold edition
Picture credit 
This next render overall looks similar to the last concept Tata Nano electric. However, it has been given a differently designed front bumper and side skirts. The car has also been given a very classy black and gold color scheme. The render features a beautiful-looking LED headlight design as well. Like the other renders, this one too features a widebody kit and it gets an even larger spoiler at the rear which has also been finished in the same golden color. Additionally, the car has been designed with a set of massive multi-spoke alloy wheels and low-profile tires.
Tata Nano reborn concept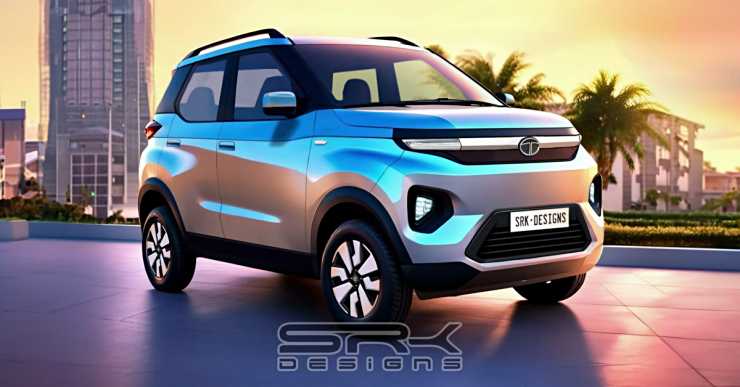 Picture credit 
Last but not least, this particular Tata Nano concept is the most realistic-looking of them all. This Tata Nano render features a design that looks like it belongs to the current generation of Tata SUVs. The front end of this Nano concept features the familiar split headlamp design with LED DRLs up top and LED headlights positioned on the front bumper. Unlike all the other renders like above, this one features all four doors and has been equipped with realistic-looking silver alloy wheels. The render does not show the rear-end design of this Nano.