This content contains affiliate links. When you buy through these links, we may earn an affiliate commission.
As a genre, fantasy has a reputation for super long books. Several years ago, The Guardian ran an essay entitled "Fantasy Must Shake Off the Tyranny of the Mega-Novel." If you look at the work compiled by The Fantasy Inn on word counts of some of the longest SFF series, well, it's a bit staggering (we're talking multiple millions).
If we count books instead of words, we can start small: three books in The Lord of the Rings trilogy, seven in The Chronicles of Narnia, eight in The Dark Tower series, ten in The Chronicles of Amber, 41 in Terry Pratchett's Discworld series. You get the picture, right? This isn't even beginning to get into some of the heftier single-volume tomes out there.
Some even argue that good fantasy novels have to be longer than non-fantasy novels because worldbuilding takes time (and words). For the record, I disagree with this perspective, even though I appreciate quality worldbuilding as much as the next avid fantasy reader.
Put simply, not all good fantasy is chonky. In fact, some of it is downright short. And I'm not just talking about flash fiction. There are some incredible fantasy novels and novellas out there, which is excellent news for readers who aren't in a position to read an epic novel or series right now.
Uncommon Charm by Emily Bergslien and Kat Weaver (94 pages)
Bergslien and Weaver's humorous novella centers on lovingly rendered young friends, Julia and Simon, who live in a magic-infused alternate 1920s London. Julia returns home after being expelled from school, while Simon is quiet and deeply invested in studying magic. Julia's mom is Simon's teacher, and the two teens develop a friendship pretty quickly. As Julia struggles to understand her fraught relationship with her mother and Simon's magical powers (which are intertwined with his Jewish faith) develop, the pair find themselves with a mystery on their hands — one involving Julia's mother. You'll burn through this one quickly, but its memorable characters will stick with you.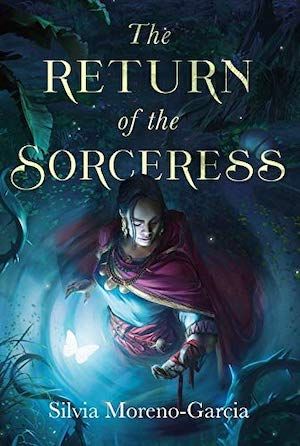 The Return of the Sorceress by Silvia Moreno-Garcia (96 pages)
Silvia Moreno-Garcia's fantasy always delivers on magic and grit, and this short book is no exception. The magic in this story world is bloody and has ties to Nahuatl figures and concepts. Protagonist Yalxi has, er, committed some pretty dark deeds in her time. That's how she came to be Supreme Mistress of the Guild of Sorcerers…and lost to her traitorous lover. His betrayal sets her on the path of revenge that forms much of the story. Her quest forces her to revisit her past in really interesting ways, and if she wants to regain her powerful position, she'll have to get her hands a little dirty.
The Salt Grows Heavy by Cassandra Khaw (112 pages)
If you've ever read Cassandra Khaw's work, you'll be supremely unsurprised to learn that this book is a bloody dark fantasy with elements of horror. Like their other works, this one is definitely not for the faint of heart. The key characters are a badly wronged mermaid seeking escape from her captivity and a plague doctor who's grappling with their own traumatic past. The obstacles they encounter as each aids their own and the other's escape are, shall we say, disturbing and mysterious. This is no children's fairy tale; it's a fantastical work of body horror that will haunt you for a long time.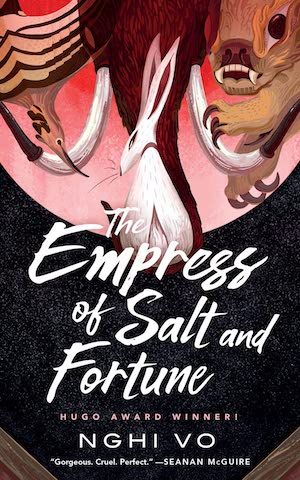 The Empress of Salt and Fortune by Nghi Vo (128 pages)
This one's a novella, but it's also book one of four in The Singing Hills Cycle. Happily, the books truly form a cycle, so you can read any of them on their own or multiple volumes in whatever order you please. This particular volume begins with news of Empress In-yo's death, uncovering details of her life as empress through a cleric's research and a woman named Rabbit who once served In-yo. What comes to light through the pair's interactions is a tale at once feminist, queer, empowering, and raw.
Once More Upon a Time by Roshani Chokshi (144 pages)
This novella is delivered through exceptionally written and enjoyably humorous prose. Through a clever mash-up of two fairy tales, Chokshi creates an entirely new fairy tale (think: princess from tale A meets prince from tale B, resulting in tale C — this book). Imelda and Ambrose fall in love and get married within days, but when Imelda eats a poisoned tomato during their wedding feast, Ambrose consents to sacrifice their love for one another to a witch in order to save Imelda's life. After a year and a day of loveless marriage, the witch returns to ask a favor and to plant a seed that just might lead the unhappy pair to a truer happily-ever-after.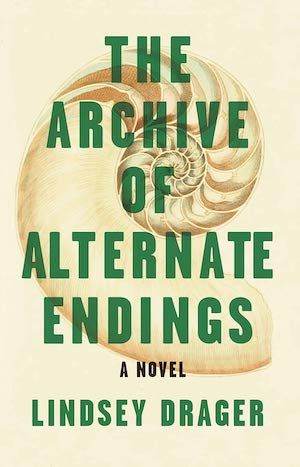 The Archive of Alternate Endings by Lindsey Drager (168 pages)
This is more than just a retelling of a fairy tale. Drager's novel is a fascinating reimagining of "Hansel and Gretel" through characters in different eras who engage with the tale in some way. Whether that's the 14th-century siblings behind the characters, people who write or illustrate or read versions of the tale as it evolves across the centuries, or the tale's continued circulation two centuries from now, each fragment of this unusual book brings focus to a different aspect of the tale and its potential relevance.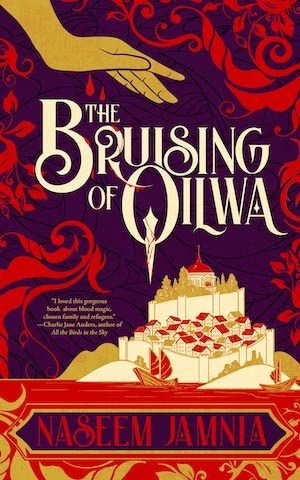 The Bruising of Qilwa by Naseem Jamnia (176 pages)
For such a slim volume, Jamnia's novella sure covers a lot of ground! Practicing blood magic is dangerous, which is why queer protag Firuz has to flee for their life amidst a terrible plague. Firuz manages to escape to Qilwa as a refugee and starts a new life for themself. Unfortunately, the safety they've begun to build crumbles when they use their blood magic and find themself the target of fear and misunderstanding once more. It's a compelling story that raises important questions for contemporary readers.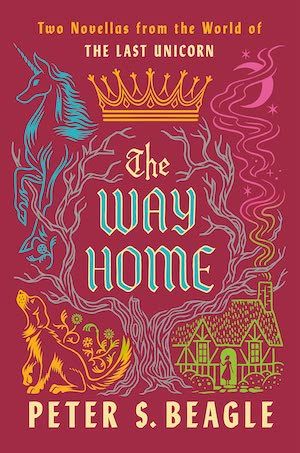 The Way Home by Peter S. Beagle (224 pages)
This one might seem a little long for a novella, but that's because it's actually two novellas called Two Hearts and Sooz. If you loved The Last Unicorn, then you're in luck because these novellas are both set in the same world. The previously published Two Hearts gives readers a new character to enjoy in the young Sooz. When we meet her, she's trying to save her village from a griffin. Some old favorites (anyone else remember the lovable Schmendrick?) come to her aid, and Sooz catches up with her years after the events of Two Hearts.