This content contains affiliate links. When you buy through these links, we may earn an affiliate commission.
This is going to come as a surprise, but here at Book Riot, we're really into books. Between all of the contributors who write for the site, we read a boatload of books every month, and we don't always get the chance to talk about each one of our favorites. In this roundup, we're sharing the best comics, graphic novels, webcomics, manga, and more we read in the last few months — and why you should probably read them, too.
From light academia manga to a queer Western retelling of Northanger Abbey to a murder mystery at a baking competition TV show and more, there's something here for all comics readers!
Associate Professor Akira Takatsuki's Conjecture by Mikage Sawamura, art by Toji Aio, lettering by Arbash Mughal, translated by Katelyn Smith
Light Academia vibes with cozy mystery and a touch of supernatural. This was everything I was missing in my reading pile, and then some! Naoya Fukamachi is a first-year university student in Professor Akira Takatsuki's Folklore Studies class. It's a fun class, and he didn't really think much about it when he submitted a paper about a strange festival from his childhood. However, it caught the attention of the professor — an eccentric individual with a passion for the mysterious. The professor picks up on something special about Fukamachi and offers him a part-time job as a research assistant. While the two work together to research folklore and strange myths, Fukamachi learns more about his own childhood experience and the supernatural gift he received that night. I love the urban myth setting, but what really makes this story glow is the connection between Fukamachi and Takatsuki. It's magical all on its own. Thank the Spirits—Volume 2 is scheduled for release on November 21, 2023.
—Ann-Marie Cahill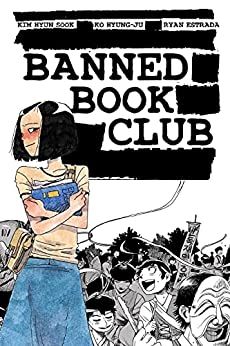 Banned Book Club by Kim Hyun Sook, Ryan Estrada, and Ko Hyung-Ju
This graphic memoir recounts the author's experiences joining a student-led activist group called the Banned Book Club in 1983 when a horrific military regime ruled South Korea. For Kim Hyun Sook, being accepted into the university and studying literature meant an escape from her demanding mother and from working in her family's languishing restaurant. But when she arrives for classes on the first day, she encounters her first experience with protests. She ends up befriending members of the protest and joining their cause when she learns about how the regime is banning books, controlling the press, and torturing students. I read this thinking it would be about banned books, but it's about so much more than I expected: how governments control the population by repressing reading and education, and also about a period of time in a place I know little about. I loved it. It's so immersive and made me want to read more.
—Margaret Kingsbury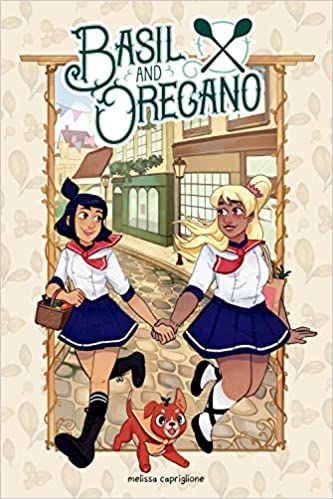 Basil and Oregano by Melissa Capriglione
Basil Eyres and Arabella Oregano are students at Porta Bella Magiculinary Academy, where they learn the art of magical cooking. Basil needs to finish at the top of her class to hold onto her scholarship, while Arabella is trying to live up to impossible standards set by her mother. Despite the competition, they can't help falling for each other. This was an adorable, magical read! I especially love the tomato dog companion.
—Danika Ellis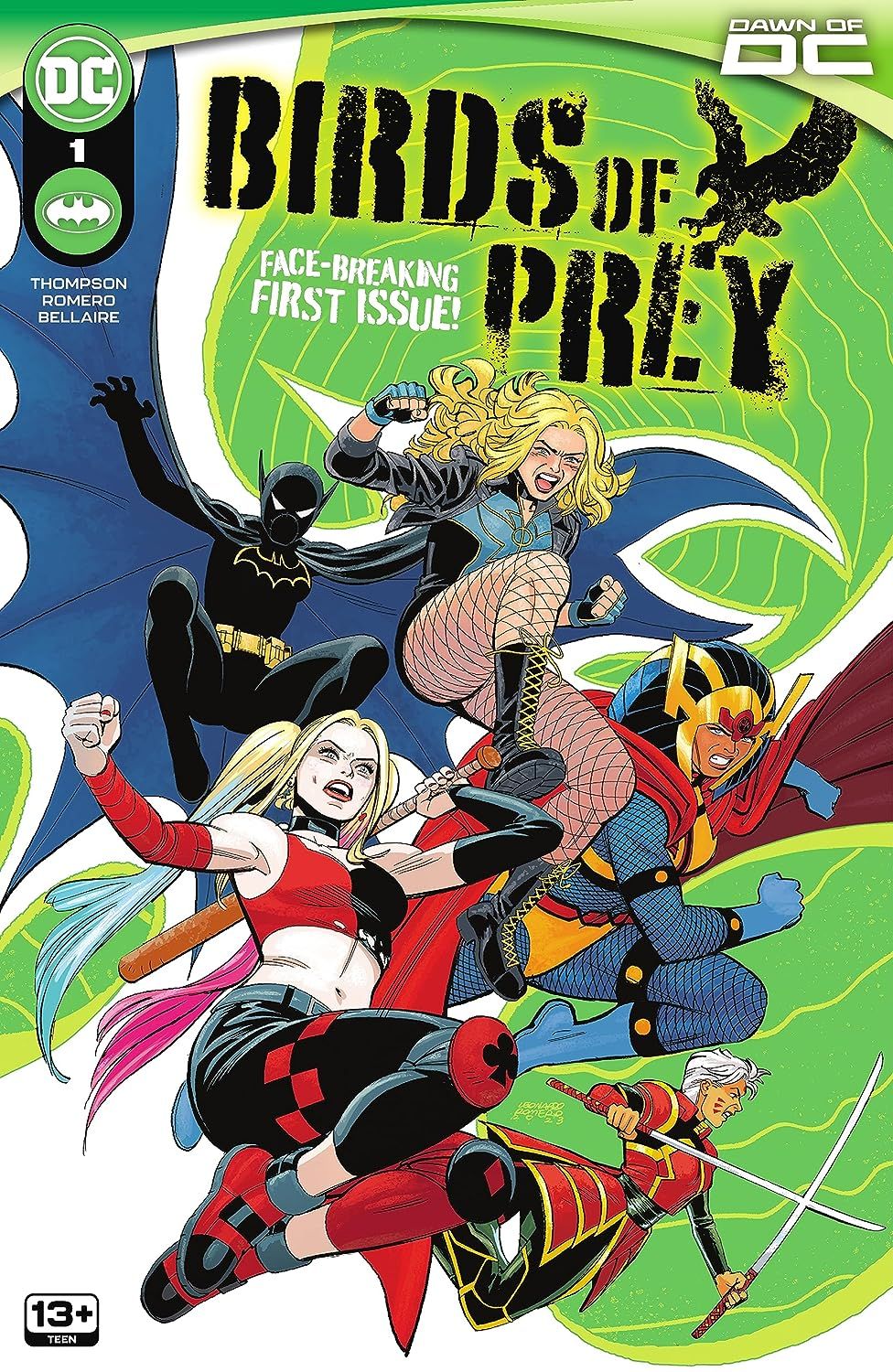 Birds of Prey #1 by Kelly Thompson, Leonardo Romero, and Jordie Bellaire
Black Canary has a problem: her adopted sister Sin is in danger, and for reasons that have yet to be revealed, she can't ask for help from her usual closest allies. So she puts together an oddball team: Big Barda, Cassandra Cain, Harley Quinn, and Zealot. It's been a shocking nine years since the last time DC published a book featuring the Birds of Prey, a team with a changeable but almost always all-female lineup, but now I think it was worth the wait. Thompson and Romero burst out of the gates with a fast-paced, action-packed, and delightfully zippy first issue, crammed with fight scenes and snappy banter. Bellaire's colors are worth the price of admission, with their retro-desaturated palette giving the whole thing a funky 1970s veneer. The precise characterization and numerous callbacks to older continuity reward the longtime fan, but it's carefully constructed to be an easy jumping-on point for new readers, too. It's punchy and perfect.
—Jess Plummer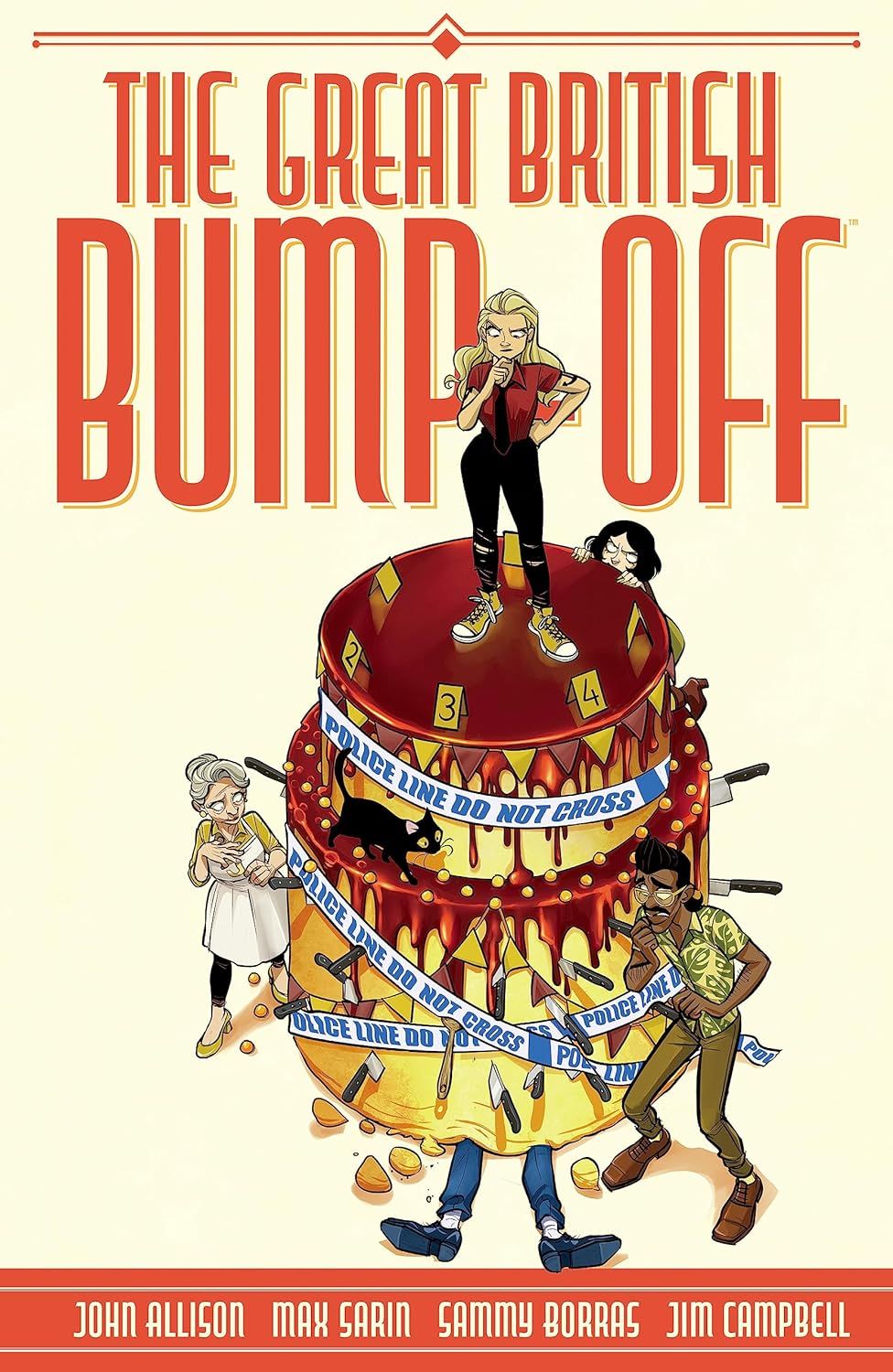 The Great British Bump-Off by John Allison, Art by Max Sarin, Color by Sammy Borras
Murder! A Baking Competition! Over-the-top contestants and challenges! This is everything a Great British Bake Off fan could want — except maybe a themed murder mystery episode of GBBO. Plus, all four issues are now available in a single trade!
—Elisa Shoenberger
Mexikid by Pedro Martín
I grabbed an excerpt of this graphic memoir on Free Comic Book Day back in May. When I saw the whole-ass book on display in my local comic shop recently, I didn't hesitate. This road trip memoir is written from the point of view of Martín's younger self and is about the time when he and his massive Mexican American family traveled down to Mexico to pick up his grandfather and bring him back home with them. Adventures are had. Lessons are learned. Growing up occurs. The book is wholesome AF.
—Steph Auteri
Monstress, Vol. 1 by Marjorie M. Liu and Sana Takeda
When I say this is a graphic novel, I mean it in every sense of the word. There is a lot of blood, guts, stunning art, and unforgettable storytelling. Monstress takes place in a world divided: humans vs. non-humans. Our story begins soon after a devastating battle where our hero unleashes a power that was previously thought impossible. Carnage ensues. Reading this was a truly transportive adventure. I wildly oscillated between being at the edge of my seat and staring off into space, just trying to process what was happening (in the best way possible). The art is next level, the characters are brilliant, and the story does not pull punches. Alliances shift and change, lives are restored and lost, and history comes knocking, asking for its debt to be paid. If I don't stop talking about this book right now, I probably never will.
—Mara Franzen
My Brilliant Friend: The Graphic Novel by Elena Ferrante, translated by Ann Goldstein, adapted by Chiara Lagani, and illustrated by Mara Cerri
This adaptation of Elena Ferrante's first volume in the Neapolitan novels is absolutely gorgeous. The rich watercolor-like blues and sketching drawings tell a condensed version of the story that captures the core of Lenu and Lila's experiences as they come of age amidst uncertainty and a shadowy neighborhood. The visuals are absolutely stunning and really tap into the girls' clashes, passions, and fears. This is a must-read for all Ferrante fans!
—Leah Rachel von Essen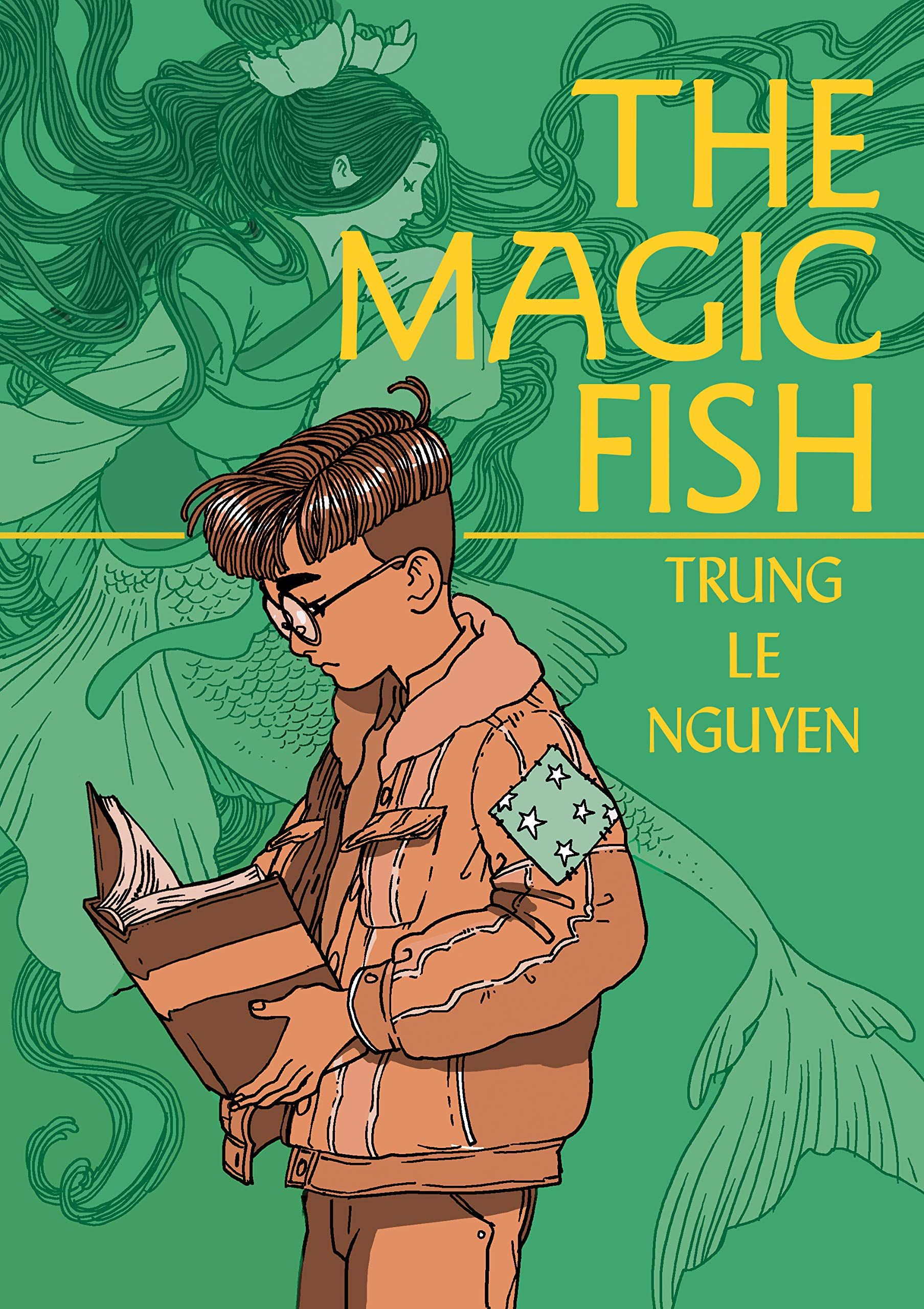 The Magic Fish by Trung Le Nguyen
Little Tiên goes to school, spends time with his friends, and reads fairy tales with his mother. The illustrations throughout, and especially during the fairy tale narration, are beyond gorgeous. They give a dream-like quality to everything. But his life isn't a fairy tale. He's keeping a secret and wants to come out to his parents. But he doesn't even know if there's a Vietnamese word for gay. Through stories, they navigate this conversation — and life. It made my heart feel full. 
—Yashvi Peeti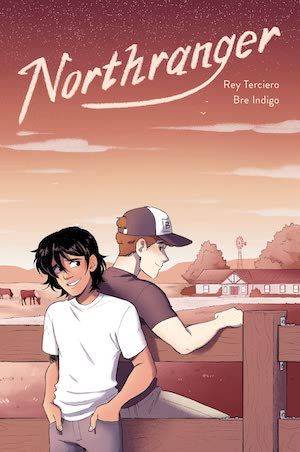 Northranger by Rey Terciero and Bre Indigo
I absolutely adore Northanger Abbey, so when I saw that someone had written a graphic novel reimagining of it — a queer one, no less! — I was on that immediately. Cade is a horror-crazed teen who wants to earn some of his own money. When an opportunity arrives to go work on a ranch with his stepdad, he takes it…even though he has no idea what to do outside of his city ways. The ranch owner is a little scary, but his son, Henry, is incredibly sweet, and Cade can't help but like him. There's some kind of secret on the ranch, though, and Cade's horror-loving mind can't help but imagine the worst. I have to tell you that I covered my eyes to hide from some major second-hand embarrassment (that you might be able to figure out if you've read Northanger Abbey), but otherwise, I loved the heck out of it! Everyone should read it at least once.  
—Jessica Pryde
The Ojja-Wojja by Magdalene Visaggio and Jenn St-Onge
An autistic teen obsessed with aliens and her trans best friend who's recently gotten into witchcraft investigate the local mystery of the Ojja-Wojja, only to accidentally unleash terror on their small town. I would die for Val, and her friendship with Lanie is so pure and lovely. The story itself and the way they ultimately take down the big bad? Chef's kiss, chef's kisses all around.
—Rachel Brittain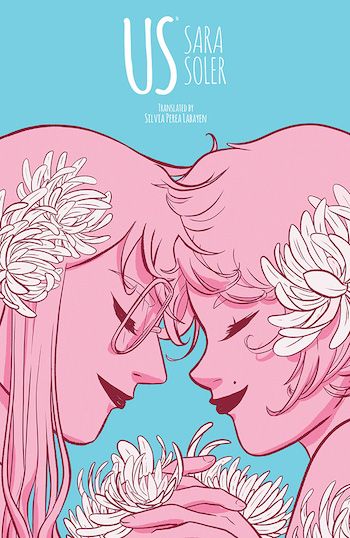 Us by Sara Soler, translated by Silvia Perea Labayen
I love a graphic memoir, and this one was so heartwarming. Author-illustrator Sara Soler reflects on how her relationship with her partner Diana changed in some ways and stayed the same in others after Diana came out as transgender. It's clear how much care the author put into creating this book. The love Sara and Diana have for each other comes through on every page. The pastel color scheme also gives the illustrations a gentleness that complements their love story well.
—CJ Connor
---
Can't get enough comics? Check out The Bestselling Comics of All Time and The Most Underrated Comics According to Goodreads.
Looking for more of Book Rioters' top picks? Here are our favorite books we read in the last few months of the non-comics variety.