This content contains affiliate links. When you buy through these links, we may earn an affiliate commission.
I feel as if everyone but me has known about author and illustrator Ursula Vernon since forever. As the woman behind multiple popular children's book series, she has quite the following.
But I only stumbled upon her in 2020 when I read a horror novel by T. Kingfisher. It turned out that T. Kingfisher and Ursula Vernon were one and the same and that everyone else already knew this. After someone else made the connection for me, I learned that Vernon wrote children's books under her legal name and used T. Kingfisher for her adult titles. What I would soon come to realize was that — adult or children's book — everything she did was awesome.
When I think of Vernon's oeuvre, I think of Winona Ryder in Beetlejuice, saying, "I myself am strange and unusual."
That's how her books feel to me. Odd little nuggets of dark surrealism.
But on top of all that delightful darkness, the Vernon/Kingfisher books also have such a fantastic sense of humor, mostly in their character development. I go wild over how well-crafted her characters are and how funny they can be in the midst of literal horrors. Even when faced with the sorts of things that should make their minds snap, they continue to crack wise. It is this sensibility that keeps them together and also helps cut the tension for readers. In fact, I am always so gosh darn impressed with how good she is at using her characters to create her own pitch-perfect comedic horror vibe that she is also the only author to whom I have ever sent a fan letter. I just couldn't help myself.
Vernon/Kingfisher writes everything from horror to fantasy to romance, but I'm writing this as someone who digs horror above all other things, so my pathway reflects that.
Okay, then. Let's dig in.
The Hollow Places by T. Kingfisher
In this fun-as-heck horror novel, a young woman discovers a strange portal in her uncle's house, and it is one that leads to madness and terror. I feel that if I say much more than that, I'll be giving it all away. Anyway. This was the first book of Kingfisher's I read, and I was immediately dazzled by the mix of creepiness and humor. I declared her my new favorite author and proceeded to read everything else of hers I could get my hands on. This remains one of my favorites from her, and I find it to be a great precursor to some of her more recent horror novels, like this year's A House with Good Bones. It just establishes her particular tone as an author, and if you read it and love it as I did, you'll know you're likely to enjoy anything else she writes.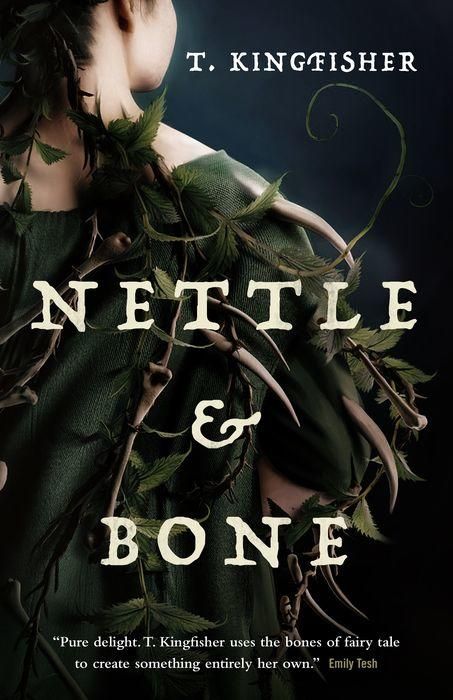 Nettle & Bone by T. Kingfisher
Once I was hooked on Kingfisher's horror, I felt more inclined to read her fantasy, as mentioned in my post about fantasy books for people who don't like fantasy books. (Hello. It's me.) Luckily, Kingfisher does dark fantasy, which appears to sufficiently satisfy my dark, murky heart. I was delightfully surprised to find I actually enjoyed this story of a princess determined to save her older sister from an abusive prince. It helped that Kingfisher's skill with character development and her sense of humor remained fully intact. But what I loved most about this book is that it's (as I said before) feminist AF, showing that, with determination, a woman can break the shackles that seek to keep her powerless in the face of powerful men. Once I read this dark fantasy, I found myself more inclined to delve into her back catalog of other fantasy titles.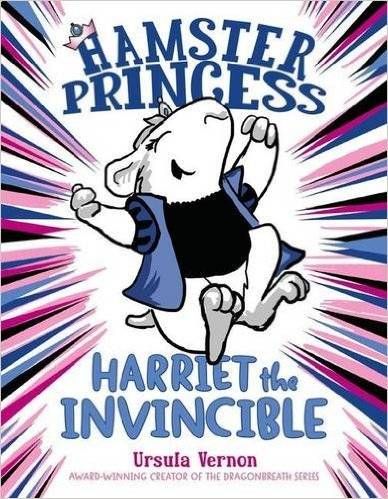 Hamster Princess: Harriet the Invincible by Ursula Vernon
Once you've accepted Vernon/Kingfisher as your lord and savior, you'll want to share her work with everyone, including your 8-year-old. There's lots to choose from, but I'm going to recommend the Hamster Princess series, which consists of six titles that pubbed over the course of four years. What's great about these is that they take already familiar fairy tales (like Jack and the Beanstalk and Rapunzel) and turn them on their heads, pushing back against traditional tropes like the damsel in distress who waits to be saved by her dashing prince. In the first book, Harriet the Invincible, Vernon writes her own take on Sleeping Beauty, introducing us to Harriet, a hamster princess who wants nothing more than to live a life of adventure. And forget about waiting for someone else to save her. Harriet leads young readers through the entire series, providing what I think is a fantastic influence on kids who might otherwise be steeped in our culture's lessons in gender norms.
---
Looking for more recommended titles from some of our favorite authors? Check out Book Riot's whole Reading Pathways series. Or, for more books that play around with dark fantasy (now that you're obviously sold on the genre), we have this great list of dark fantasy titles that will enchant your life.