Modifying a vehicle is something that every automotive enthusiast loves. However, in India, modifying a vehicle is illegal. Now, the thing is that some modifications fall under a gray area, and because of this, people do them. Even Bollywood celebrities who drive some of the most expensive and exquisite cars have done these modifications. So, if you want to know which famous Bollywood celebrities have modified their vehicles, then you have come to the right place.
Shilpa Shetty
One of the most recent entrants of the modified car club is the popular Bollywood actress Shilpa Shetty. The fitness enthusiast actress recently got her white Bentley Flying Spur luxury sedan wrapped in a flashy chrome wrap. The actress was spotted arriving at a restaurant with her husband Raj Kundra recently in her newly wrapped sedan. Chrome wraps are not very common because they are extremely difficult to apply without scratching; however, if done correctly, they look the most extravagant.
Mika Singh
Next up on this list with another very uniquely wrapped vehicle is the popular Bollywood and Punjabi singer Mika Singh. Mika owns a Range Rover Vogue luxury SUV which has been wrapped in a Psychedelic color-shifting wrap. This distinct wrap shifts its color shades according to the amount of light that hits it. He has also opted for bigger alloy wheels for his modified Range Rover Vogue, which sits at the top of the Range Rover lineup. However, Mika Singh's SUV is from the previous generation of the Range Rover.
Ranveer Singh
The immensely popular Bollywood actor Ranveer Singh also owns a very special vehicle wrapped in an equally special color. The actor drives himself around in an Aston Rapide sports sedan which has been wrapped in a shade of very classy light sky blue wrap. The actor has been spotted driving this sports sedan from British supercar and luxury car maker Aston Martin on multiple occasions. Underneath the sky blue color, this car is finished in a shade of white.
Disha Patani
One of the newest and promising talents of Bollywood, actress Disha Patani also owns a wrapped Mercedes Benz S450 luxury sedan. Disha Patani has chosen a very sinister looking Satin Black color, which is commonly associated with the Batmobile. Also, all of the chrome that comes from the factory on the S450 has been blacked out to add to its new menacing appearance. The actress has been spotted around in her Satin Black Mercedes Benz S-Class on multiple occasions.
Vidyut Jamwal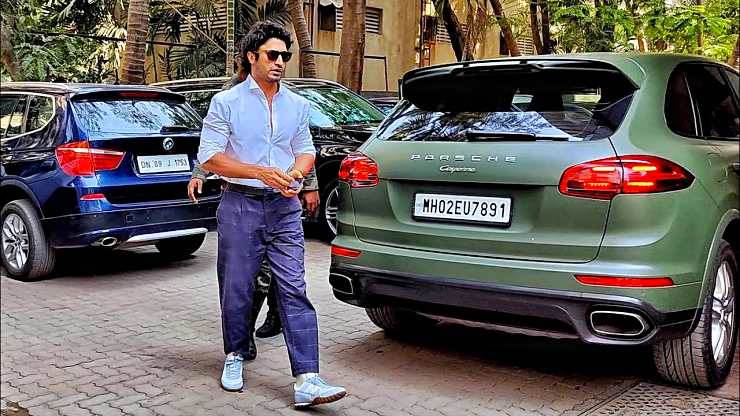 The popular Bollywood action star Vidyut Jamwal, known for his outstanding role in the Commando film franchise, is a certified automotive enthusiast. The actor is regularly seen being driven around in his Porsche Cayenne luxury SUV. The actor has got his SUV fully wrapped in a matte Olive Green or Army Green shade. The SUV now boasts a sporty look with this modification, replacing its original white color.
Ananya Pandey
The upcoming Bollywood actress Ananya Pandey, daughter of popular actor Chunky Pandey, also owns a distinct vehicle. The actress uses a Range Rover Sport luxury SUV, which just like Vidyut Jamwal's Cayenne, has been wrapped in the satin dark green wrap. To add to the green and black theme, all of the emblems on her Range Rover Sport have also been painted black, enhancing the appearance of her SUV.
Rohit Shetty
Now coming towards some more highly modified vehicles from Bollywood, the popular movie director Rohit Shetty also owns an extensively modified car. Rohit Shetty owns a Ford Mustang which has been heavily modified to make it look a lot more aggressive than it already is. The director's Mustang features a custom wrap, a new front grille, and a redesigned hood with a large air scoop and some bigger alloy wheels.
Dulquer Salmaan
The super popular Malayalam movie star Dulquer Salmaan has one of the most impressive collections of classic vintage cars and SUVs. One of the main highlights from his collection is his Land Rover Defender from the previous generation. The actor got his classic Land Rover Defender restored with modern features while preserving its original appearance. He is also the only actor in the industry who owns both the old and the current generation of the Land Rover Defender SUV.
Prithviraj Sukumaran
Another very prominent actor from the Malayalam film industry who owns a fully restored Land Rover Defender Classic is Prithviraj Sukumaran. The actor has an excellent taste in cars, and with the help of it, he has got his SUV fully restored with some subtle modifications to enhance its appeal. Prithviraj's classic Defender has been painted in the popular shade of Audi's Nardo Grey. The actor shared the pictures of this SUV when he took its delivery a while ago.
MS Dhoni
Although not from Bollywood, the legendary cricketer and former Indian team captain MS Dhoni also owns a highly modified Nissan Jonga One Ton pickup truck. Dhoni has opted for a very unique paint option in a green finish for his truck, and it was done by SD Car World, a restoration specialist. SD Car World is based in Punjab and focuses on SUVs, particularly Jonga and Nissan One-Ton pickup trucks. The former cricketer is frequently seen driving this unique vehicle on the roads.
Surya Kumar Yadav
Following the footsteps of MS Dhoni, the immensely talented young and upcoming batsman Surya Kumar Yadav also bought a Nissan Jonga One Ton pickup truck. However, it was later found out that it was not a Nissan Jonga pickup truck; rather, it was a Mahindra Thar old generation which was heavily modified to look like a Jonga. It was finished in a striking Highlighter green color. It was recently reported that the cricketer has sold this vehicle.