Mobile school apps have become more than just a source of entertainment or convenience; they have transformed into powerful tools for education. Whether for communication, learning or organization, mobile school apps offer a range of benefits, from helping with homework to staying connected to emergency announcements, that enhance the educational experience for schools, parents and students. 
CLICK TO GET KURT'S FREE CYBERGUY NEWSLETTER WITH SECURITY ALERTS, QUICK VIDEO TIPS, TECH REVIEWS, AND EASY HOW-TO'S TO MAKE YOU SMARTER 
Communication: The linchpin 
In today's interconnected world, mobile apps have turned into vital communication hubs for the school community. Schools are utilizing these apps to share important announcements and schedules, and enable direct messaging among teachers, students and parents.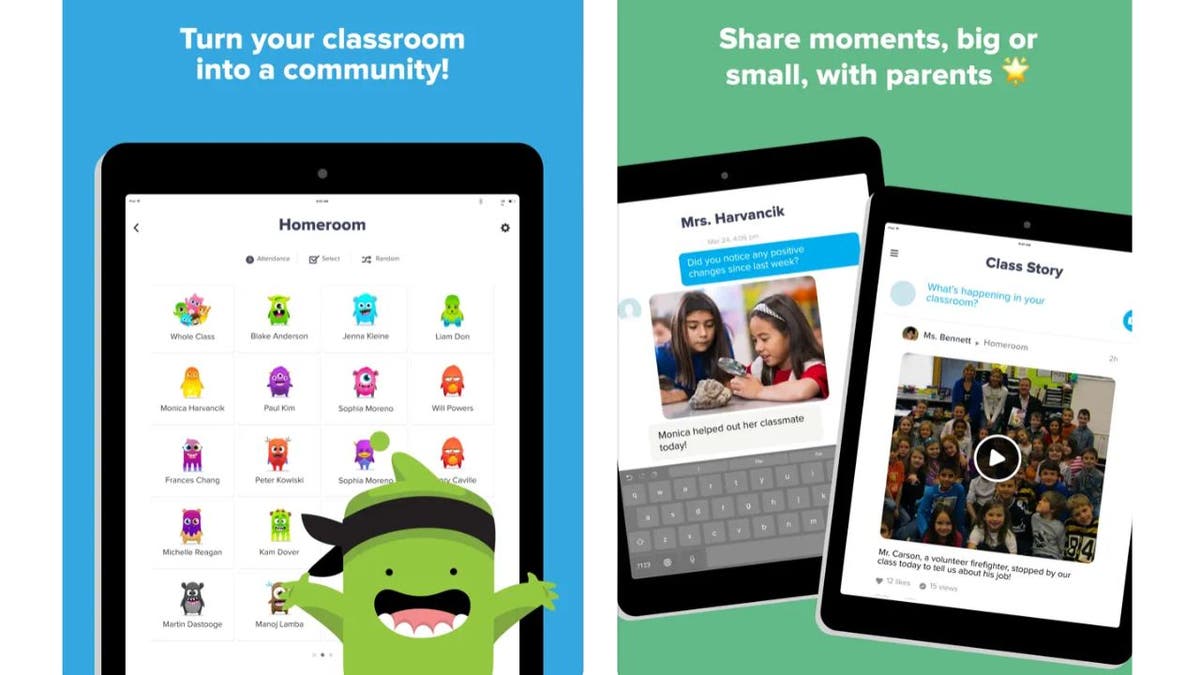 ClassDojo 
The ClassDojo app makes school feel a little smaller and a lot friendlier. Parents, teachers and students can share updates and cheers for everyday wins, big or small. It's like having a virtual classroom where everyone can stay connected and support each other. 
iPhone: 4.8 stars (at time of publishing) 
Android: 4.8 stars (at time of publishing)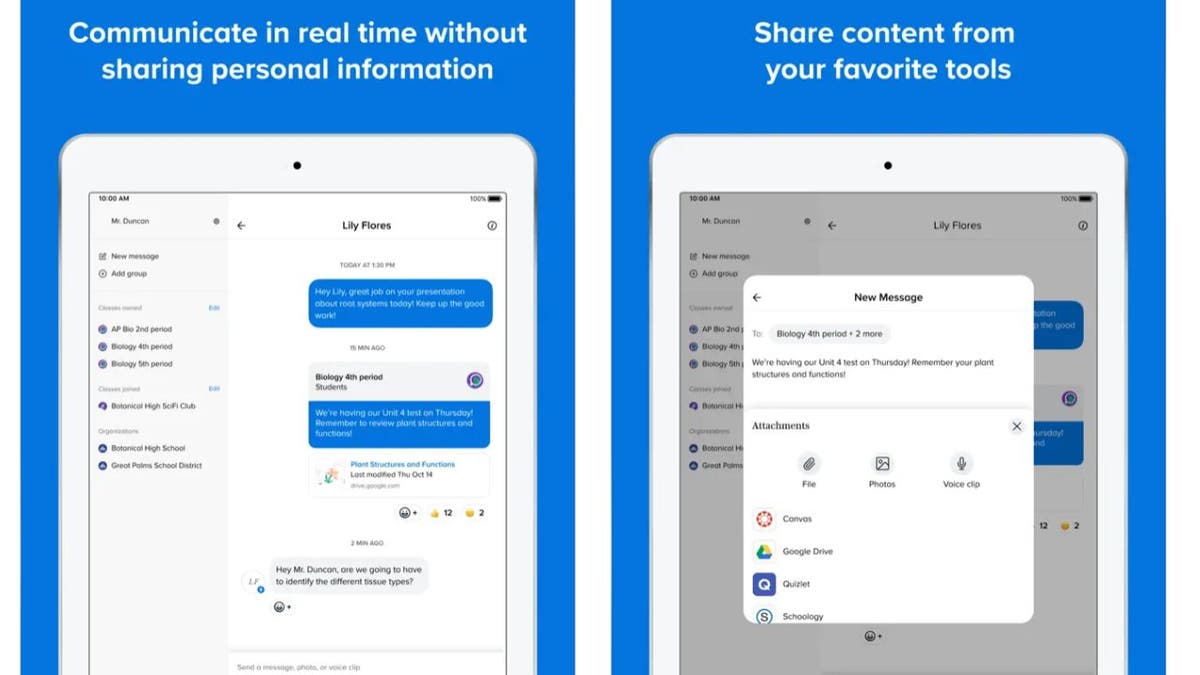 Remind 
With the Remind app, it's easy for parents and students to stay informed about upcoming assignments and school events. It's like having a school bulletin board right in your pocket. You can also communicate with your teachers and classmates through Remind and get instant feedback on your progress. 
iPhone: 4.8 stars (at time of publishing) 
Android: 4.4 stars (at time of publishing) 
MORE: BEST WIRELESS PHONE PLANS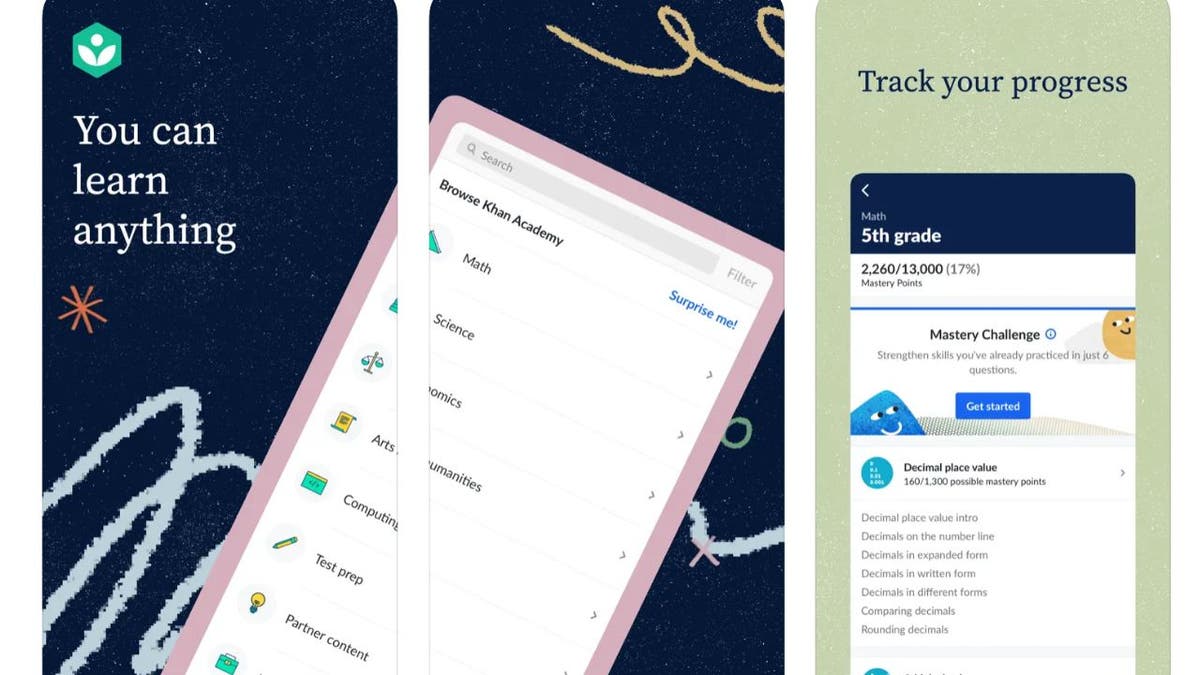 Educational Resources: A digital library 
Mobile apps are repositories filled with educational materials, hosting e-books, interactive lessons and video tutorials catering to diverse learning needs. 
The Khan Academy app is like having a tutor in your pocket. It offers helpful lessons on a ton of subjects, making study time less stressful and more productive for students. Whether you need help with math, science, history or arts, Khan Academy has you covered with engaging videos and interactive exercises. You can also track your progress and earn badges as you learn new skills. Khan Academy is a great resource for anyone who wants to learn something new or improve their existing knowledge. 
iPhone: 4.5 stars (at time of publishing) 
Android: 4.3 stars (at time of publishing)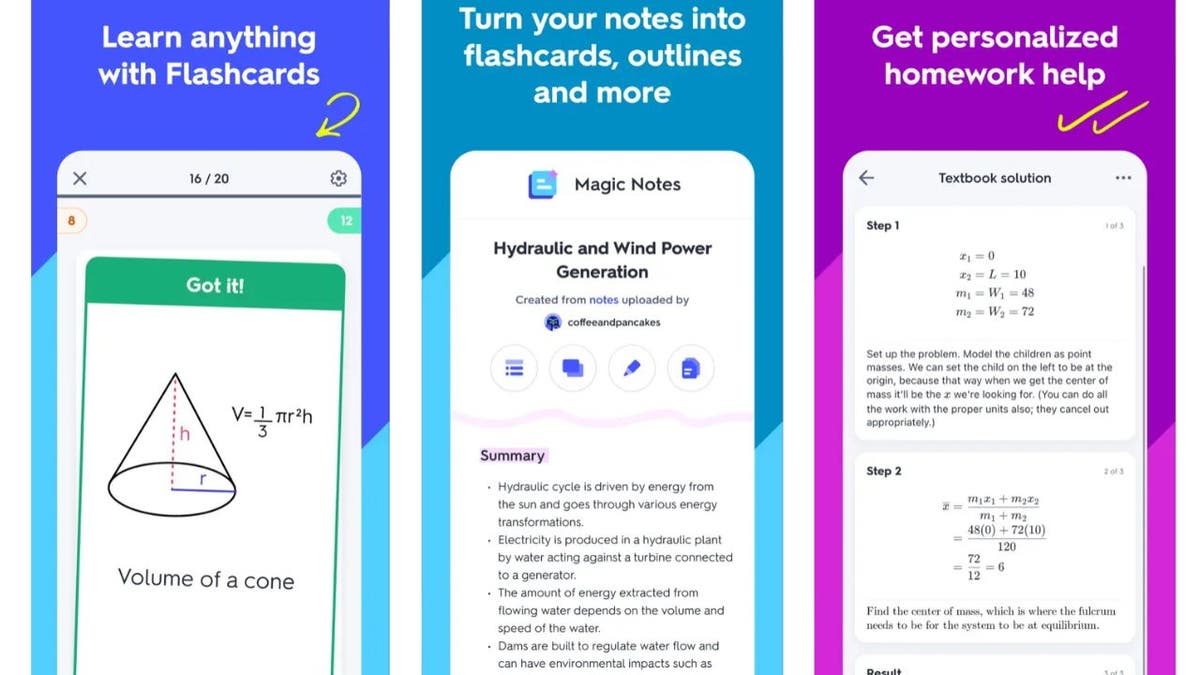 Quizlet 
The Quizlet app makes studying fun with games and flashcards that help reinforce what students learn at school. It's a lifesaver during exam season for both students and parents. You can create your own study sets or choose from millions of existing ones by other learners. You can also join live study sessions with your classmates or challenge yourself with timed tests. Quizlet is a smart way to study anytime, anywhere. 
iPhone: 4.8 stars (at time of publishing) 
Android: 4.6 stars (at time of publishing) 
Organization: The digital planner 
Organization is another critical area where mobile apps shine. They feature digital calendars, reminders and assignment submission platforms, helping schools and students streamline academic activities.
Canvas Student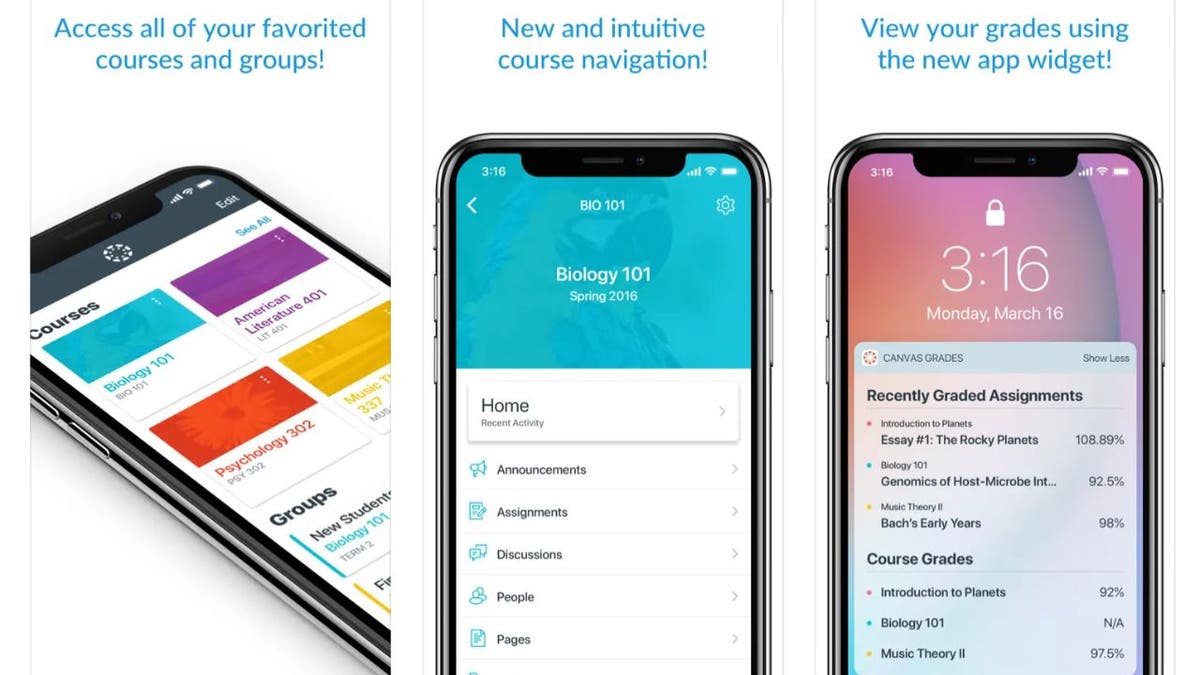 The Canvas Student app is one of the best all-in-one learning management systems in the edtech industry. It helps connect teachers and students online with features such as course creation, assignment management, grading, feedback, communication, collaboration and more. Canvas also integrates with many other apps and tools, such as Google Drive, Microsoft Office 365, Zoom and Quizlet. Canvas is free for individual teachers and students, but schools and districts need to pay for a subscription. 
iPhone: 4.7 stars (at time of publishing) 
Android: 4.5 stars (at time of publishing) 
myHomework Student Planner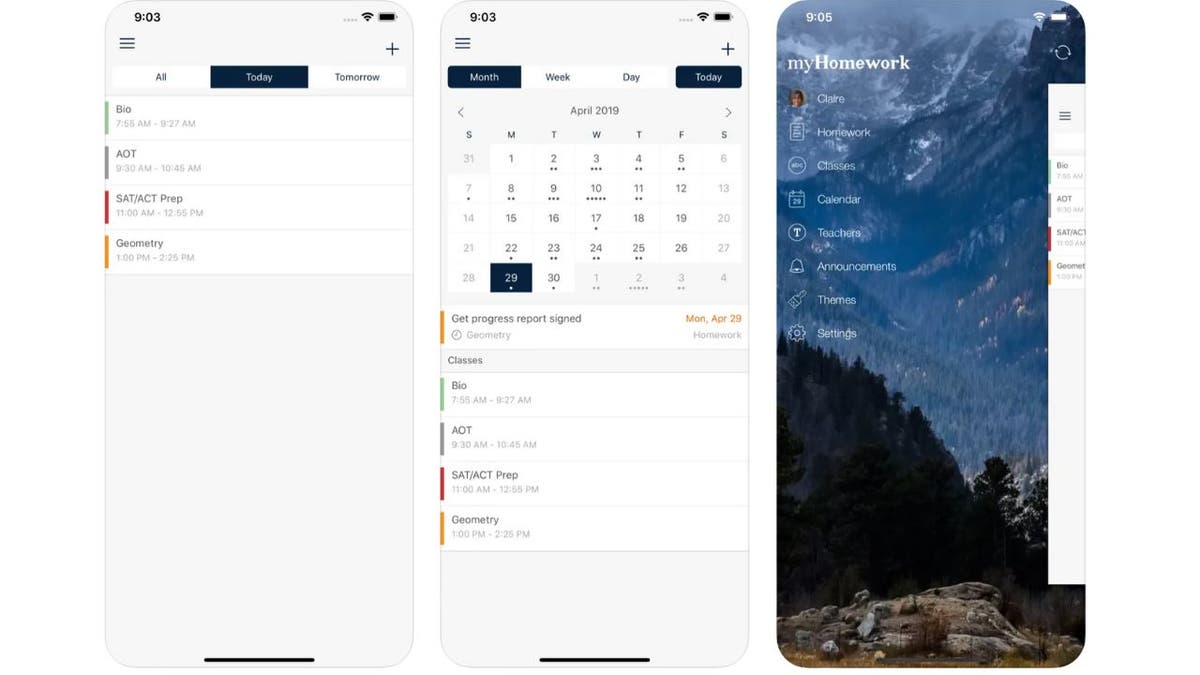 The myHomework app is the personal organizer that students never knew they needed. It helps keep track of assignments and due dates so nothing falls through the cracks. With myHomework, students can also sync their data across multiple devices, access their classes and homework online, and receive reminders for upcoming tasks. No more excuses for missing deadlines or forgetting assignments. myHomework is the ultimate tool for staying organized and productive in school. 
iPhone: 4.5 stars (at time of publishing) 
Android: 4.0 stars (at time of publishing) 
The investment  
When schools received the financial boost from pandemic relief funds, they went on a shopping spree, snagging up software licenses from tech companies hoping to ride the digital wave. However, many of those licenses found themselves in digital limbo, untouched and unopened. Clark County schools in the Las Vegas area reportedly spent a hefty $70 million for tech contracts, but some apps barely saw the light of day on students' screens. A pre-pandemic study by Glimpse K 12 revealed a startling 67% of educational software licenses were left on the shelf in a state of digital dormancy. 
The post-pandemic relevance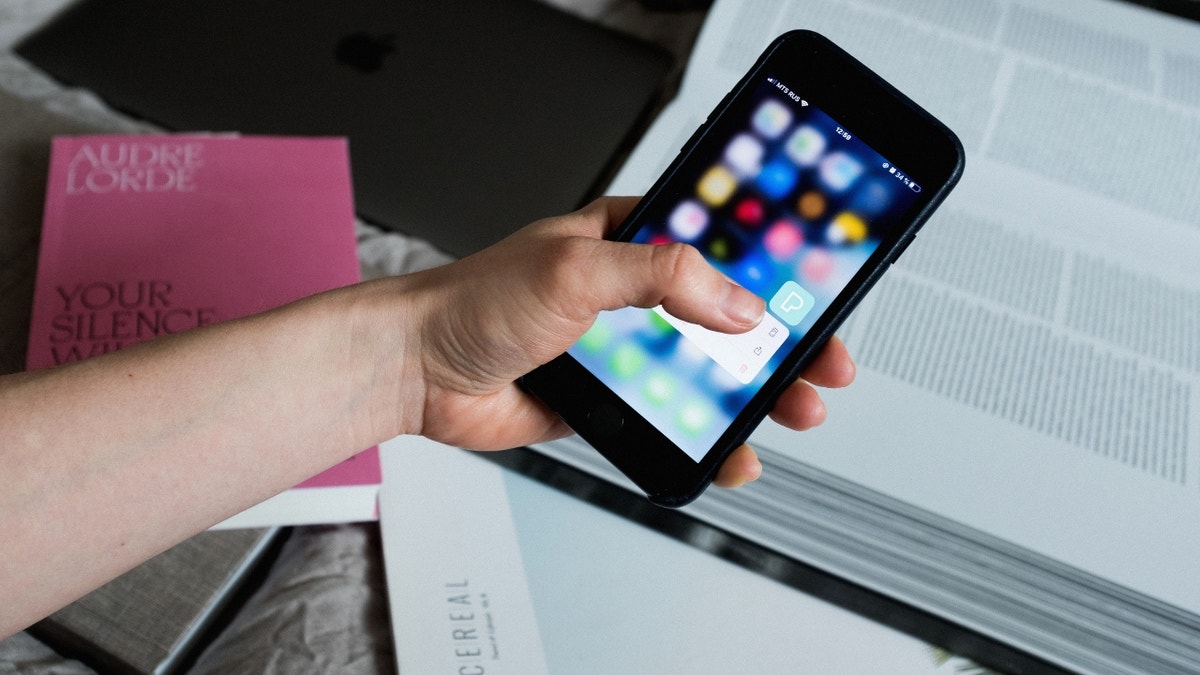 The pandemic catalyzed the adoption of mobile apps in schools. Yet, as we transition back to traditional classroom settings, the relevance of these apps remains strong. The EdTech market continues to expand, predicted to hit a valuation of $270.5 billion in 2023, showcasing the enduring demand for educational mobile apps. 
MORE: 2023 BEST BACK-TO-SCHOOL BREAKTHROUGHS 
The Future: A hybrid model 
These mobile apps are not merely a byproduct of the pandemic-induced shift to online learning; they are part of the evolving educational paradigm. Their role in enhancing communication, providing abundant educational resources, and fostering organizational efficiency makes them an indispensable asset for schools, parents and students alike, ensuring a bright trajectory for the EdTech sector in the post-pandemic world. 
Hello Parent 
The Hello Parent app eases school-parent communication, making it simpler to stay updated on your child's school activities and academic performance. 
iPhone: 4.0 stars (at time of publishing) 
Android: 3.8 stars (at time of publishing)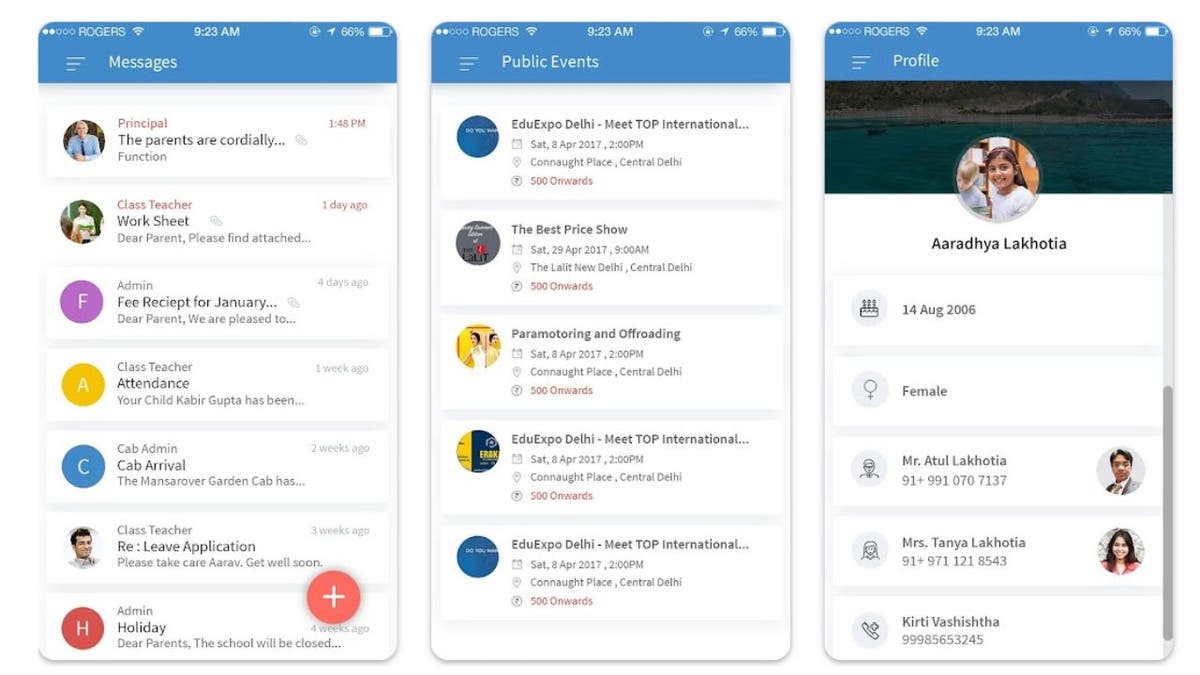 MORE: TOP 4 CHILD MONITORING PROGRAMS 2023 
Drawbacks to school apps 
School apps also have some drawbacks that need to be considered and addressed. Here are a few things for parents and schools to look out for. 
Mobile school apps may distract students from their academic tasks and reduce their attention span. Some students may use mobile school apps for non-educational purposes, such as playing games, chatting with friends, or browsing social media during class or study time. This can affect their academic performance and motivation. 
Mobile school apps could also compromise the privacy and security of schools, parents and students. Some mobile school apps may collect, store or share personal or sensitive information without proper consent or protection. This can expose schools, parents and students to risks such as identity theft, cyberbullying or hacking. 
Therefore, schools and parents need to be aware of the potential downsides of mobile school apps and take appropriate measures to prevent or minimize them. Mobile school apps should complement, not be a substitute for, traditional education methods.
GET MORE OF MY SECURITY ALERTS, QUICK TIPS & EASY VIDEO TUTORIALS WITH THE FREE CYBERGUY NEWSLETTER – CLICK HERE
Kurt's key takeaways 
The investment in mobile apps offers more robust tools to schools, parents and students. There are so many that it makes parenting even more complicated by needing to understand enough about the apps before letting them loose on your kids.  
Those benefits remain even following the pandemic that made installing them an initial necessity. Education mobile apps are expected to continue, with a growing EdTech market and the advent of a hybrid model of education. 
How do you see the evolution of mobile apps in education adapting to future changes in the educational landscape? Let us know by writing us at Cyberguy.com/Contact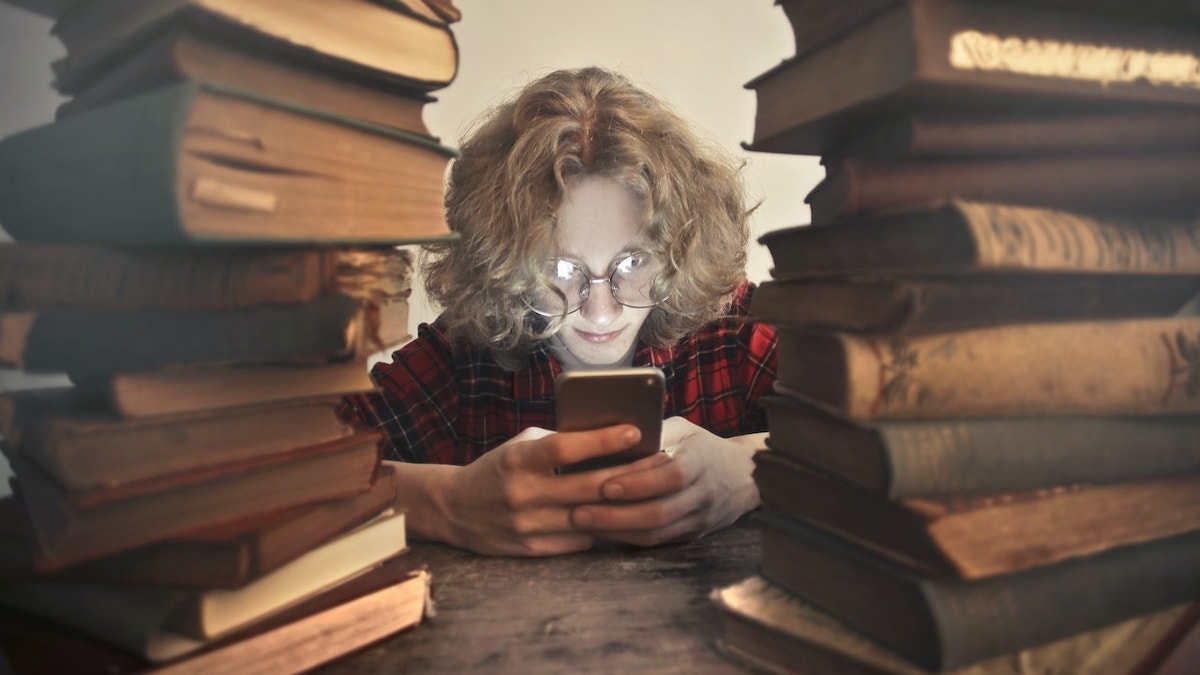 CLICK HERE TO GET THE FOX NEWS APP
For more of my tech tips and security alerts, subscribe to my free CyberGuy Report Newsletter by heading to Cyberguy.com/Newsletter 
Answers to the most asked CyberGuy questions: 
What is the best way to protect your Mac, Windows, iPhone and Android devices from getting hacked? 
What is the best way to stay private, secure, and anonymous while browsing the web? 
How can I get rid of robocalls with apps and data removal services? 
Copyright 2023 CyberGuy.com. All rights reserved.