This content contains affiliate links. When you buy through these links, we may earn an affiliate commission.
There is no shame in admitting you are a Bluey fan. Personally, I have been grounded twice by our kids for watching Bluey without them. I have no regrets. Sure, it's a kids' show aimed at the younger end of the market, but I consider myself to be young at heart. And I'm not the only one. Bluey is a hit with preschoolers and parents alike. Initially, I thought it was going to be an Aussie thing, but the kids' show has quickly gained a huge following around the world. It's easy to see why.
For those new to the Heeler Household, Bluey is a kids' animated television show. It centres on the everyday life of a 6-year-old Blue Heeler pup named Bluey. Similar to a preschooler in human years. Bluey lives with her Mum (Chilli), Dad (Bandit), and younger sister, Bingo. Bluey was originally a play on the breed of dog she is based on: Blue Heelers, one of the most "Australian" dogs you will ever meet. Blue Heelers are known for their down-to-earth nature and their traditional role as hard-working farm dogs in the Outback.
Bluey covers a range of topics. You could broadly say it is a funny kids' show (and it IS absolutely hilarious), but we have also seen episodes covering depression, anxiety, infertility, death, ADHD, and bullying. For fans of Bluey, it's really hard to find anything else like it. However, I do like a challenge, and I consider it my patriotic Aussie duty to give it a go. So, for the Bluey fans — I see you in all of your glory from age 2 to 102 (Hi, Grannie!). If you're looking for books to keep you going for the next season, this is the list for you.
First, Our Top Three Bluey Books
I just know this is going to start a debate on social media, but I have honestly tried to narrow it down to my Top Three Bluey Books. The truth is, this will depend heavily on your favourite episode, and that is simply impossible to choose. It's like choosing a favourite child.
And We. Don't. Have. Favourites.
Bluey: The Creek (Bluey Series) by Penguin Young Readers Licenses
This is totally my favourite. But don't tell the other books. The Creek is based on my favourite episode when Bandit takes Bluey, Bingo, and Mackenzie to the creek. Bluey is not a fan; she doesn't like thorns, spiders, rocks, or leeches. This is WAY out of her comfort zone. But nature has a way of creeping up on you. This book is one of the Bluey Series, with each being an almost exact retelling of the episode, giving young kids a sense of 'reading' the stories.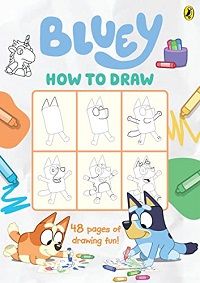 Bluey: How to Draw by Penguin
I have no idea who is the author of this, but it will all come back to Ludo Studios, the original creators of the hit series. I love this book for the simple instructions on how to draw Bluey and many other characters from the show. I especially love the way it breaks it down into simple steps and shapes. Great for adults and children alike.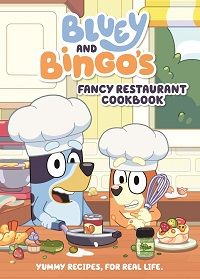 Bluey: Bluey and Bingo's Fancy Restaurant Cookbook by Penguin Young Readers Licenses
I am the first to admit I am a control freak in the kitchen. However, Bluey has really helped me loosen up. I will not promise to eat every dish the kids create, but thanks to the "Bluey philosophy," I am learning to trust their sense of…adventure? Yeah, let's go with that. To be fair, the recipes in here are actually pretty good. All hail, the Duck Cake!
Books for the Younger Bluey Fans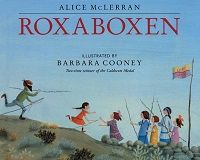 Roxaboxen by Alice McLerran, illustrated by Barbara Cooney
This is the true story of McLerran's mum and her friends creating an imaginary town in 1915. This is exactly the kind of thing Bluey would do with her mates, too! It starts with a few small streets made from rows of pebbles, with boxes for beds and tables. As their imagination grows, so does the "town" with shops and horses and an entire community. In 2000, the city of Yuma (AZ) created a park in memory of the imaginary town and this beautiful book.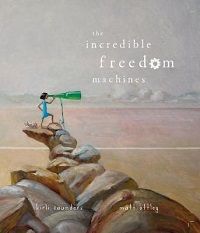 The Incredible Freedom Machines by Kirli Saunders, illustrated by Matt Ottley
Almost every Bluey episode takes us inside the imagination of youth, nurtured with love by Bluey's parents and her sweet preschool teacher, Calypso. The Incredible Freedom Machines is exactly the kind of book Chilli or Calypso would read to Bluey. It is filled with gorgeous illustrations to capture the imagination of Saunders's prose-like text. It follows a young girl who lives in a desert caravan park and dreams of a "freedom machine" to go on fantastic adventures. Perfectly matched with Bluey's imagination and whimsical nature.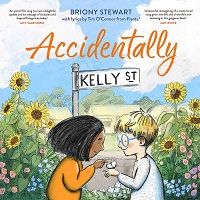 Accidentally Kelly Street by Briony Stewart
Any Australian will recognise the title; the song with the same name was a massive hit in the 1990s (Chilli's era). The book takes inspiration from the song, matching the lyrics with the illustrations to convey the story of community. Like Bluey and her neighbours, Accidentally Kelly Street brings friends and strangers together over many social occasions. When a new family moves into a bare house on the street, the neighbours come together to welcome them with warmth and support.
Books for Slightly Older Bluey Fans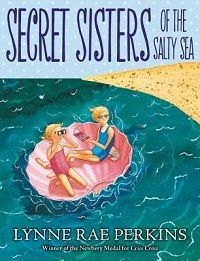 Secret Sisters of the Salty Sea by Lynne Rae Perkins
It's hard to find good books about sisters who get along, but Perkins hits the target! Meet Alix and Jools on an unforgettable family vacation to the beach. Alix is the younger sister, nervous yet also excited about this holiday. She's a little slower than her older sister Jools to warm up, but by the end of the holiday, Alix doesn't want to leave. This chapter book will suit slightly older middle grade readers, with chapters sharing each mini-discovery like an episode of Bluey. It is sweet, engaging, and gentle — just like Bluey and Bingo.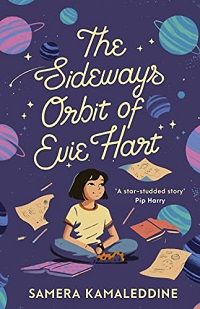 The Sideways Orbit of Evie Hart by Samera Kamaleddine
Many of my favourite Bluey episodes touch upon Bluey's anxiety, especially in new circumstances. It's all fairly normal for a character of her age, and yet it is a common element that always shines when kids watch Bluey learn how to cope. This is a lot like Evie Hart in The Sideways Orbit of Evie Hart. Evie likes rules, but the transition in the last year of primary school is bending (if not breaking) most of the rules around her. While her class starts to learn about Earth's place in the Universe, Evie learns more about her place in the world — especially learning about the changes she can control and those she can't.
And One for the Older Bluey Fans
Two Can Play That Game by Leanne Yong
When Bluey hits 17, I can imagine her to be a lot like Sam Khoo, the main character from this book. Sam is creative and focused, with some serious skills in game development. And while she is an amazing friend, Sam can also lose herself in passion projects. Sam also has a younger sister and a supportive relationship, similar to Bluey and Bingo. While this book is marketed as a YA romance about gamers, it is really a coming-of-age novel filled with connections for Sam and the people around her. Bonus points for the MANY Brisbane references; that's Bluey's hometown!
---
The secret to Bluey's success is the universal appeal. Watching Bluey is like watching any of my kids when they were around the same age (and still a bit more when they are older, too). Every episode is relatable and not just for Australians. I can also see Bluey in many of my favourite books. While our list of books for Bluey fans is short, you can find more of our favourite Australian Children's Books here.