UniBot, a popular Telegram bot used for Uniswap trading, was exploited.
UNIBOT token price plummets.
User compensation has been promised.
UniBot, a popular Telegram bot used for sniping trades on Uniswap, has fallen victim to a significant exploit, causing a sharp decline in the value of the UNIBOT token.
Exploitation of UniBot's new contract
In a surprising turn of events, UniBot, the widely used Telegram bot for decentralized exchange Uniswap trading, recently experienced a security breach.
The breach occurred in a newly deployed contract, resulting in the theft of approximately $560,000 worth of various meme coins from users. The company identified the issue as a "token approval exploit" originating from their new router, prompting them to temporarily pause the router to mitigate the situation.
Although investigations are still underway, blockchain security firm Scopescan advised affected users to revoke approvals for the exploited contract and transfer their funds to a more secure wallet.
Impact on UNIBOT token price
The repercussions of this breach have been swift and substantial. The UNIBOT token, which is closely tied to the UniBot ecosystem, saw an immediate 42.7% drop in its price within a single hour. It plummeted from $57.56 to $32.94, leaving investors and token holders concerned about their assets.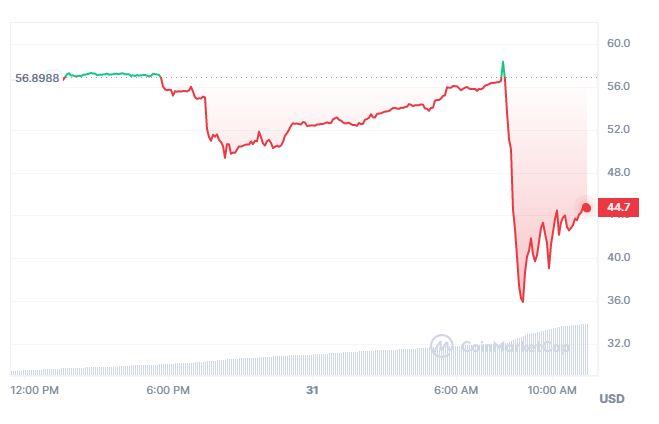 However, at the time of reporting, there were indications of a recovery in the token's price, but the incident undeniably rattled the market.
Compensating affected users
UniBot responded to the situation by pledging to compensate users who suffered losses due to the contract exploit.
We experienced a token approval exploit from our new router and have paused our router to contain the issue.

Any funds lost due to the bug on our new router will be compensated. Your keys and wallets are safe.

We will release a detailed response after investigations conclude.

— Unibot (@TeamUnibot) October 31, 2023
Cryptocurrencies such as JOE, UNIBOT, and BCAT were among the digital assets that were part of the loot. Notably, the hacker involved in the breach was observed converting the stolen meme coins into Ethereum (ETH), causing further concern among users.