This content contains affiliate links. When you buy through these links, we may earn an affiliate commission.
This week, Clay County Schools in Florida became the third school district to ban my book Body Talk. This came in direct retaliation for my reporting on the county's lead book banner and one of the most prolific book banners in the entire country, Bruce Friedman, last November. Of course, Bruce's name has gotten more attention since — little credited to me for breaking the story — but most of those journalists have not seen their books banned in response to doing their job.
Below is a screenshot from Bruce's massive list of books he considers inappropriate. The rationale behind mine? "Hit piece." The folks in Clay County went ahead with it.
My book is not the first nor the last to be banned in Clay County. Hell, like I said, this isn't the first time my book has been banned. But in straight retaliation for my work on censorship? That's a new one.
Perhaps the worst part of it is this: Steve Martin's Shopgirl was also banned in the latest round at Clay County. The media has breathlessly fawned over his response that banning the book makes him proud because it means the book will sell more copies. Not only is that bullshit, it's ignorant and once again pushes the anticensorship movement back, just like Stephen King did in his infamous tweet telling kids to get to the public library if a book is banned at their school (the public libraries are targets, too).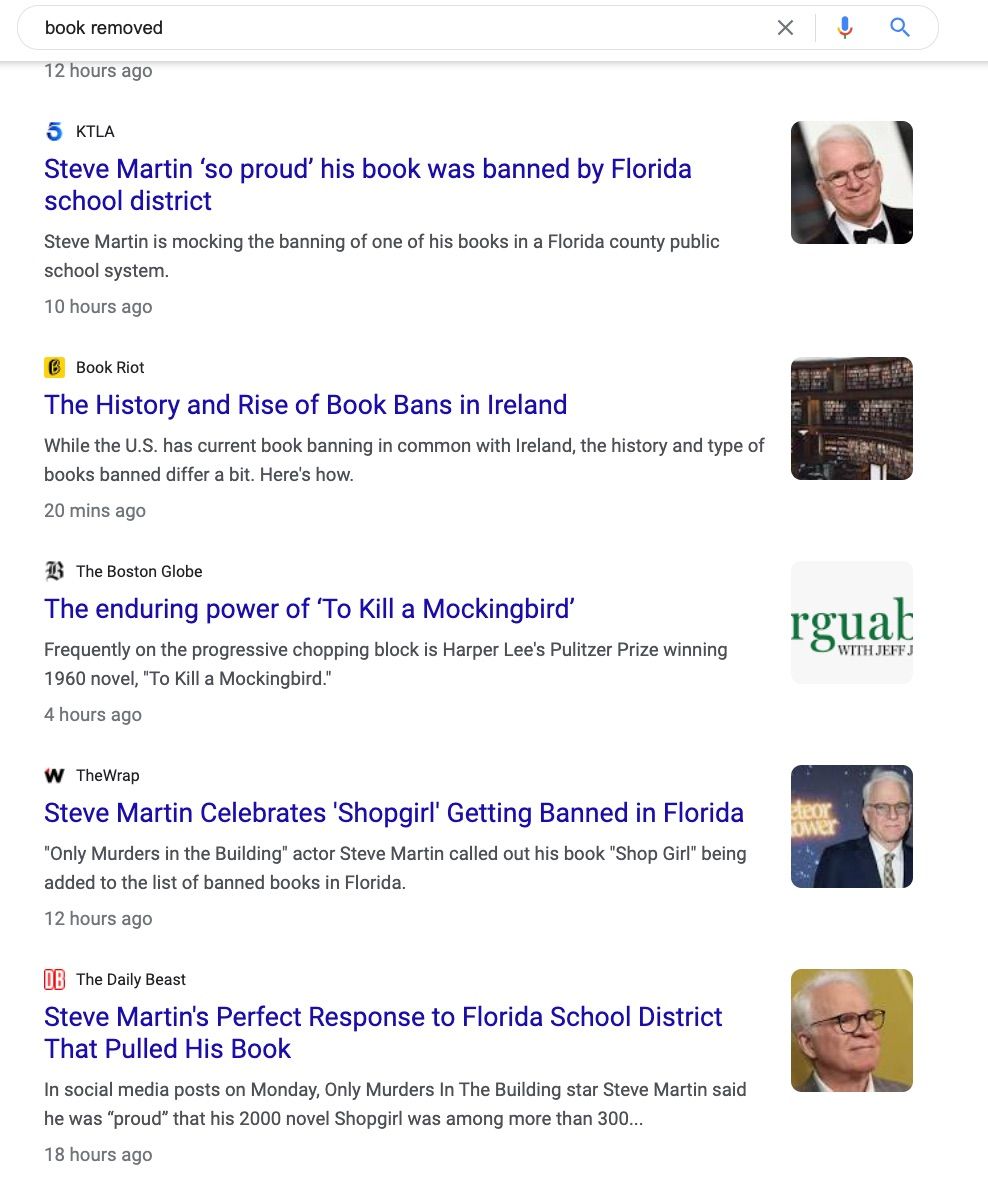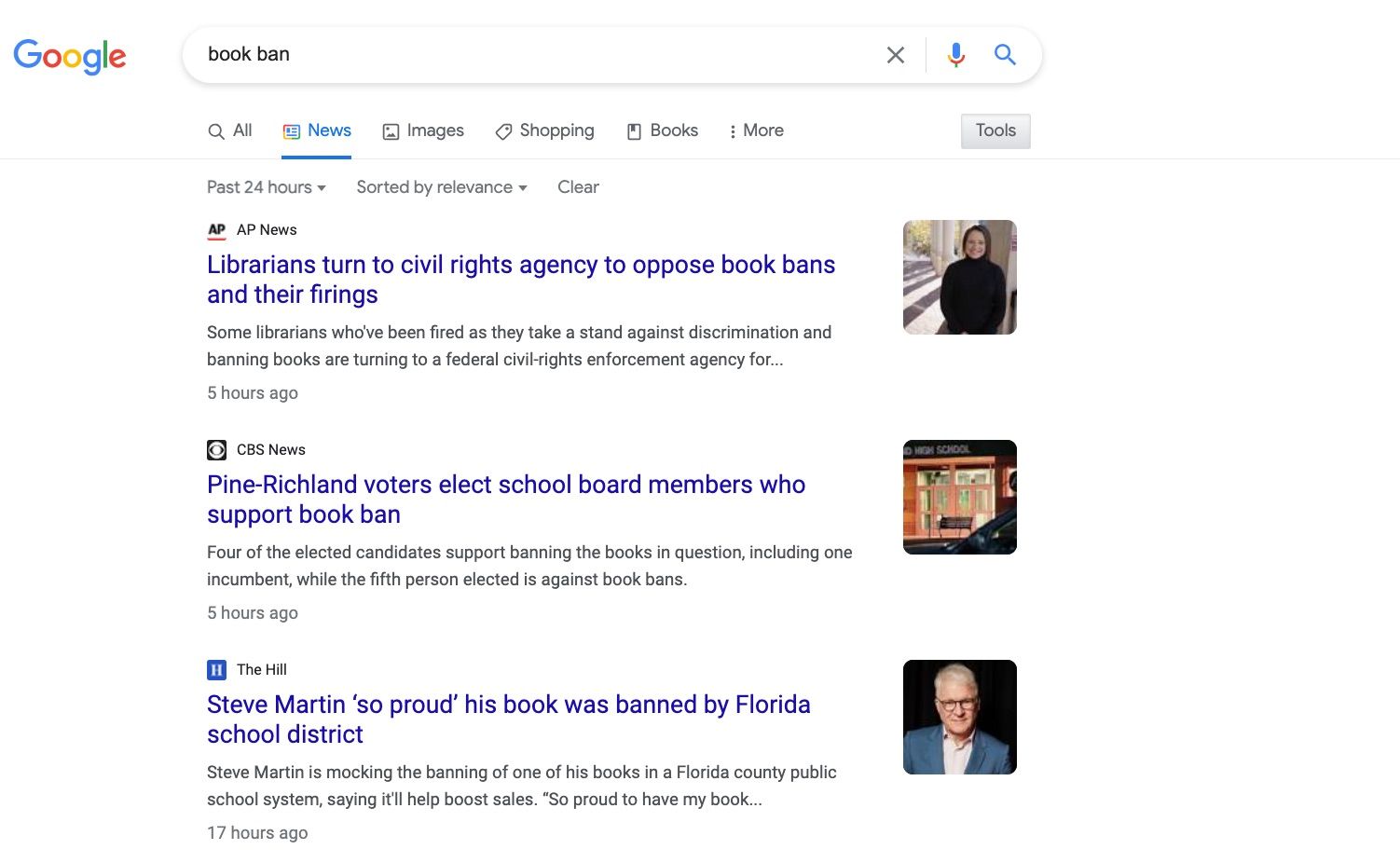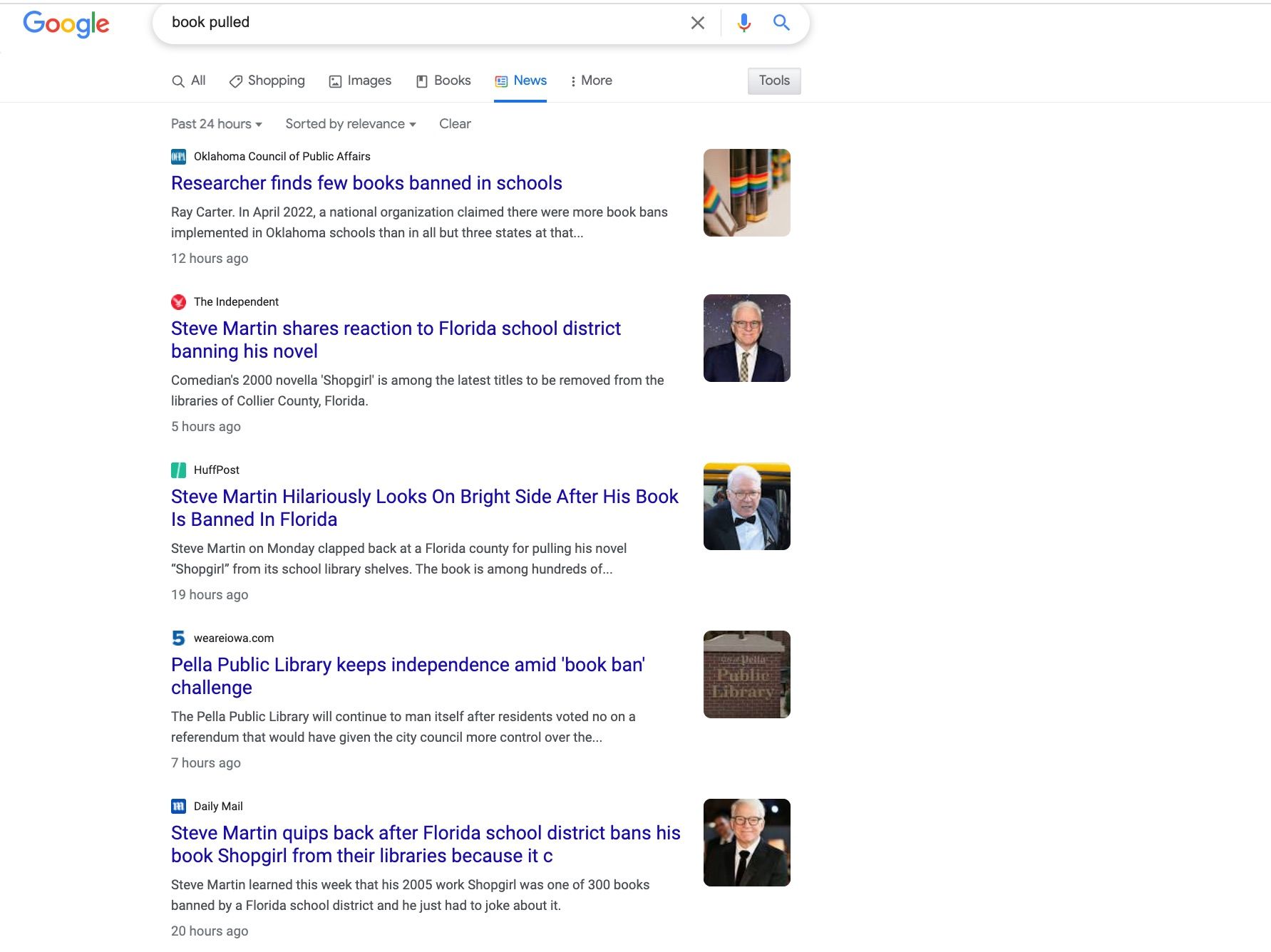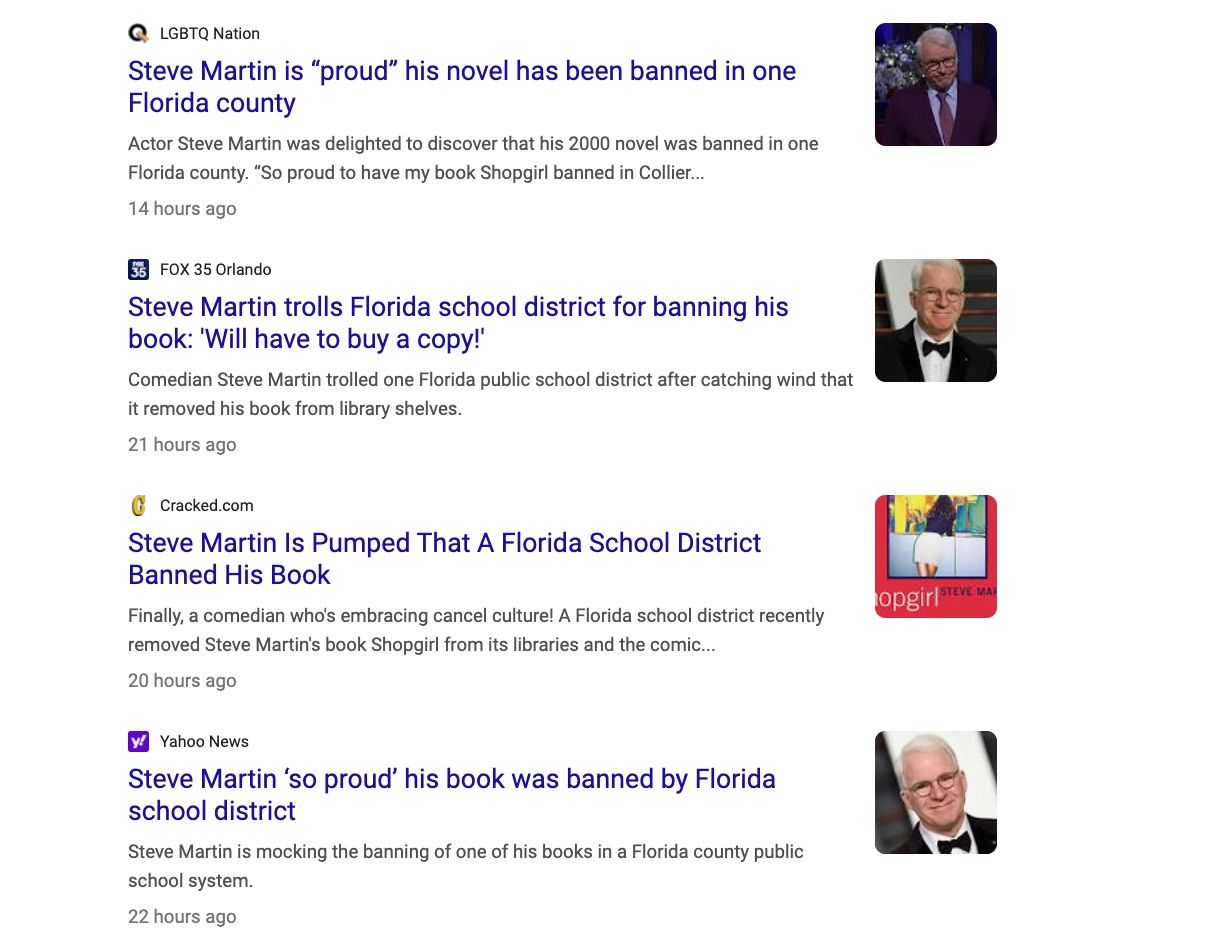 So what are those of us who aren't a white guy with power and privilege supposed to do when our books are banned? The mainstream media isn't covering it, and mainstream media is also not bothering to highlight that the removal of Martin's book comes after LITERAL YEARS of this happening across the country. How cute grown adults could just crank up the sales on a book by a celebrity. Screw the kids or the folks who have been trying to end censorship for years, eh? One Google search with a link to how to respond could have made an impact.
Reporting on book bans has put my own work on the line, and every time I sit down to write about it, I feel selfish for asking for a lifeline.
But here it is: my book keeps being banned. First, because of claims it is "pornographic." Now, because of my work here, which has frequently been borrowed weeks or months after I've written it by outlets without attribution, it's also banned in retaliation.
How can anyone expect we will get out of this if the people putting their necks out there are getting them chopped off in the process? So that the clicks can go to the ignorance on full display by white men with power and the capacity to change things, but who are instead doing nothing but enjoying the attention? We know this all impacts more marginalized folks even deeper because it's historic. Systemic. A pastime in America.
I guess I should be grateful to no longer be part of the 86% now that I've been banned in more than two districts. I am angry and hurt, as much as I am feeling frustrated and bitter. I know these are the precise feelings meant to be happening, and I also know that the effect of silencing me and others like me is the goal…and you know, it's getting closer and closer to working. Every morning, I wake up and wonder how much more I can punch myself in the face.
There are no roadmaps for this. Retaliatory book banning is a new one.
Book Censorship News: November 10, 2023
Two big wins for public libraries this week following the elections. It was good at the polls for most school districts, too — but I deeply caution everyone reporting about how great it is that Moms For Liberty got a lot of losses to remember that Moms For Liberty is not the only regressive, book banning, public education destroying group out there. They've just got the cutest nicknames. Many folks won this week who are equally regressive but just aren't affiliated in name with that group. The fight is far, far, far from over, even if there are some battles won.
Collier County Schools (FL) have removed 313 books from its schools in accordance with the book banning laws in the state. Didn't they say this was not about banning books?
School board elections happened in several states this week. A common theme? They were expensive: here's a report from Minnesota and the $600,000 report from Central Bucks (PA).
In Pine-Richland School District (PA), the community elected book banners to the board.
Boyle County Schools (KY), which had interpreted a new state law as open season on school library books, just learned they need to put all the books they removed back on shelves.
Boy Toy will remain in Dover High School (NH).
Carroll County Schools (MD) will retain five contested books, including The Bluest Eye. Story for me is paywalled.
Students in greater New Haven, Connecticut, rallied for the right to read.
In Sitka, Alaska, students introduced a resolution to their school board to ensure there are not book bans.
This incredibly important news piece is behind a paywall. Fulton County, Pennsylvania, supervisors are threatening to cut funding to Quarryville Library over books with transgender content. The follow-up to this story is also paywalled, but it looks like Olympian Johnny Weir funded the library after the cuts were made.
"A new proposal from a Fresno County [CA] supervisor would give parents more control over the books featured in children's sections. 'This is not about trying to isolate people or divide people,' said Steve Brandau, Fresno County District 2 Supervisor. Brandau held a press conference Thursday morning announcing his proposed legislation, the Parents Matter Act for Fresno County Libraries. If passed, it would create new policies and oversight regarding books with sexual content and other age-inappropriate materials found in the children's sections." Sure, okay, not to divide people except to do exactly that.
Let's return to Liberty Lakes, Washington, where a city council member wanted to pull a book from the library. Then wanted the city council to make the final decision on book banning at the library. Both failed, but now there's drama within the city council, and once again, it goes back to a bigot not getting to ban books at the library.
Parents and students are petitioning in Marietta, Georgia, to reverse a ban on Flamer.
This is a great — terrifying and honest to where we are right now and have been for two+ years — read about school board elections and book banners out of Central Bucks (PA).
"Two members of Moms for Liberty, a right-wing activist group, have reported several Florida school librarians to law enforcement. They claimed they had evidence that librarians were distributing 'pornography' to minors and requested that law enforcement officers be dispatched. This represents a serious escalation of the tactics deployed by members of Moms for Liberty against school librarians. On October 25, Jennifer Tapley, a member of the Santa Rosa County chapter of Moms for Liberty and a candidate for school board, contacted the Santa Rosa County Sheriff's Office. 'I've got some evidence a crime was committed,' Tapley said in an audio recording of the call obtained by Popular Information through a public records request. 'Pornography given to a minor in a school. And I would like to make a report with somebody and turn over the evidence.' Tapley made the call from the lobby of the main office of the Santa Rosa County Sheriff's Office in Milton, Florida." It's not a crime to have age-appropriate materials in libraries, but Moms For Liberty and the police are cozy, so naturally, the "I don't co-parent with the government" contingent would run to the law-enforcement government for their co-parenting.
Okemos Public Schools (MI) canceled their Scholastic Book Fair over the company's behavior related to their diverse books case. Given that Scholastic's apology said nothing, honestly, I'll be surprised if we don't see this happen more.
Montgomery County Schools (MD) removed Jack of Hearts (and Other Parts).
18 books were challenged at Helix Character School (OR) this school year, and every single one of them had LGBT+ characters or content. The books will all remain on shelves (article is paywalled).
Gender Queer was challenged in Maine's MSAD 51, but it will remain in the high school library.
This story by the AP highlights the librarians seeking legal action following their firing or involvement in anti-censorship work, including Brooky Parks (who you may remember from being a whistleblower in a Colorado library district and who faced retaliation after).
Kingdom of Ash will remain on shelves in Farmington School District (AR).
Story is paywalled, but the Lexington-Richmond Five district (SC) will be returning A Court of Mist and Fury to school library shelves.
In Brainerd, Minnesota, the fate of Maas's Queen of Shadows will be determined Friday during traditional work hours. It won't be recorded, either. Not strange nor suspicious.
Berkeley County School District (SC) has reviewed 10 more of the 93 books challenged in the district. Of those, 5 will remain as-is. Consensus about five other titles could not yet be reached.




Most People Don't Know How Librarians Select Collection Materials, So What Do They Think of Book Bans?: Book Censorship News, November 3, 2023



Ending Censorship Applies to Prison, Too: A Prison Banned Book Week News Roundup, 2023



They May Not Be The Most Targeted, But They're Still Banned: Book Censorship News, October 27, 2023



Are Gatekeepers Giving Up The Fight Against Book Bans?: Book Censorship News, October 20, 2023



What Else Do Parents Who Believe Librarians Should Be Prosecuted for Library Materials Think?: Book Censorship News, October 13, 2023



74% of Parents Think Book Bans Infringe on Their Parental Rights: Book Censorship News, September 29, 2023



Student Groups Against Book Bans: Book Censorship News, September 22, 2023



Book Fairs Will See An Increase In Censorship Attempts This Year: Book Censorship News, September 15, 2023



Championing Inclusivity in Library Collection Policies: Book Censorship News, September 8, 2023