Shivaji Rao Gaikwad, the man whom we all know and love as the Tamil superstar Rajinikanth, is one of the most legendary actors in the entire country. He is known for his massive presence in Indian cinema and is recognized across the world. Many don't know this fact, but Rajnikanth used to work as a bus conductor in the Bangalore Transport Service. Now, many people who pass through the struggling days of their life do not revisit their places of struggle. However, recently Rajnikanth did something different and surprised the people at the depot where he started working as a conductor.
Former BTS ( BMTC) conductor and superstar #Rajinikanth made a surprise visit to BMTC Depot 4 (Jayanagar) on Tuesday. pic.twitter.com/Ryi4EoHTP2

— ChristinMathewPhilip (@ChristinMP_) August 29, 2023
The pictures and video of the Tamil megastar Rajnikanth arriving and greeting people of the Bangalore Transport Service have been shared on X (formerly Twitter) by Christin Mathew Philip on their official page. The journalist shared the tweet with the caption stating, "Former BTS (BMTC) conductor and superstar #Rajinikanth made a surprise visit to BMTC Depot 4 (Jayanagar) on Tuesday." In the pictures, the legendary actor can be seen with numerous people clicking selfies.
A number of netizens on X commented that this is a very heartwarming post. Several users on the platform also said that someone with the level of fame Rajnikanth has coming back to their roots is one of the most humble things they have ever seen. Apart from this post, Rajnikanth is known across the industry and country for his humble nature. The actor lives a private life and does not boast about his wealth or fame on social media. It is for these qualities that he is truly loved by millions of people in India and abroad.
Now, coming to the cars that the Tamil superstar Thalaivar Rajnikanth owns, the list is rather small and details on each of his cars are very scarce. The actor, although known for over-the-top characters in movies, lives a very humble life and does not own expensive cars like other celebrities. The actor, till date, has been seen in only one ultra-expensive vehicle. This was a Lamborghini Urus SuperSUV. The actor was seen driving this SUV in a video during the COVID period. However, it is not sure if this SUV is owned by the actor or not.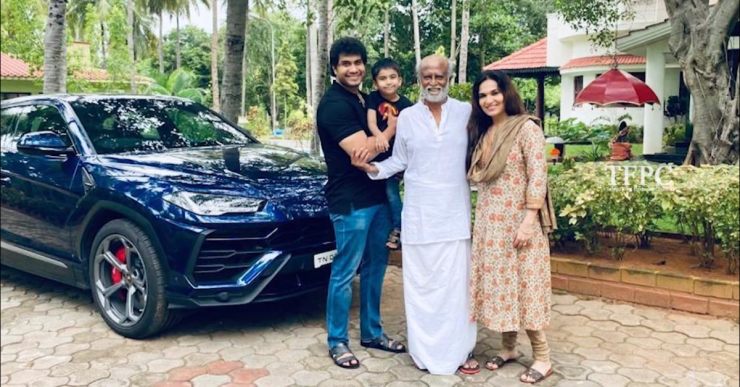 The Lamborghini Urus is one of the most popular luxury SUVs in the world. This aggressive-looking SUV comes powered by a 4.0-liter twin turbocharged V8 petrol engine. This massive powerplant is capable of producing a maximum power of 641 Bhp and a peak torque of 850 Nm. This engine comes paired with an automatic transmission, delivering power to all four wheels. The Lamborghini Urus accelerates from 0 to 100 km/h in a mere 3.6 seconds and from 0 to 200 km/h in 12.8 seconds. The top speed is electronically capped at 305 km/h for safety reasons. The Lamborghini Urus also gets a sophisticated all-wheel-drive system and multiple drive modes, including ones that enable it to drive around in snow, sand, and mountains.
Apart from this, the one car that the actor surely owns is a Premier Padmini. The actor shared a picture of his first car parked in front of his house on a social media platform. Additionally, for his daily driving duties, the actor has been spotted being driven around in a type 3 Toyota Innova MPV. This MPV is one of the most popular models in the country, and a few other celebrities use this comfortable family car for their daily driving.