Bitcoin and EUR/USD have a direct correlation
If EUR/USD makes a new high for the year, Bitcoin should follow
Elliott Waves points to a move back above 1.10 for EUR/USD
It has been a struggling summer for Bitcoin investors as the US dollar strengthened. After trading above $30k in mid-April, Bitcoin failed at the highs just as the dollar's strength started.
The easiest way to interpret Bitcoin's price action is to look at the EUR/USD. When Bitcoin traded above $30k in mid-April, EUR/USD reached above 1.10 after an impressive rally from below 0.96.
Then, the EUR/USD corrected to the 1.06 area, and Bitcoin followed the same path as it dropped to $25k. Next, EUR/USD made a new high and traded above 1.12, a move that Bitcoin quickly copied as it made another high for the year.
It is, therefore, safe to assume that for Bitcoin to reverse the recent bearish trend, we should see the EUR/USD bounce from the current levels and trade above 1.12 again. More precisely, the dollar's strength should end for Bitcoin to reverse course.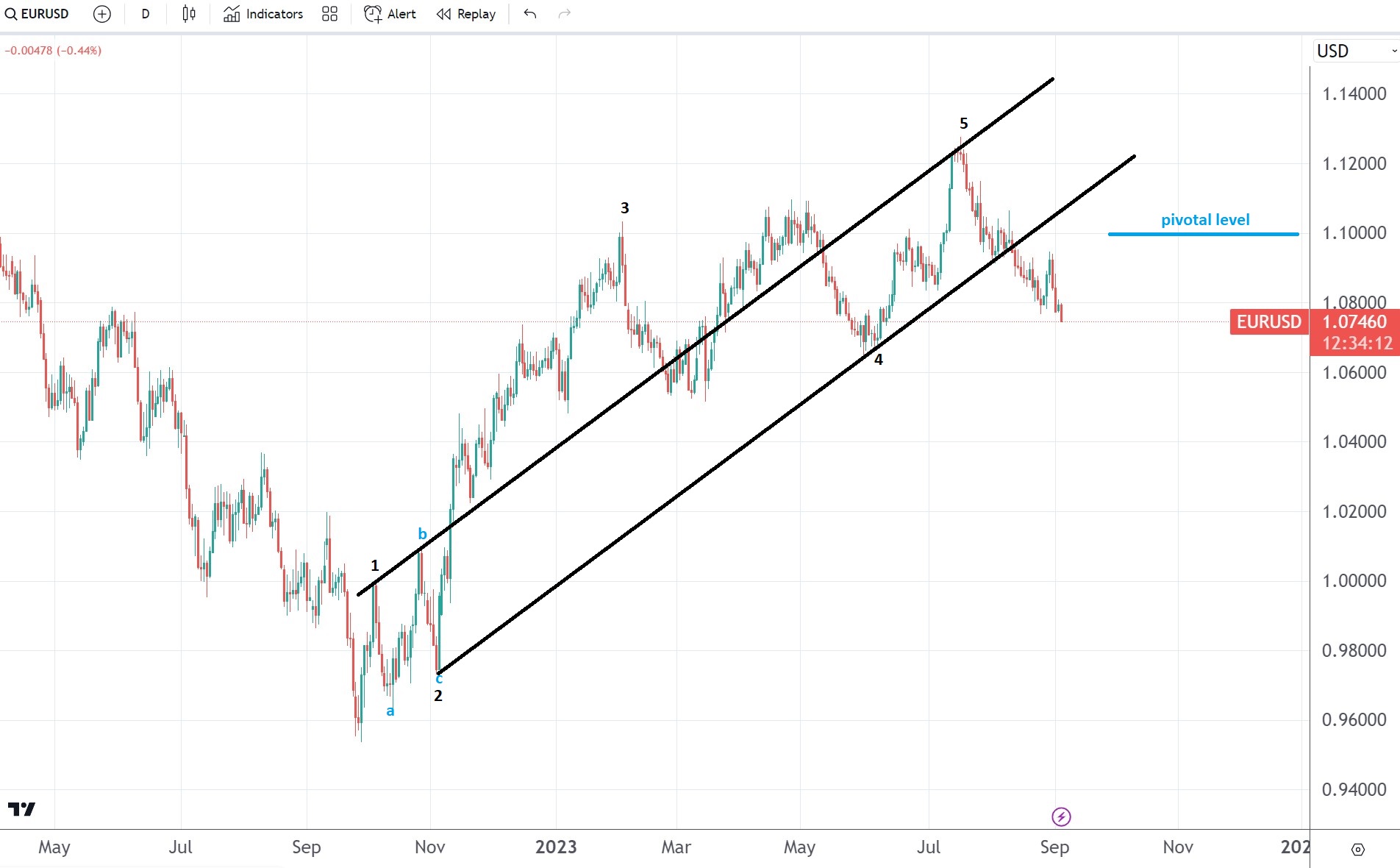 EURUSD chart by TradingView
Elliott Waves suggests EUR/USD should trade above 1.10 again
Looking at the EUR/USD rally from the 2022 lows through the lens of the Elliott Waves theory, it becomes evident that the market completed a five-wave structure when it reached 1.12.
Everything fits – the extension, the channeling, and even the retracement from the highs, completed in the right time needed to validate the pattern.
It means that EUR/USD weakness seen during the summer months is part of a corrective phase. Once ended, the correction should be completely retraced.
Therefore, all eyes are on the 1.10 pivotal level. By regaining the level, EUR/USD should also put a bid under Bitcoin, should the correlation mentioned earlier remain valid.