Rules are meant to be broken, boundaries to be pushed. If there's anything this group of creatives knows for sure, it's that the best work gets made just outside the lines. Having a unique sense of style is just another way to get your point across.
Devonté Hynes Musician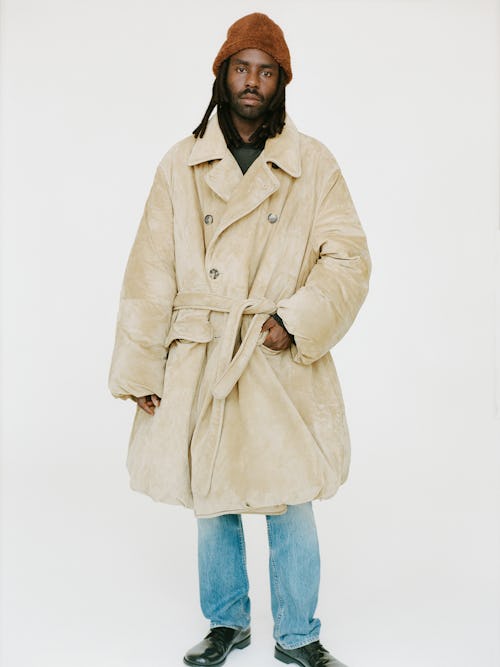 "I've always worked only with people who I'm friends with, or who I can see myself being friends with. It's kind of the only way I can do it. There are a few things I do musically that, from the outside, might give off the impression that I'm headstrong. But it's really just because I'm super sensitive."
Read the full interview here.
Loewe coat and shoes; Levi's SecondHand jeans; his own T-shirt (throughout) and hat. Photographed by Jeff Henrikson; Styled by Mac Huelster.
Carly Mark Designer
"There's a desire in the world, particularly in fashion, to be sexy. I find humor incredibly sexy, but it's harder to be funny and sexy and make it work. I'm up for that challenge."
Read the full interview here.
Carly Mark wears a Puppets and Puppets coat, tights, and bags; Gianvito Rossi shoes. Photographed by Corey Olsen; Styled by Matt Holmes.
Davóne Tines Classical Singer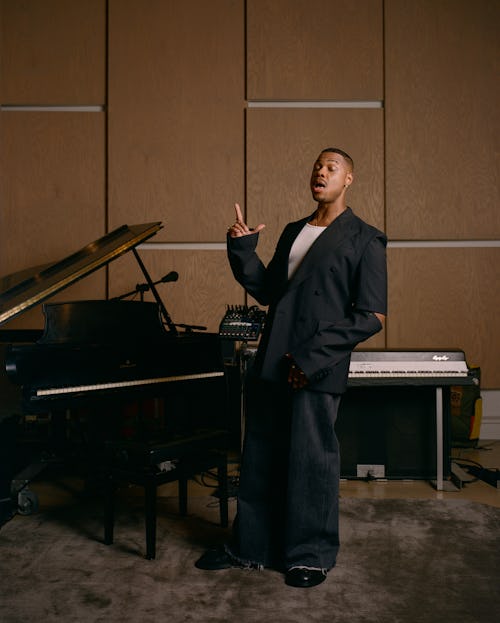 "My earliest musical experiences were in the Black Baptist church. I remember being 8 years old, rolling on the floor because we'd been in choir rehearsal for four hours, and I wanted to enjoy the rest of Saturday. But it was amazing, because I was indoctrinated in music making that is all for a reason; there's nothing that's ornamental, nothing decorative. All music has a function, and that frame has stayed with me."
Read the full interview here.
Davóne Tines wears a Gucci jacket and jeans; Vince tank top; Bernard James necklace and rings; Ferragamo shoes; his own earrings. Photographed by Andre D. Wagner; Styled by Tori López.
Kwame Onwuachi Chef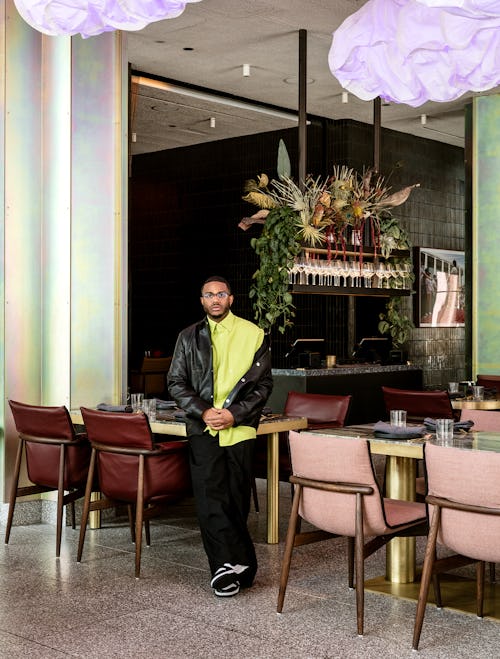 "What fuels me is myself: I believe true greatness comes with intentionality. Tatiana is the sixth restaurant that I've created. I named it after my sister, and that always reminds me of my upbringing in New York: I'm a kid of the Bronx! People feel the energy of the streets when they eat at Tatiana."
Read the full interview here.
Kwame Onwuachi wears an Hermès leather shirt; Winnie New York shirt; his own pants, glasses, and sneakers. Photographed by Stefan Ruiz; Styled by Marion B. Kelly.
Reni Folawiyo Fashion Entrepreneur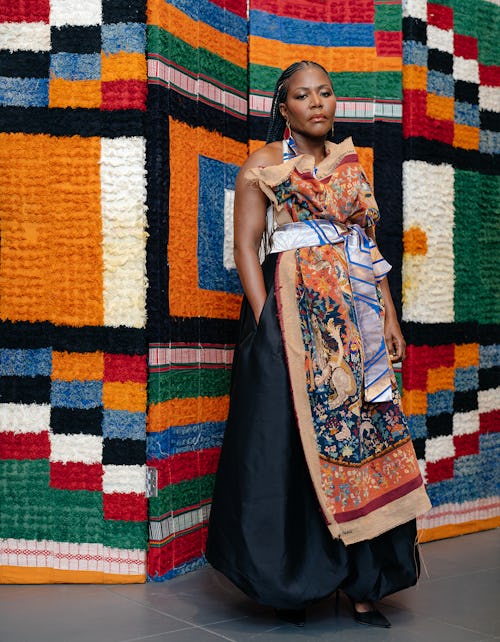 "I launched Alára in Nigeria in 2015 to redefine African luxury, both to Africans and to the rest of the world, mixing iconic international designers with leading and emerging African designers, and to demonstrate the parity in ingenuity and craftsmanship. So we put Saint Laurent, Simone Rocha, and Christopher John Rogers alongside Lagos Space Programme; Awa Meité, from Mali; and Thebe Magugu, from South Africa. And we have dared anyone to tell us that we shouldn't!"
Read the full interview October 11.
Reni Folawiyo wears a Maison ARTC dress; Christopher John Rogers pants; Pomellato earrings, and Manolo Blahnik shoes. Photographed by Ike Edeani; Styled by Christina Holevas.
Brit Marling and Zal Batmanglij Filmmakers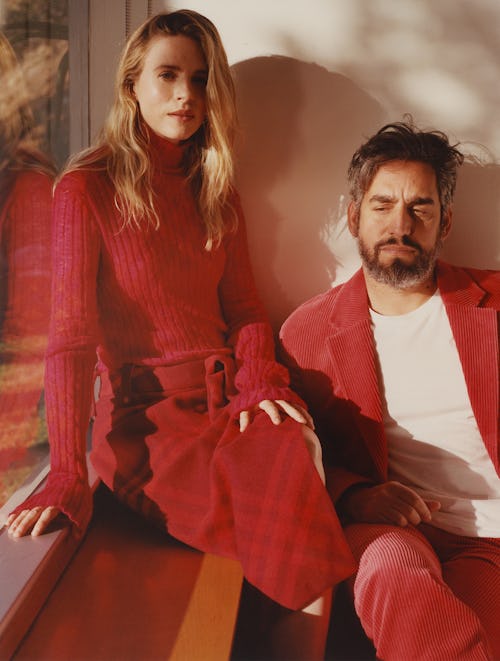 "People love the story of a solitary rise to genius. But if you look into any success story, collaborators are always deeply influential. People try to pull you apart, but I wouldn't be the same without Zal whispering in my ear, 'That was the best take.'"—Brit Marling
Read the full interview October 10.
Brit Marling wears a Burberry turtleneck and skirt. Zal Batmanglij wears a Zegna x The Elder Statesman jacket and pants; stylist's own T-shirt. Photographed by Clara Balzary; Styled by Rebecca Ramsey.
Angelica Hicks Artist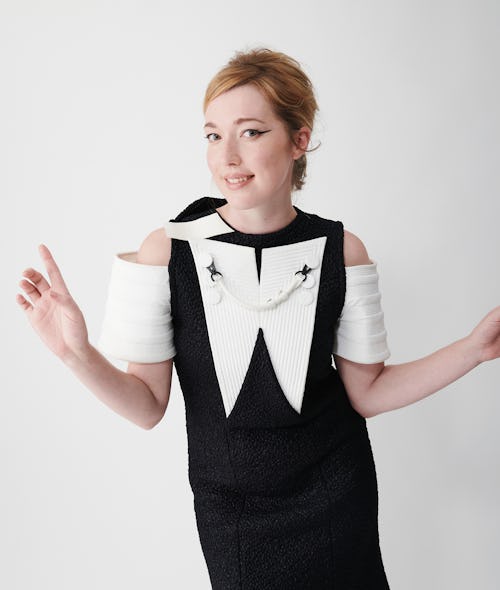 "I grew up with a confidence with art because it was encouraged at home. When it comes to Christmas and birthday gifts, my parents always say, 'Don't buy us anything'; we have to make them gifts instead. Most people think about Christmas and say, 'Oh my god, I'm going to have to spend so much money,' but I think, Oh my god, it's going to be two weeks of work."
Read the full interview October 11.
Louis Vuitton dress. Garment bag dress with HVAC tube sleeves, a paper collar, duct tape accents, and a USB cable strap. Photographed by Mara Corsino; Styled by Allia Alliata di Montereale.
Celine Song Director, Playwright, and Screenwriter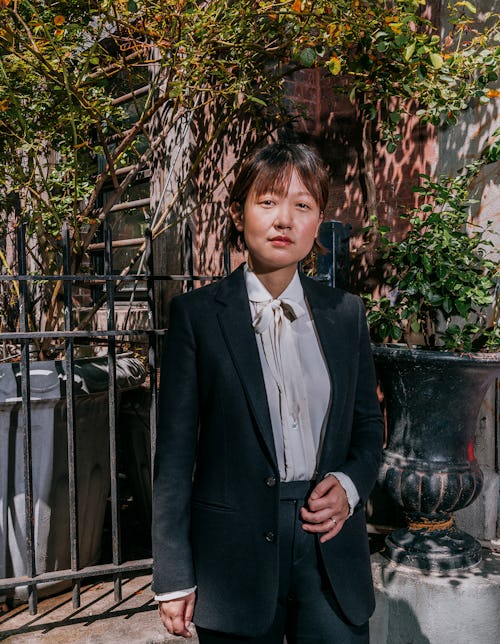 "At the end of the day, nothing trumps the feeling I get when I think about Past Lives as the movie that let me meet the love of my life, which is filmmaking. I didn't know that I would feel like this. Working on the movie made me realize that I could be a mother. Every day, I realized my own limitlessness and empathy, and how much I could care."
Read the full interview October 10.
Celine Song wears a Celine by Hedi Slimane jacket, shirt, and pants. Photographed by Tommy Kha; Styled by Allia Alliata di Montereale.
Kyle Abraham Choreographer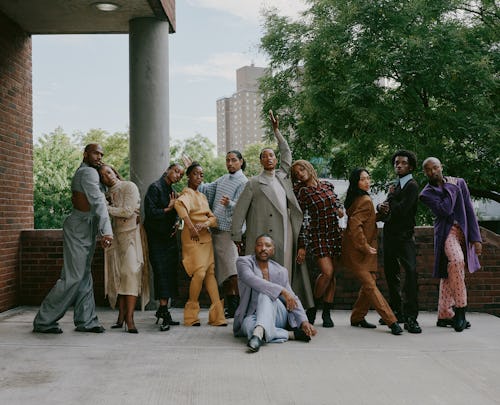 "There's a lot of weight being an artist of color. If I'm making a piece, whether I'm meaning for it to be political or not, I have to be aware that if I have even just a singular Black body in space, it's considered political, let alone if I have a white dancer standing in front of, or standing in back of, a dancer of color. People will find some political lens to put onto it. So I do have to have some kind of purpose behind any- and everything I'm doing, even in its most abstracted form."—Kyle Abraham
Read the full interview October 10.
Kyle Abraham (seated) wears a Gucci jacket, pants, and shoes. Photographed by Miranda Barnes; Styled by Olivia Perdoch.
Yara Shahidi Actor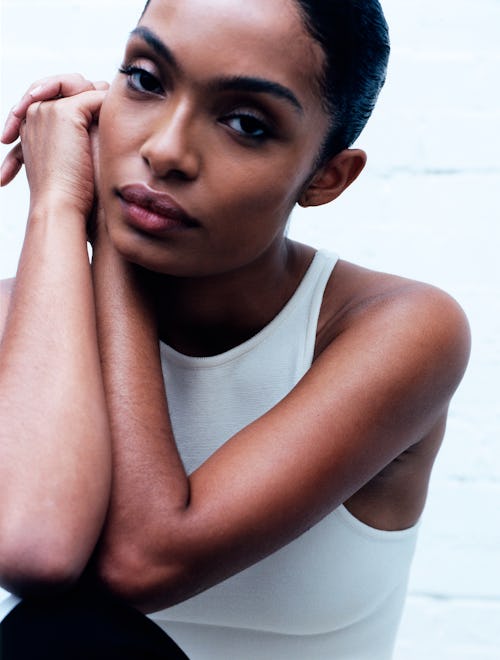 "Originality and authenticity are synonymous to me in that, on a spiritual, more emotional level, it's about staying grounded in who you are. I go through phases of really questioning how I show up in the world and what my purpose is, or just being overly critical. The moments when I stop ­worrying about how I'm being perceived are really ­freeing."
Read the full interview October 11.
Max Mara top and pants. Photographed by Charlie Gates; Styled by Jason Bolden.
Ashlynn Park Designer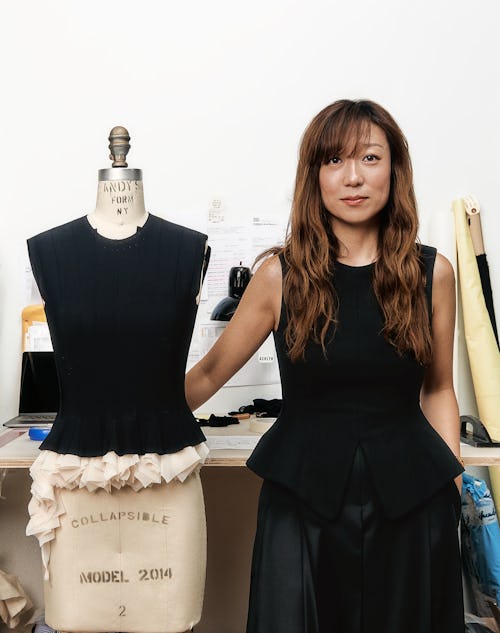 "Being honest with oneself—that's originality. Not a trend, not buying things or copying someone else. I try to be very honest with myself, what I see, and ultimately what I make."
Read the full interview October 11.
Ashlynn Park wears an Ashlyn top and pants. Photographed by Huy Luong.
Boots Riley Filmmaker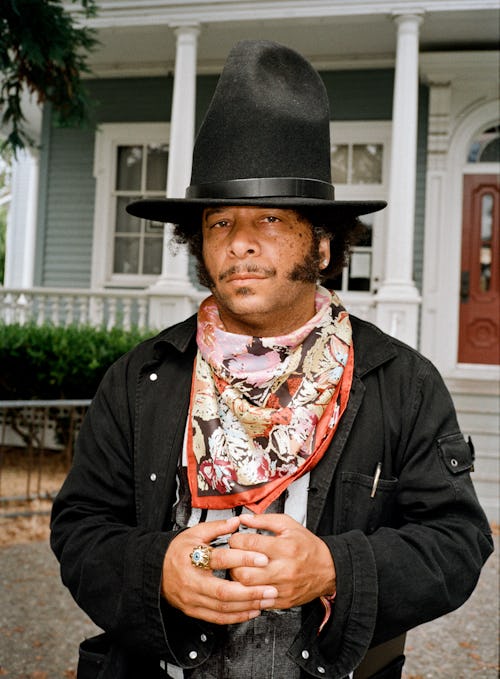 "I'm looking for visuals that move you, that make you feel something. There are epic things happening, for instance, in Marvel movies, but they're so smoothed out, so perfectly done. You've got to have other wavelengths for it to have an emotional impact. For me, messiness is a way to convey beauty—and I don't mean the messiness that comes from when you get the set decorator to mess up the papers on the desk or whatever. I mean the messiness of not feeling quite right."
Read the full interview October 10.
Boots Riley wears his own clothing and accessories. Photographed by Shaniqwa Jarvis.