This content contains affiliate links. When you buy through these links, we may earn an affiliate commission.
It's the most wonderful time of the year. The leaves will be changing colors, the temperatures will get cooler, and Halloween is in the air. And it's time for The Great British Baking Off (GBBO, or The Great British Baking Show as it's technically called here in the U.S.). We get to watch 12-13 continents from all over Great Britain challenge themselves to make incredible feats of baking engineering and triumph over increasingly baffling technical challenges. 
It's cozy television at its best; the bakers are so supportive of one another and become life-long friends. (The last 2 minutes of the final episode are so special for this reason.) We get to watch people realize their own strengths and find their voices. I also love that being named champion doesn't mean their baking career is over; a good number of bakers write cookbooks and develop followings on Instagram. 
Each fall, we inevitably wonder: Who will become the fan favorite? Who will be Star Baker? Whose baked good will fall apart just before judging and break all of our hearts? Will there be a scandal to top the great binned Baked Alaska episode in 2014? Who will become this year's British? And when will they do a themed week of murder mysteries? (Come on, now!). Who will take the crown? So, to get into the GBBO spirit, we've decided to help readers out with fiction books to read based on their favorite contestants and, in some cases, by them!
Note there are spoilers for past seasons of GBBO.
If You Liked Nadiya Hussain, Check out:
The Secret Lives of the Amir Sisters by Nadiya Hussain
Watching Nadiya Hussain come to realize her strengths and expertise is probably the best part of GBBO's history, in my opinion. Every time I watch the final episode, I still get tears in my eyes. Nadiya Hussain might be the biggest star to come out of GBBO. She's got several cooking and baking shows on Netflix; she's written many cookbooks, and she has written several children's books and now a fiction series. This is the story of the four Amir sisters who are trying to realize their dreams: one wants to be an artist; one sister wants a child; another is finding who she is; and the last is a YouTube star. Can the four of them help each other fulfill their dreams despite a family disaster? It's the first in three books!
If You Liked Kim Joy, Check Out: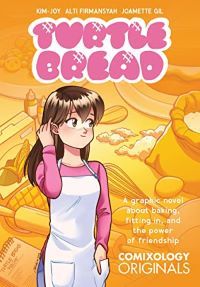 Turtle Bread: A Graphic Novel About Baking, Fitting In, and the Power of Friendship by Kim Joy, Illustrated by Alti Firmansyah, Lettering by Joamette Gil
Watching Kim Joy is happiness. She's known for making the most delightful baked goods with orange cat madeleines, a two-tiered lavender & lemon curd fox cake, and more. Her Instagram is quite honest; while she showcases her new bakes, she shares her struggles with social anxiety, self-confidence, and more. She's bringing mental health front and center, showing that it's a process for everybody. Like Nadiya, she's been quite prolific in publishing cookbooks, including her most recent book, Bake Me a Cat: 50 Purrfect Recipes for Edible Cakes, Cookies and More! 
Now, she has published a graphic novel about the power of baking, friendship, and mental health. Yan wants to make friends, but her anxieties get in the way. She decides to go for gold by joining a Baking Club where she comes to find a place where she can share her whole self with other members.
If You Loved Helena Garcia, Check Out:
My Mummy is a Witch by Helena Garcia and Jess Rose
Helena Garcia is another fan favorite who had the most terrifying, delightful bakes — Wicked Witch Fingers, her Pumpkin & Maple Jack O'Lantern Cake, and, of course, her incredible spider biscuit sculpture.  She's written a couple of books and has created her own line of witchy merchandise from witch's straw hats, knife barretts, and a coffin picnic basket. Now she's written a wonderful children's book about mother-daughter bonding…when mummy is a witch. 
As a bonus, Lana Harper's Payback's a Witch might be another book to check out if you want witchy vibes and romance.
If You Loved Chetna Makan, Check Out: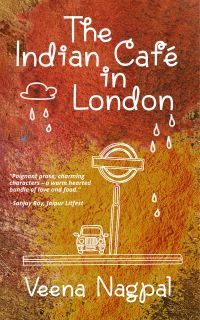 The Indian Café in London by Veena Nagpal
Chetna Makan is another GBBO alumnae who was fun to watch as she brought together Indian flavors into her baked goods. She was a fashion designer with her own label before she got married and began baking. After GBBO, she's written six cookbooks (so far), including Chetna's 30 Minute Indian: Quick and Easy Everyday Meals. 
While I hope she'll write some fiction in the near future, for now, check out Veena Nagpal's book about food, identity, and culinary secrets. All Akhil wants to be is a chef, but his father, an Army officer, isn't having it. His friend Jamila is at culinary school but is not willing to make connections with anyone around her. Puru has his own restaurant but is filled with regrets. Plus, there's a lost recipe book! The book shifts perspectives of the three main characters and Akhil's diary as they come together about food. 
If You Loved Rahul Mandal, Check out:
Donut Fall in Love by Jackie Lau
Like with Nadiya Hussain, it was incredible to watch Rahul come to realize his own skills as a baker and person during his season of GBBO. He brought his scientific eye and creativity into harmony with his bakes. So naturally, he would make a cookbook that brings together art and science: Showstopping Cakes: Mastering the Art and Science of Baking.
In honor of his recent marriage and love of baking and science, this wonderful rom-com seems like a great place to go. Actor Ryan Kwok may be suave on the big screen, but not so much in the real world. His family life is not going well; he and his father are dealing with the death of his mother in different and not entirely productive ways. His sister just had a child, and he's learning to be an uncle. When he knocks over an artistic display of baked goods at Lindsay McLeod's bakery, their chemistry is a bit off. But things start to heat up when Ryan asks Lindsay to help him prepare for the Baking Fail, a popular television show that was Ryan's mother's favorite.  
If You Loved Lottie Bedlow, Check Out: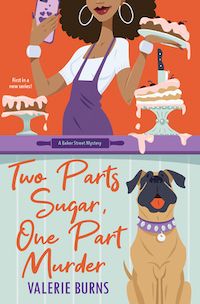 Two Parts Sugar, One Part Murder by Valerie Burns
Lottie Bedlow was a fan favorite in GBBO. She brought her struggles with the increasingly devilish baking challenges to the forefront with her snarky and honest wit. And like many other baker contestants, she learned her own baking strengths; she didn't think she'd make it so far and only packed two outfits and had to borrow clothing. In honor of her 2022 cookbook Baking Imperfect: Crush, Whip and Spread It Like Nobody's Watching, it seemed like matching her with Valerie Burns' most recent cozy mystery series, The Baker Street Mysteries, made sense. While Lottie Bedlow is a much better baker than Maddy, the pairing of books works because Maddy realizes her own abilities as well as celebrating her baking errors — using videos of her baking fails to promote the bakery she inherited. It's a fun two-book series (so far).
If You Loved Yan Tsou, Check out: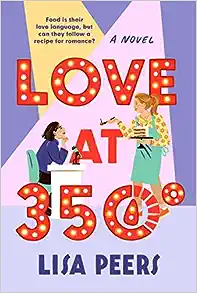 Love at 350 Degrees by Lisa Peers (October 10, 2023)
Yan Tsou is the best. She's an NHS molecular biologist who discovered baking between 24-hour shifts, according to her GBBO profile. We loved how she'd make practically every bake with a reference to science, whether in its creation or its decoration. I mean decorative pies called πr2? Yes, please. And, of course, we have to love that her sourdough starter is named "Muvver." So in honor of Yan the Great,  I've selected this forthcoming Queer baking romance. Kendra Campbell is a celebrity chef and judge of the Bake-o-Rama show; Tori Moore is coming out of a messy divorce and encouraged to apply for the show. But neither expected to find anything more than baked goods and competition. Can they figure out their feelings and manage their respective roles in the show?
If You Loved Michael Chakraverty, Check Out: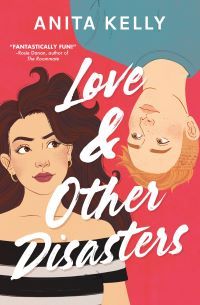 Love & Other Disasters by Anita Kelly
Michael Chakraverty is another fan favorite, and as a bonus, he's live-tweeted GBBO with Scott Bryan since he was on the show. We may disagree over the wonders of mango (It's delicious!), but we all definitely felt his struggle and successes on the show. Since GBBO, he's started a podcast with David Atherton called Sticky Bun Boys as a part-dating advice, part-baking advice show.  So we're going to pair Chakraverty and this wonderful Queer Romance. Both Dahlia Woodson and London Parker are on Chef's Special to make their careers and win the prize money. Dahlia needs the money after her divorce and financial ruin; London wants to prove something to themself as a baker and competitor. Dahlia gets a reputation for her clumsiness, and London has to deal with the transphobic trolls. Soon, they realize a mutual attraction, but can they afford to focus on a romance?
I can't wait to see what the GBBO alumni will do next. (More fiction! Mysteries, please). If you want more GBBO, here's a list of Great British Bake Off cookbooks. Or if you want a taste of cozy mysteries around food, check out this post I wrote in 2020 on culinary cozy mysteries.