American defense startups developing artificial intelligence systems are crucial to helping the U.S. armed forces keep up with rivals like China, a military tech executive told Fox News
"There [are] massive amounts of effort going into innovation in China, and we shouldn't be naive to that," said Red 6 CEO Dan Robinson. "Be under no illusion: the threat from China, specifically the [Chinese Communist Party], is real."
WHAT IS ARTIFICIAL INTELLIGENCE (AI)?
"What we're understanding as a nation is that a lot of innovation now is coming from nontraditional pathways," Robinson, who was previously an F-22 pilot for the Air Force, continued. "It's coming from small, innovative startups and embracing technology, allowing us to go quickly. … That is how we will progress."
China believes developing weapons with AI capabilities is a way to combat U.S. military dominance, according to a September 2022 report by the Special Competitive Studies Project, a technology and security think tank. The Chinese military has also made AI and autonomy central to its concept of futuristic warfare — called intelligentized warfare, according to an Oct. 19 Pentagon report.
HOW ARTIFICIAL INTELLIGENCE STARTUPS HOLD THE KEY TO MAINTAINING US MILITARY POWER:
WATCH MORE FOX NEWS DIGITAL ORIGINALS HERE
Further, the People's Liberation Army successfully tested guided artillery shells In July 2022 that used AI to calculate wind speed, temperature and air pressure to adjust the projectile's trajectory mid-flight, according to the project's leader. The rounds, which have a maximum range of nearly 10 miles, landed within centimeters of its targets.
China has a "tremendous capability" in advanced weaponry, Robinson told Fox News. "I think in some ways they may be slightly ahead," though he added that the U.S. has powerful AI weaponry too.
The U.S. Navy and Air Force have been testing AI-guided weapons like armed autonomous warships and fighter jets that float and fly without crews or pilots. Additionally, the Senate urged the Army in July to develop wearable biometric devices that use AI to calculate soldiers' fatigue, hydration and nutritional status to help unit commanders track soldiers' health.
"So we're faced, I would say, for the first time in the longest time … with truly a peer adversary," Robinson said.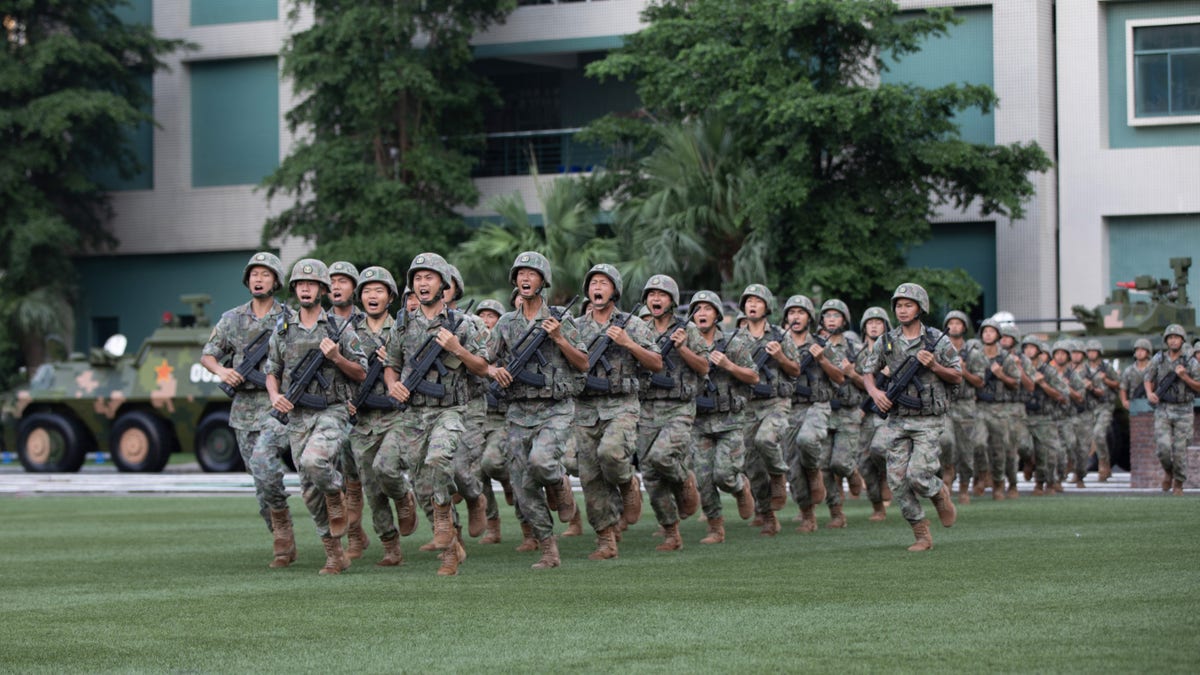 MILITARY METAVERSE LIKE A 'MULTIPLAYER VIDEO GAME' THAT WILL TRAIN SOLDIERS USING AUGMENTED REALITY AND AI
The former pilot's company is working with the U.S. Air Force to develop training platforms that combine AI with augmented reality. Red 6 helmets, which pilots wear while actually flying, are equipped with visors that show digital bogies and friendlies, allowing them to train in lifelike simulations in the air.
U.S. officials, wary of Beijing obtaining materials needed for advanced AI weaponry, restricted exports of American-made semiconductors to China in September 2022. The U.S. Department of Commerce expanded the ban on Oct. 17 to include additional semiconductor hardware, limiting China from receiving technology critical to AI development.
AI is "extremely powerful" for military purposes, and it will be soon available to militaries across the globe, former Joint Chiefs of Staff Chairman Mark Milley said earlier this month. "Our military is going to have to change if we are going to continue to be superior to every other military on Earth."
CLICK HERE TO GET THE FOX NEWS APP
The agile technological innovations the U.S. military needs are best addressed by defense startups, Robinson told Fox News. 
Developing new AI military technologies "is how we will keep up with China," Robinson said. "It's a battle for sure." 
Click here to watch Robinson detail how U.S. defense startups are keeping up with Chinese military advancements. 
Ramiro Vargas contributed to the accompanying video.