This content contains affiliate links. When you buy through these links, we may earn an affiliate commission.
From the time I was a child, I've had an eidetic memory. I can easily recall dates, names, and faces long after they are irrelevant to my life as a whole. When I was younger, it was something of a party trick other adults would use to probe me out of my shell: a nice round of "let's see how many family birthdays Jeffrey can recall off the top of his head like it's nothing, or why he remembers the release date of every Disney film ever made" was always a hit at family gatherings. I've since come to see my strong memory as a blessing and a curse.
But it's also frustrating because, as much as I can recall the name of a watch repairman my dad used once in my childhood, I cannot always remember the precise moments when I first picked up a piece of literature that would end up having such a profound impact on my life. As such, I don't vividly recollect the first time I read a Frog and Toad book. It could've been during library story hour, in a classroom, or in the school library. But I can remember the Saturday my dad and I spent at a bookstore, where I requested a Frog and Toad book of my very own.
I bring up the failings of memory only because I think it speaks to the unequivocal power of books and literature: we might not remember meeting them, but they'll always remember meeting us, and the impact they can have on our lives is all-knowing and everlasting. As such, this is why I firmly believe Arnold Lobel's Frog and Toad books knew I was gay before I did.
As an adult, I tend to gravitate more towards referring to myself as queer in everyday conversation; the consequences of having had the term "gay" hurled at myself as a reminder of any and all the ways I didn't conform growing up. It's polarizing to grow up and have to suddenly identify as the word that was continuously used as a violent insult. Many queer people see this as taking back their power and reconceptualizing it and will gladly use their identifier as a form of flipping the bird to a lifetime of bullies. For others, it's not always so black and white. I think Lobel would have known what I mean by this.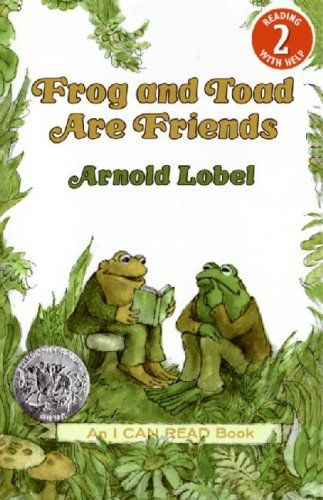 The author started publishing his Frog and Toad books in 1970, with Frog and Toad Are Friends. Its success led to three further books. Lobel had previously studied advertising at the Pratt Institute in New York, where he met his wife, and worked in advertising before jumping ship to try his hand illustrating children's books for Harper & Row in 1961.
In addition to Frog and Toad, he illustrated over 100 children's books in a career spanning more than a quarter century. "There's something universal and incredibly warm about his work, whether you're a child or an adult," remarked Karen Tsujimoto, then a curator at the San Francisco Contemporary Jewish Museum, which housed an exhibit on Lobel's work from 2013 to 2014.
It wouldn't be until years later when, giving an interview about her father to The New Yorker in 2016, did generations of readers start gaining more insight into the enduring appeal of Frog and Toad. Adrianne Lobel, then a Manhattan-based set designer and painter, stated that there was a queer undercurrent to the stories that she believed was deliberate on her father's part, who had come out as gay to his family in 1974. She said his storytelling style was influenced largely by popular television series of the day like The Carol Burnett Show or Bewitched, and recalls childhood memories of him making up stories on the spot to calm down her and her younger brother in the car. As a child, she didn't think much beyond that this was just how her father was.
When asked why she believes the Frog and Toad stories have cross-generational staying power, Adrianne lamented that they were his only writings that depicted a relationship. "I've watched children grow up, and that whole drama that's kind of the precursor to the hell of romance later in life — who is best friends with whom and who likes who when, and this person doesn't like me now — it's very painful, and I think that children really like to hear that this is not abnormal, that Frog and Toad go through these dramas every day," she said.
In her view, Frog and Toad are "of the same sex, and they love each other," which she believed made the books ahead of their time — as well as the beginning of her father coming out. While Lobel himself never disclosed whether Frog and Toad were influenced by his sexuality, he did remark in an interview with the children's book journal The Lion and the Unicorn in 1977 that his way of exorcizing unhappy experiences in his life, such as love affairs, was by translating it into books for children. Lobel separated from his wife in the early 1980s and relocated to Greenwich Village, where he died of AIDS in 1987 at the age of 54.
I don't believe I "knew" I was gay until I was a teenager. I'd been conditioned to think that I should find girls attractive growing up, so I tried to operate within that line of thought for a good portion of my childhood. Once I'd realized my sexuality when I was older, I began remembering childhood crushes on boys from older grades in elementary school and myriad other things about myself that are still only occurring to me in my twenties. But I wasn't taught to recognize these aspects of my queerness in childhood. I didn't have the language. Except maybe I did, by way of Frog and Toad.
I remember Frog and Toad being books I liked to read in private. Maybe I reveled in the fact that they were easy to read, and they, therefore, became something I could keep all to myself, maybe even the first books I was ever able to keep to myself. I didn't know the books were tinged with a silent queerness that was already helping me develop my sense of self, however quiet, and wouldn't for at least another decade. I responded to the ease and tranquility of the stories, aspects that would help the characters become cottagecore icons in the pandemic age, but to me, it helped tone down an overactive brain and highly sensitive soul.
Indeed, renewed interest in Frog and Toad skyrocketed during the worst of the COVID-19 pandemic, aided by the popularity of a Frog and Toad Bot account on Twitter. Similar to Sesame Street's Bert and Ernie, queer adults who grew up on these characters, seemingly oblivious to their queer undertones, were now basking in what positive queer role models they had always been, even if they didn't know it at the time.
In an era of "Don't Say Gay" and openly gay characters in cinema still causing an unnecessary cultural stir, characters like Frog and Toad — who might not have been openly queer, but certainly the most queer-coded you can get — read now as positive representation for both children and adults alike. "Seen through adult eyes and with a richer understanding of one's identity than likely possessed during those Easy Readers days, Frog and Toad's cozy domesticity, trust, and frank repartee looked an awful lot like two gay men basking in the steady glow of long-time romantic love, the kind sorely missing from those anemic efforts at queer inclusivity," wrote Cyrena Touros for Vox.
Frog and Toad's appeal in the 2020s even extends beyond their queerness: they have also come to be seen as figures of anti-capitalism, promoting a kind of life that modernity wants us to bypass. Sure, we all want to sell everything and go live in the woods like a witch, but Frog and Toad's lifestyle represents more than that. Take, for example, a quote from "Tomorrow," which appears in Days With Frog and Toad and went viral on the Twitter bot account in 2021: "Toad pulled the covers over his head. 'I will do it tomorrow,' said Toad. 'Today I will take life easy.'"
It's a sentiment most anyone can relate to: getting caught up in an endless to-do list that continues to grow. But then you can also be like Toad, who not only recognizes the power of needing a day to take life easy, but who also crosses "wake up" off his own to-do list. Additionally, through it all, Frog and Toad always prioritize each other in their lives. They never let their daily lives and chores get in the way of the vast importance of their friendship. And that's something we can all learn from at any age.
I think the Frog and Toad stories are a special kind of story, the kind that remembers you more than you might remember it. I never forgot the unexplainable feeling Lobel's books gave me, a sense of peace in an increasingly anxious body, but an understanding of myself that was there from the beginning, waiting for me to figure it out for myself. I often say I hate the identifier of "gay" because it was something I was called before I could figure it out for myself. But I don't mind using it when referring to my history with Frog and Toad because they were the only ones who said it with kindness.