Welcome to Fox News' Artificial Intelligence newsletter with the latest AI technology advancements. Subscribe now to get the Fox News Artificial Intelligence Newsletter in your inbox.
TOP STORIES
'OPPENHEIMER MOMENT': Hollywood director Christopher Nolan spoke with Fox News Digital on artificial intelligence's "Oppenheimer moment." Nolan compared AI to the creation of the atomic bomb and stated, "It's really the looking back through Oppenheimer's story and saying, 'Okay, what could have been done differently? What are the responsibilities of people who create technology that can go out and have unintended impacts?'" Continue reading…
'MINING OUR PERSONHOODS': Companies like OpenAI and Google have taken your data to train AI systems, attorney Ryan J. Clarkson writes in an op-ed. If you posted it, its most likely been taken. This risk of having this done include predicting and possibly manipulating your next move, misappropriating your skill-set and even replicating your voice and likeness, Clarkson writes. Continue reading…
POLITICS
'GENERATIONAL MISTAKE': Sen. Ted Cruz is criticizing Democrats for what he believes is a rush to regulate the artificial intelligence sector, and says new rules for AI would be a drag on the U.S. in the critical tech race against China. Continue reading…
'WE HAVE TO EVOLVE': The DOD is already using AI as a tool, but Rep. Marc Molinaro, R-N.Y. said we must also assess the country's AI vulnerabilities to other countries like China and Russia. "AI evolves, that's the point, and so we have to evolve with it," Molinaro stated. Continue reading…
CHINA'S AMBITIONS: A 26-year-old self-made billionaire, Alexandr Wang, warned members of the House Armed Services Committee on Tuesday of China's ambitions likening it to "China's Apollo Project." Wang stated that China understands AI's capability to disrupt warfare and said that the communist country is investing in the tech three times as much as the U.S. Continue reading…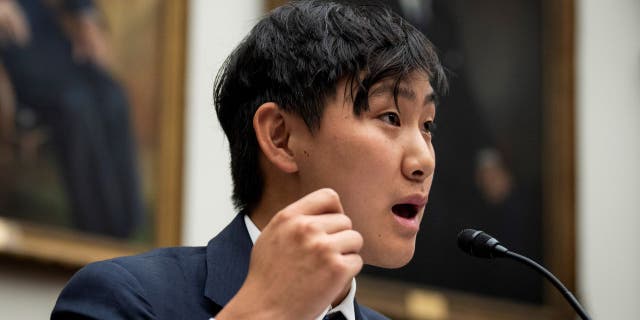 BUSINESS
TRUTH-SEEKING MACHINE: Elon Musk stated on Twitter Spaces that he is looking to create an AI that seeks to understand the universe. The SpaceX founder jokingly described the xAI mission statement as "What the hell is really going on?" Continue reading…
COMING FOR THEIR JOBS: Most outsourced coding jobs in India will be replaced by AI, according to Stability AI CEO Emad Mostaque. The CEO said that the AI models are like "really talented grads," and explained that in India, "outsourced coders up to level three programmers will be gone in the next year or two." Continue reading…
UNDERSTANDING AI
HIGH-TECH STORM HUNTERS: Saildrone Inc. in partnership with the National Oceanic and Atmospheric Administration are working to create a fleet of drones in this year to collect data by flying directly into hurricanes. The drones are expected to assist this Atlantic hurricane season by collecting data from the Gulf of Mexico. Continue reading…
SERVICE WITH A SMILE: Glenn Tait, product director of a UK-based hospitality tech firm Zonal, said that AI will soon have the ability to take and serve our orders with a personal touch like being able to recognize regulars. We could also see AI being used to understand how a customer is feeling, if they look unhappy or they have been waiting too long for their main meal, technology could prompt a staff visit to the table," Tait explained. Continue reading…
ENTERTAINMENT
HOLLYWOOD'S NEW VILLAIN?: Thousands of Hollywood screenwriters are on strike over issues like pay, guaranteed number of writers per room and for a regulated use of AI. The tech has the ability to be involved in the creative aspect of story-telling and possibly usurp the writing process causing fear for many writers. Continue reading…
FOLLOW FOX NEWS ON SOCIAL MEDIA
Facebook
Instagram
YouTube
Twitter
LinkedIn
SIGN UP FOR OUR NEWSLETTERS
Fox News First
Fox News Opinion
Fox News Lifestyle
Fox News Autos
Fox News Health
DOWNLOAD OUR APPS
Fox News
Fox Business
Fox Weather
Fox Sports
Tubi
WATCH FOX NEWS ONLINE
Fox News Go
STREAM FOX NATION
Fox Nation
Stay up to date on the latest AI technology advancements and learn about the challenges and opportunities AI presents now and for the future with Fox News here.