Ola has commenced series production of its budget-friendly electric scooter, the S1 Air, in preparation for deliveries. Ola Electric CEO Bhavish Aggarwal confirmed the milestone by sharing a picture of the first Ola S1 Air on Twitter. The lime green scooter is adorned with the signatures of Ola Electric employees, and in the photo, Bhavish's pet dog 'Bijlee' can be seen perched on top of the scooter.
The first S1 Air.

Bijlee couldn't sign so she sat on it! pic.twitter.com/7zwhpmjmI5

— Bhavish Aggarwal (@bhash) August 6, 2023
Initially launched in two versions – S1 and S1 Pro – the Ola S1 range has now introduced the more affordable S1 Air, replacing the S1 variant. The Ola S1 electric scooter is now available in two versions – S1 Air and S1 Pro. Ola Electric has introduced the S1 Air at an introductory price of Rs 1.1 lakh, which will remain valid until August 15th.
Following August 15th, the price of the Ola S1 Air will increase by approximately Rs 10,000. Initially, the introductory price window was scheduled from July 27th to July 31st. However, due to the overwhelming response of 50,000 bookings, Ola Electric has extended the introductory prices of the S1 Air until noon on August 15th.
Launched last year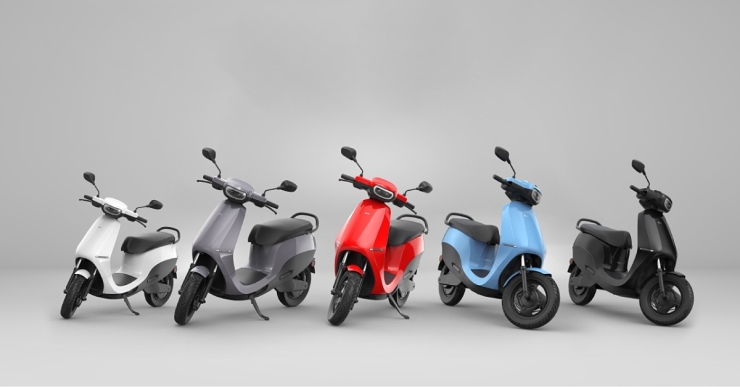 Previously launched in October 2022 with a 2.5 kWh battery pack and a competitive price of Rs 79,999, the Ola S1 Air later introduced two more battery pack options – 3 kWh and 4 kWh – in February 2023. In the latest update before its market launch, Ola Electric confirmed that the S1 Air will now be available solely with the 3 kWh battery pack, with the 2.5 kWh and 4 kWh options discontinued.
The Ola S1 Air is priced at Rs 1.1 lakh, including the FAME-II subsidy, with the 3 kWh battery pack. As there are minimal differences between the S1 Air and the standard S1, Ola Electric has decided to discontinue the latter, making the S1 Air its new most affordable scooter.
In comparison to the standard S1, the S1 Air boasts telescopic forks at the front, a tubular pillion grab rail, and blacked-out lower-side body panels. With the 3 kWh battery pack, the S1 Air achieves a maximum riding range of 125 km, while the 4.5 kW electric motor propels the scooter to a top speed of 90 kmph.
The Ola S1 Air features a suspension set-up with twin telescopic forks at the front and dual shocks at the rear. The scooter does not come equipped with disc brakes. Ola claims that the charging time for the S1 Air is 5 hours, and it comes with a portable 750W charger. Currently, the scooter is available in 6 color options, and you can book it online through the official Ola website.