This content contains affiliate links. When you buy through these links, we may earn an affiliate commission.
Clearly, in an effort to keep you stocked with mystery, thrillers, and true crime, this fall publishing is releasing a ton of crime books to read in September. I made sure to find a wide array of tropes and subgenres to have something for a variety of reading tastes.
If you enjoy your mysteries mixed with history, we have two historical mysteries: one is the third in a great series that starts in Bombay, and the second is a standalone set in 1940s California. There's a fictional serial killer for slasher fans! And if you enjoy solving puzzles, there's a great puzzle book.
Get hungry with another Tita Rosie's Kitchen mystery, and solve mysteries with elderly members of a true crime club. There's a social thriller that starts with new neighbors having their BLM sign vandalized, a mystery with a ghost, and three generations of a family all sleuthing!
If you like dark academia, you have one set at a prestigious school. There's also a modern-day ninja, a missing person case with a fictional true crime podcast, a manor murder, and a middle grade mystery that invites town's people to be sleuths. And to finish, for readers of true crime, we have a journalist-written look at cartel violence in Mexico and a mother who enacted revenge for her daughter.
Your Lonely Nights Are Over by Adam Sass
For fans of fictional serial killers, slasher films, high body counts, and gay horror!
This is a great read any time of year, but especially in the fall if you're looking for a fun YA horror read that follows two gay best friends in alternating POVs. Mr. Sandman was a serial killer who left a note before killing the next victim years ago and then went quiet. Until now…Is the killer back, or is someone a copycat? And why are they targeting the high school's Queer Club, leaving people pointing fingers at Dearie and Cole? They'll have to figure out in order to stay out of prison and mostly to stay alive…
Murder and Mamon (A Tita Rosie's Kitchen Mystery #4) by Mia P. Manansala
For fans of food cozy mysteries!
Lila Macapagal's godmothers are opening a new laundromat, which should be mostly a celebration with maybe some business stress. But instead, it's vandalized, and a niece, newly arrived from the Philippines, is murdered. Now Lila has to figure out who the murderer is by trying to figure out the why behind the crime…
If you want to start at the beginning of the series, pick up Arsenic and Adobo.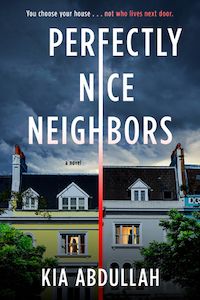 Perfectly Nice Neighbors by Kia Abdullah
For fans of neighborhood and social thrillers!
When a Bangladeshi family looking for a fresh start moves into a suburban development, they quickly find they may not be safe in this safe neighborhood after a Black Lives Matter sign is vandalized…
Grave Expectations by Alice Bell
For fans of murder mysteries, a cold case, and a friendly sleuthing ghost!
Claire accepts a job performing a seance for an old university acquaintance's very wealthy family. Claire can actually see ghosts, or at least the ghost of her childhood best friend who disappeared. While Claire doesn't necessarily know how she died, she does know she's dead, contrary to most people's belief that she ran away.
A "fun" seance goes awry after the grandmother comes back to warn that while she wasn't murdered, someone else in her past was — and someone in the family was responsible.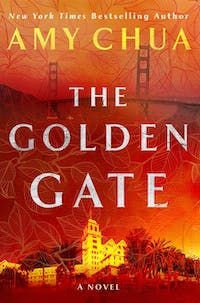 The Golden Gate by Amy Chua
For fans of historical mysteries and procedurals!
In 1944, Al Sullivan was a homicide detective in Berkeley, California, when Walter Wilkinson, a presidential candidate, was assassinated in a hotel where Sullivan was drinking. There are plenty of suspects, but the clues lead Sullivan to a 10-year-old case where a 7-year-old died, pointing to her now adult sister and cousins, all heiresses.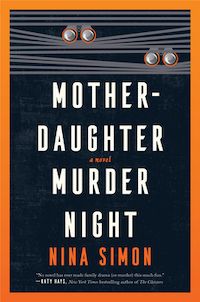 Mother-Daughter Murder Night by Nina Simon
For fans of murder mysteries and family generations working together as sleuths.
Lana Rubicon finds herself in a sleepy town — far from her fast-paced city life — with her daughter and granddaughter when her granddaughter stumbles upon a dead body. With the granddaughter immediately becoming a suspect, all three women will have to come together to play amateur sleuths.
The Ninja's Oath (Lily Wong #4) by Tori Eldridge
For fans of action, crime, and rescuing a kidnapped victim!
Lee Chang's niece has been kidnapped, leading him to team up with ninja Lily Wong to rescue her. But soon, they become a reluctant trio when an assassin joins their mission and another family member also goes missing. They're up against great odds, and Lily must also deal with her personal life, from her father being ill to a revelation about her sensei…
If you want to start at the beginning of the series, pick up The Ninja Daughter.
The Changing Man by Tomi Oyemakinde
For fans of dark academia!
Nithercott School is a prestigious boarding school with a legend centering on the Changing Man — something Ife Adebola learns as she reluctantly attends the school her parents can't afford, even with her scholarship. She may not want to be there, but that won't stop her from looking into the mystery of the legend, her classmates' missing brother, and students acting weird…
The Last Devil to Die (Thursday Murder Club #4) by Richard Osman
For fans of English mysteries, fictional true crime club, and a group of elderly amateur sleuths!
Elizabeth, Joyce, Ron, and Ibrahim — the members of the Thursday Murder Club — have a new mystery to solve when a friend is killed and a package they were guarding disappears…
If you want to start at the beginning of the series, pick up The Thursday Murder Club.
The Spanish Diplomat's Secret (Captain Jim and Lady Diana Mysteries #3) by Nev March
For fans of historical mysteries with a nod to Sherlock!
Captain Jim Agnihotri and his wife, Lady Diana Framji, met and married in Bombay, then — in the second book — moved to Boston, Massachusetts, and now, in 1894, are taking a summer trip to England. But before they arrive in Liverpool, they'll have to solve the murder of a Spaniard on the cruise they're traveling on!
If you want to start at the beginning of the series, pick up Murder in Old Bombay.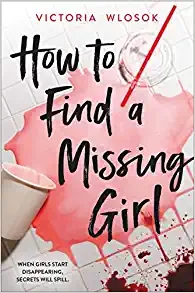 How to Find a Missing Girl by Victoria Wlosok
For fans of fictional true crime podcasts, amateur sleuthing agency, sister looking for missing sister, and A Good Girl's Guide to Murder.
Iris's sister Stella disappeared a year ago, and she's determined to find out what happened to her — even if the cops have warned her away. Now, after airing a true crime podcast about Stella, Iris's ex-girlfriend also goes missing…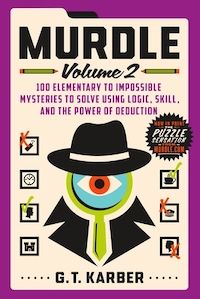 Murdle: Volume 2: 100 Elementary to Impossible Mysteries to Solve Using Logic, Skill, and the Power of Deduction by G.T. Karber
For fans of Clue and puzzle books or anyone looking to gift a fun puzzle book!
Sectioned off into three categories from easy to difficult, each set of pages offers you the chance to solve a who, with what, and where mystery. You're offered 3 suspects, 3 places, 3 weapons, and a few facts/lies, offering you the chance to be the detective!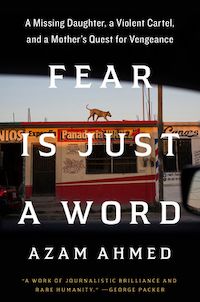 Fear Is Just a Word: A Missing Daughter, a Violent Cartel, and a Mother's Quest for Vengeance by Azam Ahmed
For readers of true crime written by journalists.
Ahmed dives into the history of cartels in Mexico, with a focus on one of many disappearances, Karen Rodríguez, and her mother, Miriam Rodríguez, who decided to exact revenge on the cartel members she believed responsible.
Multo by Cindy Fazzi
For fans of bounty hunters!
Domingo is a Filipino American bounty hunter who goes after undocumented immigrants and writes an advice book for aspiring immigrants in his spare time. Monica Reed has been on his radar three times: once she escaped, once he released her, and now he's once again tasked to apprehend her. But this time might make him question his job…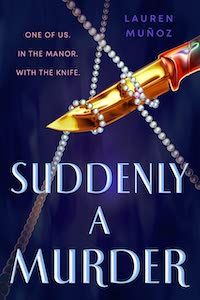 Suddenly a Murder by Lauren Muñoz
For fans of YA and remote mysteries!
A group of friends are celebrating graduating from high school by staying at Ashwood Manor and throwing a 1920s-themed week of fun. But the fun ends when one of their boyfriends is murdered, they all become suspects, and can't leave the manor…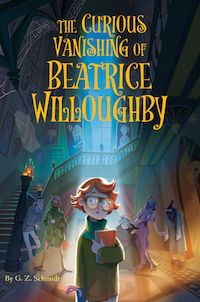 The Curious Vanishing of Beatrice Willoughby by G.Z. Schmidt
For fans of invitations sent to solve an old case!
Nevermore is a small mountain town where, 13 years ago, Beatrice Willoughby, the Mayor's daughter, disappeared at the age of 6 at an annual All Hallows Eve party. Now invitations have been sent to six households in town for another Amadeus' All Hallows Eve party — but this time, it'll be to work together to solve the mystery of Beatrice's disappearance…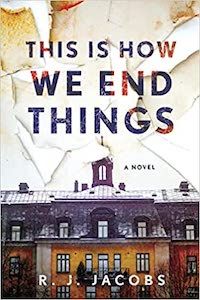 This Is How We End Things by R.J. Jacobs
For fans of campus thrillers and remote mysteries!
Five graduate students in Forest, North Carolina, are studying the science behind lying. But the more they study it, the more they become guarded of their own secrets. Until one of them is murdered, and a snowstorm traps them all together…
Always on the hunt for more mysteries, thrillers, and true crime? We've got you covered!
As always, you can find a full list of new releases in the magical New Release Index, carefully curated by your favorite Book Riot editors and organized by genre and release date.