Shiba Memu token has raised over $1.64 million from investors.

It is one of the most popular upcoming crypto tokens in the world.

It combines key industries like AI and meme coins.
Cryptocurrency prices moved sideways even as American equities jumped. Bitcoin remained slightly above $29,000 while the total market cap dropped by 0.42% to $1.16 trillin. The Dow Jones and the Nasdaq 100 indices jumped by over 0.65% as investors embraced a risk-on sentiment. This article will look at the forecast for key cryptocurrencies like Bitcoin Cash, Algorand, and Shiba Memu.
Shiba Memu prediction
Shiba Memu is an upcoming cryptocurrency that is aiming to combine key technologies like artificial intelligence and meme coins. Its goal is to take advantage of the most hyped industries this year.
In AI, some of the best-performing companies and cryptocurrencies have been in the industry. Some of these firms are Nvidia, Microsoft, and C3.ai while the most popular crypto AI platforms are SingularityNET and Fetch.Ai.
Shiba Memu aims to be a better alternative to other popular cryptocurrencies like Shiba Inu, Dogecoin, and Pepe. It is also taking advantage of AI technology by self-marketing. It will do that by self-responding to user inquiries and grow from their feedback.
Shiba Memu will have several technologies, including Natural Language Processing (NLP), Sentiment analysis, predictive analysis, and personalization among others. 
Shiba Memu's token sale has gained traction in the past few weeks. It has already raised over $1.6 million from global investors. The price of the token is rising on a daily basis. You can buy the Shiba Memu token here.
Bitcoin Cash price prediction
The 4H chart shows that the BCH price has moved sideways in the past few days. This price action has mirrored that of Bitcoin, which has also dropped from the year-to-date high of $31,388 to $29,000. BCH price has moved slightly above the 25-period and 50-period moving averages.
The price was also slightly above the 38.2% Fibonacci Retracement level. At the same time, the Relative Strength Index (RSI) has moved slightly above the neutral point at 60. Therefore, Bitcoin Cash price will likely remain in this range for a while. The key support and resistance levels to watch will be at $219 and $260.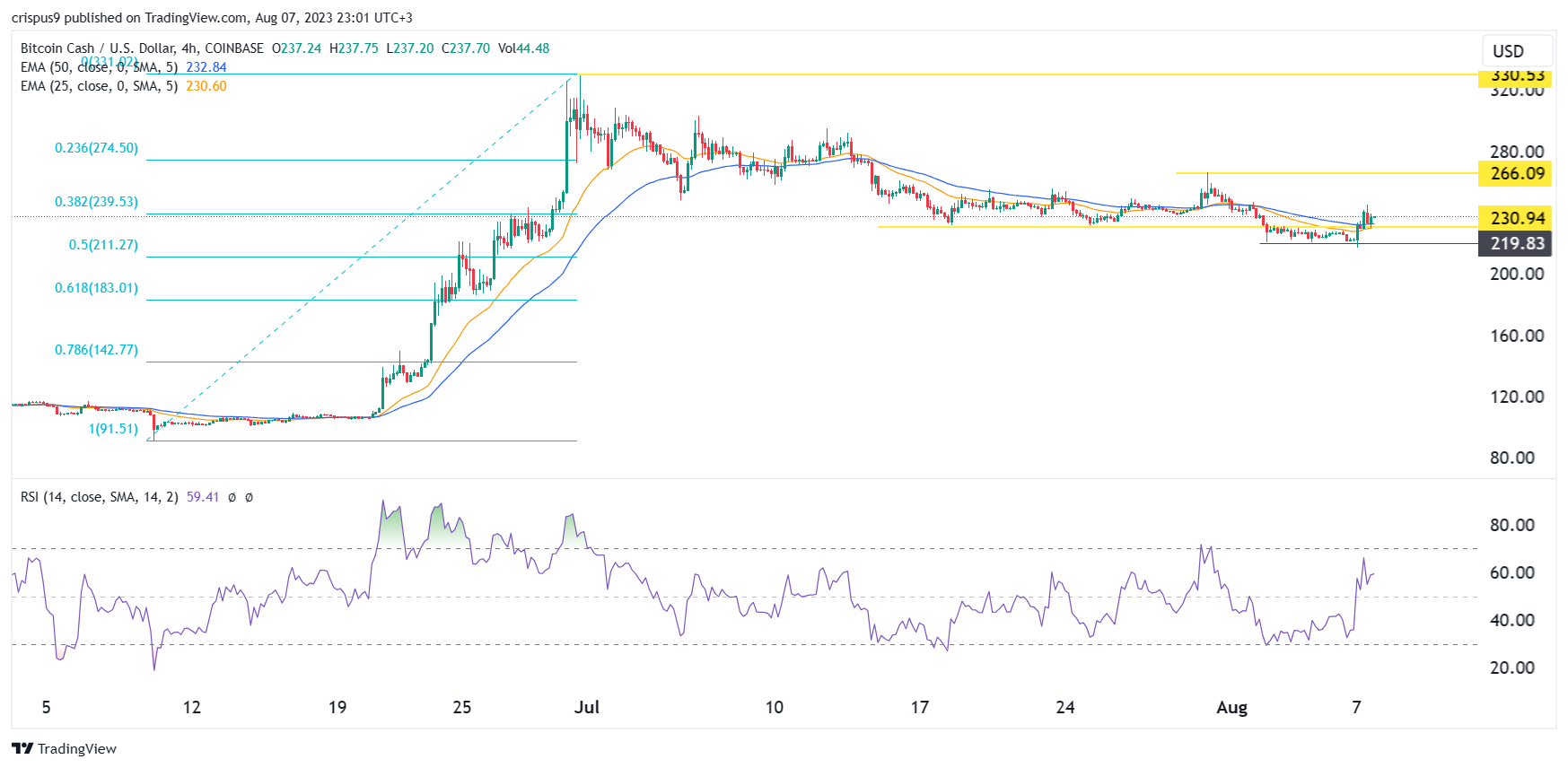 Algorand price prediction
Algorand has been under pressure in the past few months. This pressure intensified recently when AlgoFi, the biggest DeFi platform in the ecosystem collapsed. ALGO price is consolidating at the 25-day and 50-day moving averages while the Relative Strength Index (RSI) drifted upwards.
The Average True Range (ATR) has drifted downwards while the price is above the key support level at $0.1043. Volume has been constrained in the past few weeks. Therefore, the token will likely remain in a tight range in the coming days. The key support and resistance levels to watch will be at $0.10 and $0.12.