This content contains affiliate links. When you buy through these links, we may earn an affiliate commission.
It's always a sad thing when November 1 rolls around and the Halloween season is officially over. Halloween is just so magical. Can we pause over the fact that there's free candy? When else is there ever free candy?? Sugary treats aside, Halloween is about so much more than costumes, pumpkins, and scary movies.
The holiday as it's celebrated in the U.S. traces its roots back to various European traditions ranging from Druidic beliefs regarding death to Greek celebrations of the harvest to Catholic honoring of saints. But when people talk about having "Halloween spirit," they're typically not referring to any of that.
Halloween spirit is, IMHO, characterized by a playful, fun-loving spirit paired with a deep love of hygge. It's pumpkin spice in an attitude: a little out there, a little unusual, and so, so delicious.
Unfortunately, for all you Halloween lovers out there, it's just not socially acceptable to run around in a costume all year. I wish it was, believe me, but it's not. (That's the sort of thing that could lead to breakups, job loss, or just general ostracization. Which is boring because costumes are amazeballs.) And for the parents in the room, it can be a challenge to get the kiddos to take their costumes off—even for simple things like bathing and sleeping.
Lucky for you, books are a phenomenal way to keep the Halloween spirit alive any time of the year. The Halloween picture book scene is chock full of wonderful stories with phenomenal illustrations to keep Halloween lovers of all ages happy during the poor 11 months of the year that don't have Halloween in them.
Halloween is a Treat! by Sabrina Moyle
This board book is great for early readers who love the sights and themes of Halloween. Two little kitties dressed up as a witch and a pumpkin are featured in each picture, lending a sense of continuity to the book. Every time you turn the page, a new and brightly-colored scene greets you with monsters, pumpkins, candy, or other popular Halloween characters and settings.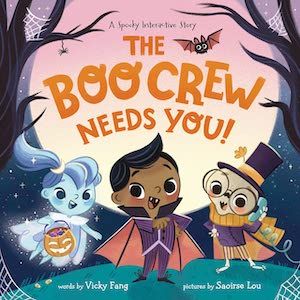 The Boo Crew Needs You! by Vicky Fang
It's the night of the Monster Ball, and everything is not okay! This interactive book asks readers to shout, tap, blow, push, and more as the Boo Crew works hard to get things in order so the Monster Ball can happen after all. The story is simple enough for young readers to follow and engages them with a special task each time they turn the page. It's a fun read with engaging rhyming lines that create a strong rhythm throughout the book.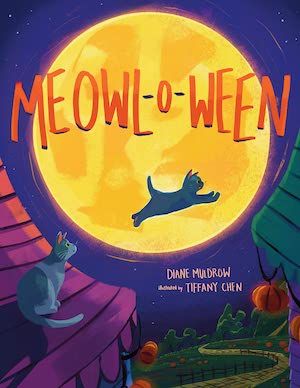 Meowl-o-Ween by Diane Muldrow
It's Halloween, and all the cats are out on the town…except one scared little kitten who's not feeling brave at all. But when her mama finds her, she learns to take it all in and might even find her courage before the night is over. Written in upbeat rhyming verse, Diane Muldrow's feline tale is enhanced by Tiffany Chen's super cute illustrations. The sheer variety of cats on parade in this book is enough to make any cat lover swoon, and the story is sweet enough to enjoy all year long.
Luna Oscura by Heidi Moreno
This delightful little bilingual book (Spanish & English) introduces readers to Luna, a little black cat who's waiting to find her forever home, just like all the other cats in the forest. But the other cats are superstitious about Luna's black fur and won't let her join them. With her friend Toad by her side, Luna has to learn to love herself for who she is—and it turns out who she is is even more amazing than she ever dreamed. This sweet story of acceptance and friendship is great for any kiddo and has special appeal for little cat lovers.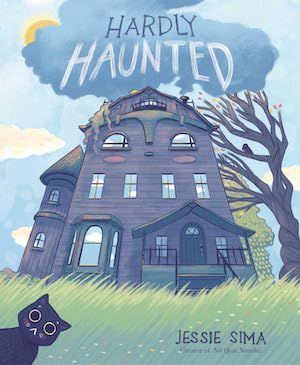 Hardly Haunted by Jessie Sima
Jessie Sima may be best known for her books in the Not Quite Narwhal and Friends series, but Hardly Haunted is an adorable addition to her oeuvre. This tale focuses on a haunted house who's up for sale and trying desperately not to be haunted. But can she learn to love herself for who she is? It's a sweet story with a solid message, and the little ones will have fun trying to find the cat on each page (and may get curious when said cat absconds for a page or two partway through). Also, Sima's illustrations are off the charts on the cuteness scale!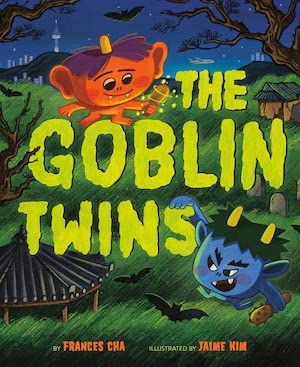 The Goblin Twins by Frances Cha
Frances Cha's lively book about mischievous twin goblins from Korea is a really fun read. Made all the more enjoyable by Jaime Kim's colorful illustrations, it features young goblins Doki and Kebi, who are only 601 years old. They're always causing trouble of one kind or another, although their personalities couldn't be more different. But when they move to New York City, the adventure is on! You'll be glad to be along for the ride because this book is charming!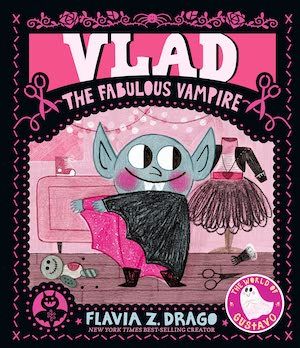 Vlad, the Fabulous Vampire by Flavia Z. Drago
From the author who brought us Gustavo, the Shy Ghost, and Leila, the Perfect Witch, comes the third installment in the World of Gustavo. Vlad is a creative fashionista who's working hard to use fashion to hide his rosy cheeks. Yet no matter how inventive he gets, he's always on the verge of getting found out…which is when he meets someone else with a little secret of their own. This is another adorable story set in a Halloween world with a message for young readers that transcends the autumn holiday. Drago delivers again on the whimsical illustrations.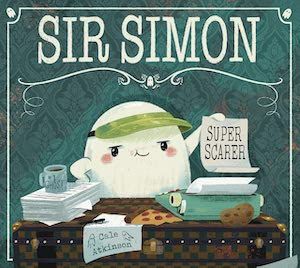 Sir Simon by Cale Atkinson
This book is an all-time favorite in my house. No matter what season it is, it's always a good time for this book about a feisty ghost named Simon (Sir Simon Super Scarer, the Ghostest with the Mostest, to be exact) and his unexpected friendship with Chester, the human boy who moves into the house Simon's supposed to be haunting. The illustrations are cute, the story is well-written and funny, and the themes of friendship and acceptance are relevant beyond the Halloween season.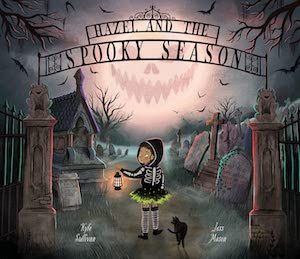 Hazel and the Spooky Season by Kyle Sullivan
Hazel loves the fall because it's the best time of the year to be scared, but she's the only one in her town who feels that way. That all changes when Ronnie Pumpkinseed and his merry band of Halloween friends crash into Hazel's life and help her show everyone how amazing the spooky season is. The story is told in rhyming lines and accompanied by rich illustrations, making it a strong candidate for a Halloween classic for your shelves. The timeless message of keeping Halloween in your heart throughout the year will resonate with readers who love the spooky season as much as Hazel does.