Since at least May of this year, the Samuels Public Library in Front Royal, Virginia, has been the target of a book banning campaign. Dubbed "Clean Up Samuels," members of St. John the Baptist Catholic Church gathered together at a meeting May 13 called "Beer, Babysitting and Cleaning Up Samuels Library," which came with a link to a website listing dozens of books the group considered "smut." It comes as little surprise the majority of books are those in the children's and young adult sections by or about LGBTQ+ people and themes.
The Clean Up Samuels group is comprised of 53 individuals, who have flooded the library with over 800 reconsideration forms. The group has not stopped at demanding book removal, though. They have turned their attention to defunding the library if their demands are not met.
This story sounds like one playing out in other libraries across the country, including Dayton Memorial Library in Washington state, Ozark Dale County Library in Alabama, and the Patmos Public Library in Jamestown, Michigan. For Samuels Public Library, funding to the institution ended July 1, and without support for receiving their budget, the library–which serves the entirety of Warren County's nearly 41,000 residents–it will close its doors October 1.
The Warren County Board of Supervisors elected to withhold 75% of the library's budget following demands from the Clean Up Samuels group to remove 134 they deemed inappropriate. As a result of the decision and push from the book banning group, the library's director resigned in early August. The Board offered no explanation for what needed to be done in order to receive the remainder of their annual funding.
Today, Tuesday, September 5, 2023, is the last day for public comment before the library's potential closure. A group, Save Samuels, has stepped up to push back against the book banners and in support of the library, and have put together a petition and call for all supporters to show up to the board meeting this evening and demand restoration of funding.
"Our group is now over 600 and we have so many parents, allies, grandparents, teachers and even teens speaking out and fighting to save our library," said Kelsey Lawrence, founder of Save Samuels. She created the group via a Facebook event with her friend Sydney Patton, who invited people to show up at a county supervisor board meeting in support of the library and its funding in June. The hours-long board meeting resulted in the decision to fund Samuels at only 25%.
"Even in the midst of the setbacks like the vote and our director's resignation we have had wins. We have found community in our group, and empowerment in this activism. It is truly a beautiful thing to see and to do together."
In response to both the requests to remove books and withholding of funding–again, with no explanation from the county board as to how to get their full funding back– the library board decided to develop two additional levels of library cards. This would allow parents to determine what materials would be accessible to their children. The library also decided to create a "new adult" section of the library, which would collect titles deemed best for those 16 and older. The board decided to pursue this option following review of three of the titles challenged by Clean Up Samuels. All three were retained following review, though one title was relocated to the new section.
Save Samuels is asking anyone in the area to show up to the county board of supervisors meeting this evening at 5 pm, 220 N Commerce Ave, Front Royal, Virginia. Come prepared to speak up on behalf of the library and demand full funding be restored. You're also invited to sign the petition demanding that the library receive its full funding allotment.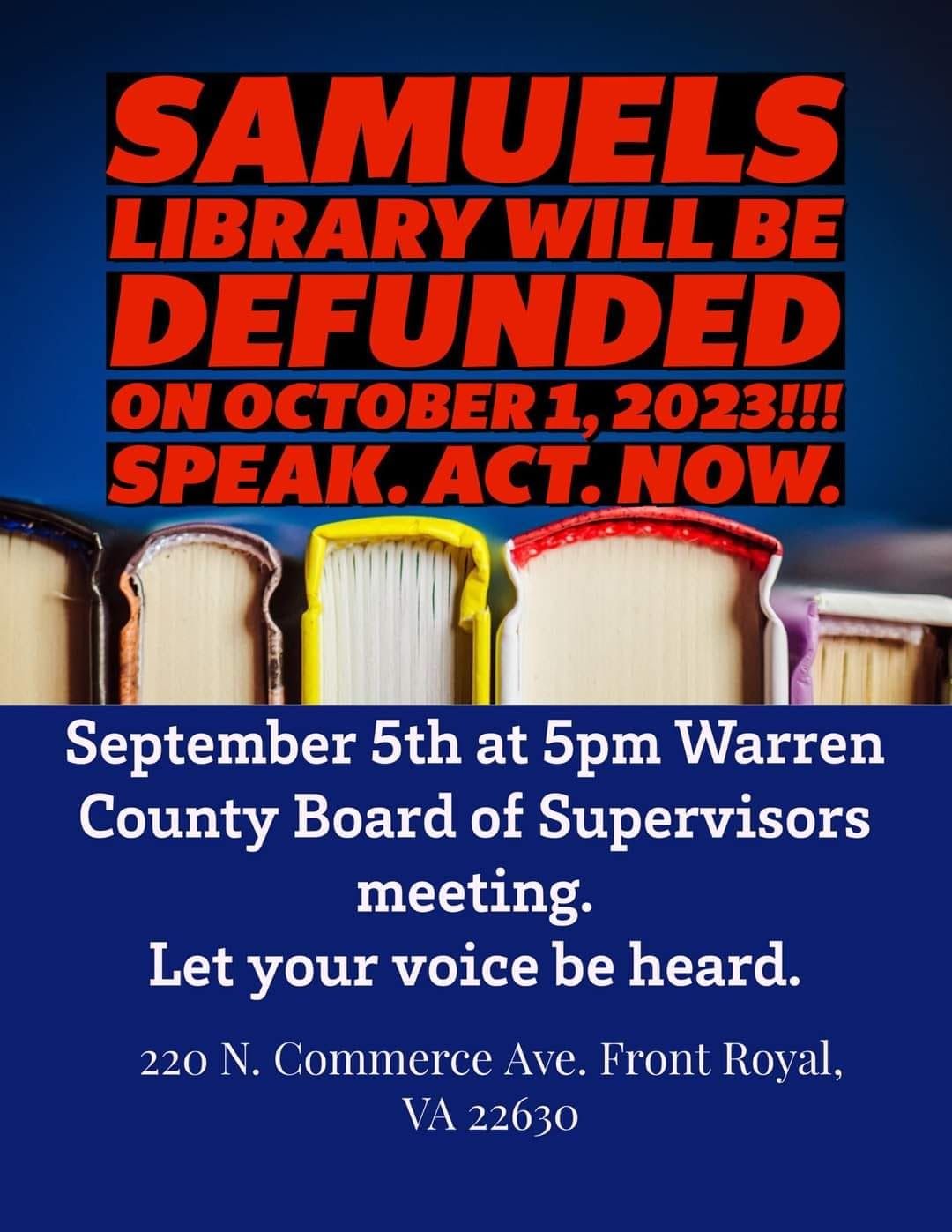 "Write to the county officials and tell them that they want Samuels Public Library to be funded and that they want the entire catalog to remain intact. Tell friends and family," emphasized Lawrence. "This is our library and we love it. It is a safe place that should be protected. It serves the community in so many ways. The staff of this library are thoughtful and caring and do not deserve the backlash and name calling that they are getting."
She added that locals should join the Save Samuels Facebook group to get involved.
"We need our community to stand up and speak out about this, and help inform others about what is happening. Our library needs to be protected and it is going to take all of us to win the fight for our library," said Lawrence. "Our libraries, schools and towns need us to stand up for them. We need to secure these places for our children and the future of our communities."
Even if you're not local, it's both worth paying attention to this story and responding. Write to the board of supervisors in Warren County–information here–as well as write in support to the library board itself. Save Samuels has developed a series of prompts and talking points to make the process easy. If your library is part of the Blue Ridge Consortium of libraries in Virginia, the closure of Samuels would directly impact your user experience as well.
"When people in power tell you what they want to do-believe them. I think too many people believe that our institutions will never fall, and so chose to not get involved," said Lawrence. "This belief led to the community not getting involved until the middle of May, months after the opposition had strategized, organized and harassed the library staff. We had so much catch-up to do to organize and fight this. If you hear about this happening in your town-get involved."
In Warren County, Virginia, a mere .13% of a county's population could determine the ability for its entirety to access information and resources at its tax-funded library.
"We need to be aware of what is happening in our local government because this happens when we stop paying attention. We cannot let these people be the only voices in the room," said Lawrence.