This content contains affiliate links. When you buy through these links, we may earn an affiliate commission.
There are so many book awards out there, but how do you decide which ones might be a good match for your reading tastes?
Most avid readers will have heard of the big literary awards like the Pulitzer Prize, the Booker Prize, and the Nobel Prize in Literature. All of these have broad categories such as fiction, nonfiction, and poetry.
Then there are the regional book awards. I'm talking National Book Award, American Book Award, Commonwealth Writers' Prize — you name a country or even a state and it's bound to have its own literary prize.
We've finally evolved to the point that there are also book awards that recognize outstanding works of genre fiction. And, of course, we have important awards recognizing the work of marginalized and underrepresented writers.
Yet I can't even begin to count how many times I've checked the winning titles or skimmed the short- and long-listed titles for a given book award or category only to discover that none of them suit my fancy. Even the genre awards can't always hit the mark, and I'm a voracious consumer of all manner of genre fiction.
The problem seems to have its root in the broad focus of your run-of-the-mill book awards. Put another way, isn't the idea of a "best work of fiction" or "best mystery novel" just tremendously vague? With an estimated 2.2 million books being published worldwide each year, the odds of liking an award-winning book based solely on its genre, region of origin, or author are so slim.
So…what would make for a book award category that might be more successful at leading readers to books they'll love? I started thinking about all the things that make a book enjoyable to read. I considered characters, reader moods, and even the social aspects of reading to try to come up with a list of categories (and potential winners from the past few years) for book award categories I wish existed.
I hope you enjoy it — maybe it'll inspire some new book awards. After all, with all the talented writers publishing today, spreading the love can only lead to happier readers!
Best Emotionally Empowered Novel
Jenny L. Howe's The Make-Up Test for its swoonworthy strong female lead and exceptionally supportive love interest.
Character You Wish Could Be Your Bestie
Lila Macapagal from Mia P. Manansala's Tita Rosie's Kitchen Mystery series, because who doesn't want a best friend who's a professional baker and amateur sleuth??
Character You're Super Glad Isn't Real
Jay Christos from Cherie Dimaline's VenCo — that dude is beyond creepy, and his supernatural abilities only make that freakier.
Prettiest Cover to Remove and Put On Your Guilty Pleasure Read to Hide it from Prying Eyes
Silvia Moreno-Garcia's The Daughter of Doctor Moreau for its vibrantly lush dust jacket. (Bonus: it's a fantastic read in addition to having a beautiful cover!)
Best Book With a Cat on the Cover
Michiko Aoyama's What You Are Looking for is in the Library for its intriguing premise (magical librarian whose recommendations solve characters' life problems). Fair warning: cats don't actually feature prominently in the book.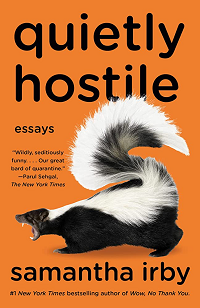 Best Book to Read to Your Cat
Samantha Irby's Quietly Hostile because I feel certain cats would enjoy Irby's smart, biting humor (even though she's writing about human affairs).
Best Book No Movie Adaptation Could Ever Hope to Do Justice To
Andrea L. Rogers' Man Made Monsters because it's way too complex, far too well-written, and so amazingly rich that there's just no way a few hours of screen time could do even a third of what Rogers does in this book.
Best Rage Read
Violet Kupersmith's Build Your House Around My Body for its powerful female characters, subversion of heteropatriarchy, critique of colonialism, and overall awesome horror elements. So good!
Best Grief Read
TJ Klune's Under the Whispering Door for its sensitive yet humorous treatment of mortality. I mean, it's basically a cup of tea for your hurting heart.
Best Book to Fall Asleep With
Dave Eggers' The Eyes and the Impossible for its simpler aspects (it's a middle grade book, after all), thoughtful messages, and enjoyable illustrations.
Best Book to Read in the Middle of the Night
Monica Brashears' House of Cotton because it's unsettling in a perfect-for-reading-in-the-quiet-dark (as opposed to a keep-you-up-in-fear) way.
Book You Think Would Be Fun to Experience as a Character
Fredrik Backman's Anxious People because it's absolutely bonkers but everything works out okay in the end.
Best Book to Read to Impress Your Friends/Date/Parents/Postal Worker
Allison Adelle Hedge Coke's Look At This Blue because it's impressively smart, terrifyingly relevant, and hugely impactful.
Best Amazing Book That Will Also Make People Leave You Alone
Rachel E. Gross' Vagina Obscura: An Anatomical Voyage because even in this day and age, strangers will cross the street to avoid hearing someone say the word "vagina."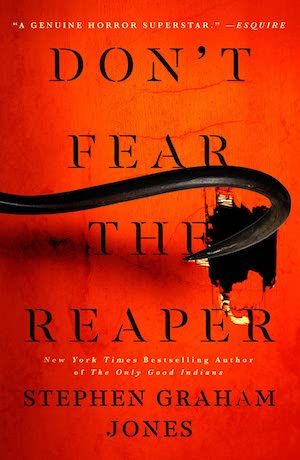 Best Book to Read in a Dark, Dark Place
Stephen Graham Jones' Don't Fear the Reaper (book 2 in the Indian Lake Trilogy) because as a slasher that takes place during a blizzard, there's really no better book to be experienced in darkness.
Best Book to Read in a Very Well-Lit Place
Erin E. Adams' Jackal because this one is so disturbing that you'll want to leave the lights on. All of the lights.
Best Book to Read in Your Garden
Camille T. Dungy's Soil: The Story of a Black Mother's Garden for the way it'll get you to think about gardens in relation to gender and race. Also, it's almost impossible to read this one without being able to look at flowers.
Best Book to Give to Your Friends
Louise Erdrich's The Sentence for its great cast of characters, poignant reflections on racism, and messages about humanity and how we treat one another.