Crypto volumes are sagging amid summer lull
In dollar terms, the amount of Bitcoin moving on-chain is at three-year lows
Trading activity commonly dies down in trad-fi markets at this time of year
However, falling crypto volumes have been realised consistently over the last year, while the dropoff has been starker than other asset classes
On-chain activity is rather muted right now. The seven-day moving average of transfer volume on the Bitcoin network is currently at its lowest level since August 2020. 
On the one hand, the falling volume represents a traditional summer lag in trading activity. However, the lowly activity is not far out of place with what we have seen thus far this year, with liquidity and volume markedly lower since the FTX collapse in November.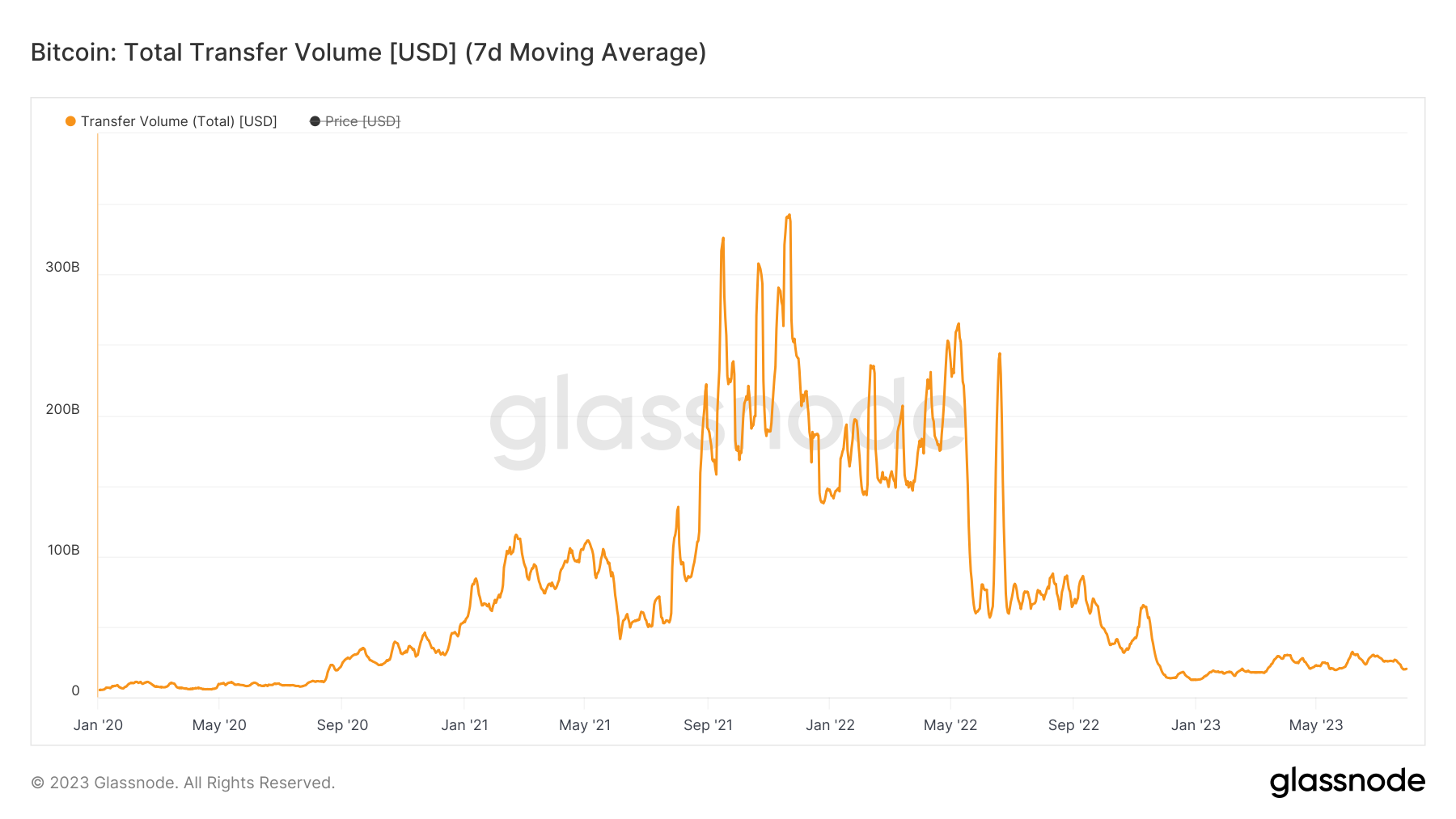 Looking at dollar volume, as per the above chart, also takes into account the rampant volatility in the BTC/USD price over the years. If we assess activity in BTC terms, the dropoff is even more stark. Measuring in Bitcoin, the seven-day moving average is it at its lowest point since 2014, when Bitcoin was a niche Internet asset trading for a few hundred dollars.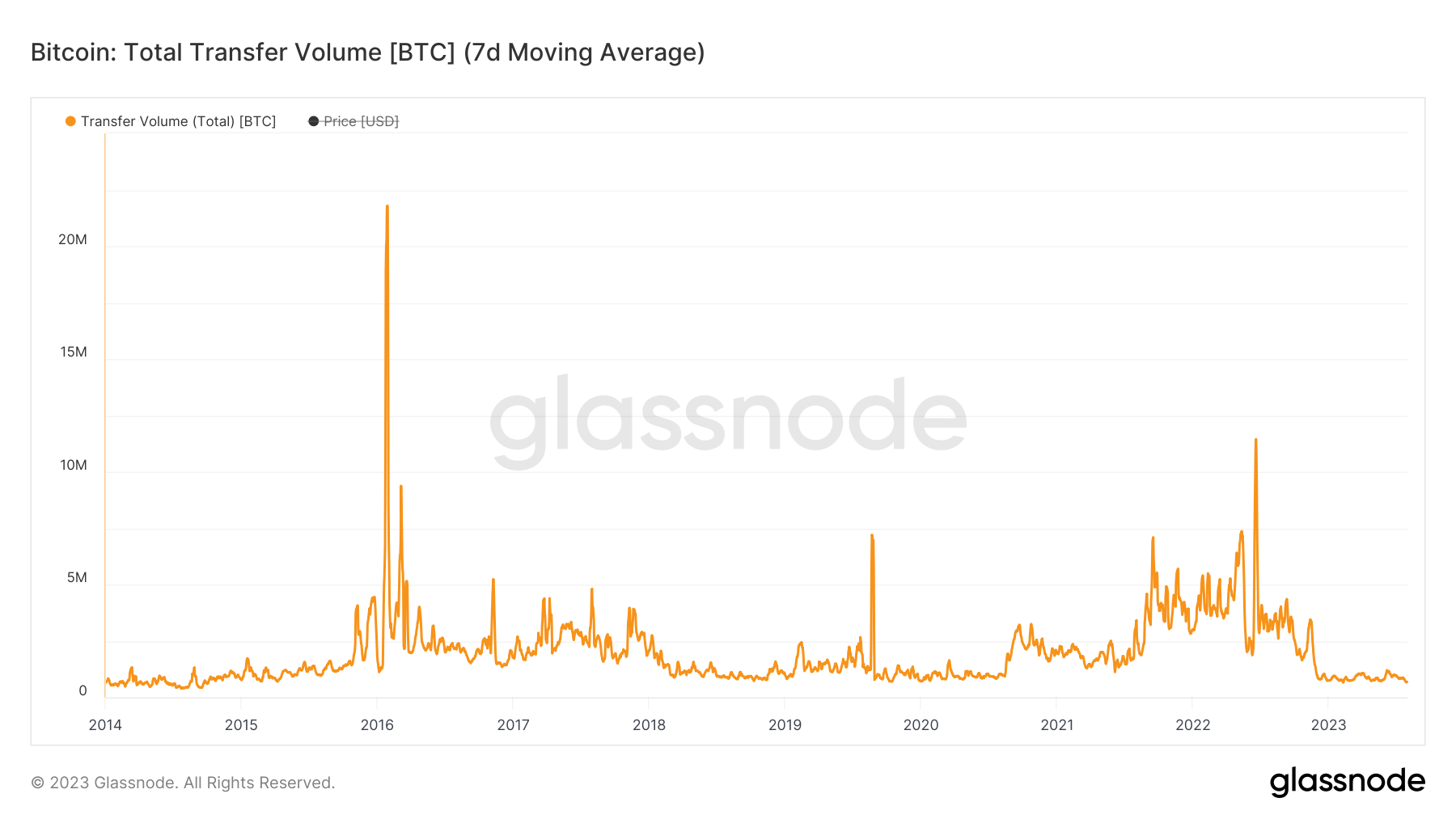 The dropoff is not limited to Bitcoin. Crypto exchanges have seen volume decimated in the last couple of years. According to data from the Block, there was $984 billion of trading volume in March 2022. Last month, that figure read $413 billion, a fall of 58%. The chart shows the aggressive spike up in 2021, followed by a long and steady downtrend to today.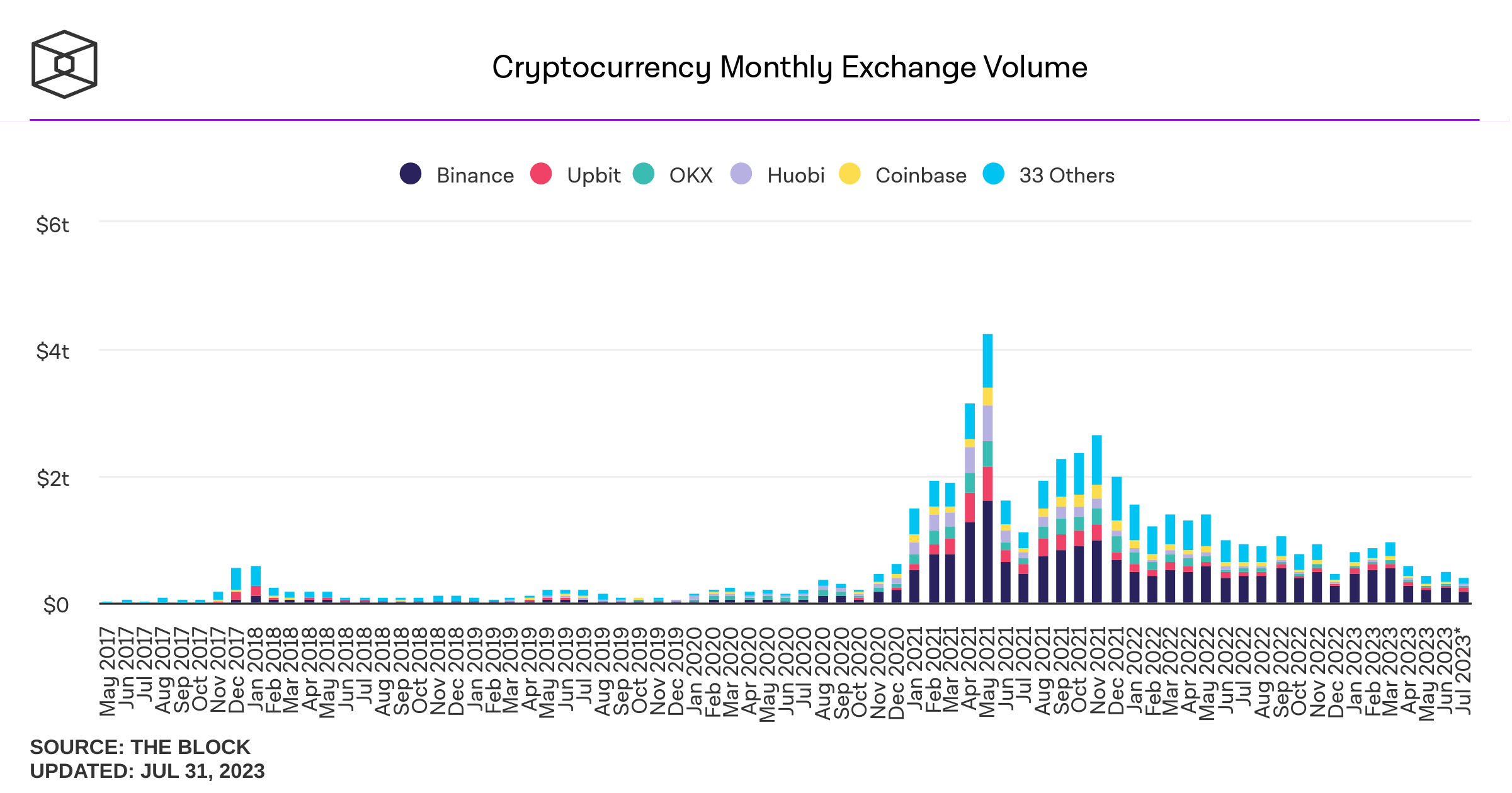 This follows in line with the shift in monetary policy. The $984 billion of trading volume in March 2022 came in the same month that the Federal Reserve first hiked rates. Since then, the increases have come thick and fast, with investors dumping risk assets relentlessly.
While there has been a bounceback this year as inflation has cooled and optimism over the end of the tightening cycle approaching picks up, prices remain far below the peaks of 2021. So too do volumes, liquidity and overall activity in the space. 
"The pace of interest rate rises from the Federal Reserve has been relentless", says Max Coupland, director of CoinJournal. "This impacted risk assets across the financial landscape last year, and of course crypto prices are an obvious reminder of this. But while prices have begun to bounce back in 2023, volumes and liquidity in the industry are still trending down, to the point we are now at levels last seen in 2020". 
It's hard to understate how much of an impact the collapse of FTX in November had in this area. Sister firm of the fallen exchange, Alameda Research, was one of the biggest market makers in the space; with its demise, there is a massive hole in order books that has not yet been filled.
The other big push factor for many has been regulation. We saw prominent market makers Jump Crypto and Jane Street announce a scaling back of their operations earlier this year as US lawmakers put the squeeze on the industry, while last month both Binance and Coinbase were sued by the SEC. 
On a positive note, derivatives have not seen quite as stark a dropoff in liquidity. Looking at data from The Block, we see the spot-to-futures volume ratio has fallen sharply in 2023, having risen in the second half of 2022.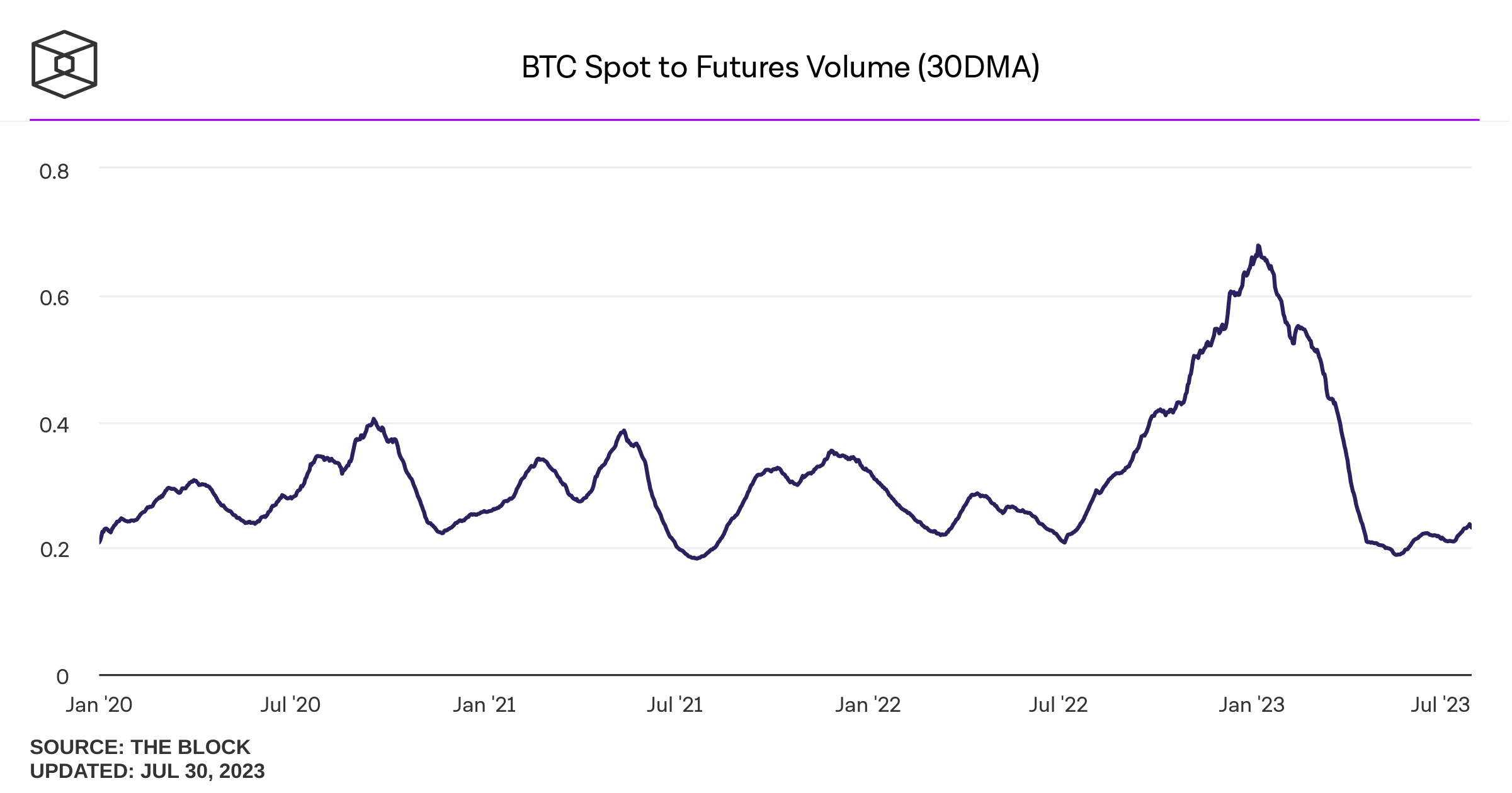 However, there is no denying that on an overall basis, liquidity and volume in the space are declining. Prices remain far below the mania of the bull market, regulators are squeezing hard, and people are now going outside to touch grass, in contrast to a big portion of the bull market when the COVID pandemic locked everybody in without much to do beyond trade some of these funny things called caryptocurrencies.
There is also the reputational damage suffered by the space, and it doesn't feel too outlandish to speculate that some users simply grew tired of all the shenanigans. But while Bitcoin transfer volume falling to three-year lows is ominous, this is the middle of summer and hence a lag in activity is to be expected. As a result, we may see volumes pick up a tad after summer. Even if this is the case, the scale of the capital outflow has been remarkable, and crypto has a long way to go yet before getting back to the good old days, a.k.a. 2021 – at least as far as liquidity and on-chain volume goes.  
If you use our data, then we would appreciate a link back to https://coinjournal.net. Crediting our work with a link helps us to keep providing you with data analysis research.