Financial market participants await the US inflation data
Bitcoin shows signs of a possible reversal
A falling wedge and a bullish divergence support the case for higher Bitcoin prices
Today is important for anyone interested in financial markets and US data. Because the US economy is the largest in the world and the US dollar is the world's reserve currency, monetary policy is the main driver of financial markets' volatility.
Volatility, or the lack of it, is the one that upsets cryptocurrency traders. Bitcoin went nowhere since it traded above $30k in April, as every rally was sold.
But a close look at the traditional currency market reveals that most fiat currencies have traded similarly against the US dollar. Therefore, if anything is going to push the cryptocurrency market's volatility up, it is going to be the US dollar.
Core CPI expected at 0.2% in August
Today's release in the United States is expected to show that the Core CPI in August has increased by 0.2% m/m while the headline inflation is set to rise to 0.6% m/m from the previous 0.2%.
But the bias is that inflation will surprise to the downside.
If that is the case, the bets will increase the Fed will hold rates steady and perhaps, it will be enough to convince market participants that there will be no rate hike anymore and that the Fed has already reached the terminal rate.
A bullish divergence supports the case for higher Bitcoin prices
The summer months brought broad US dollar strength across financial markets. EUR/USD dropped from above 1.12 to below 1.07. At the same time, Bitcoin declined from $32k to $25k as investors bought the US dollar.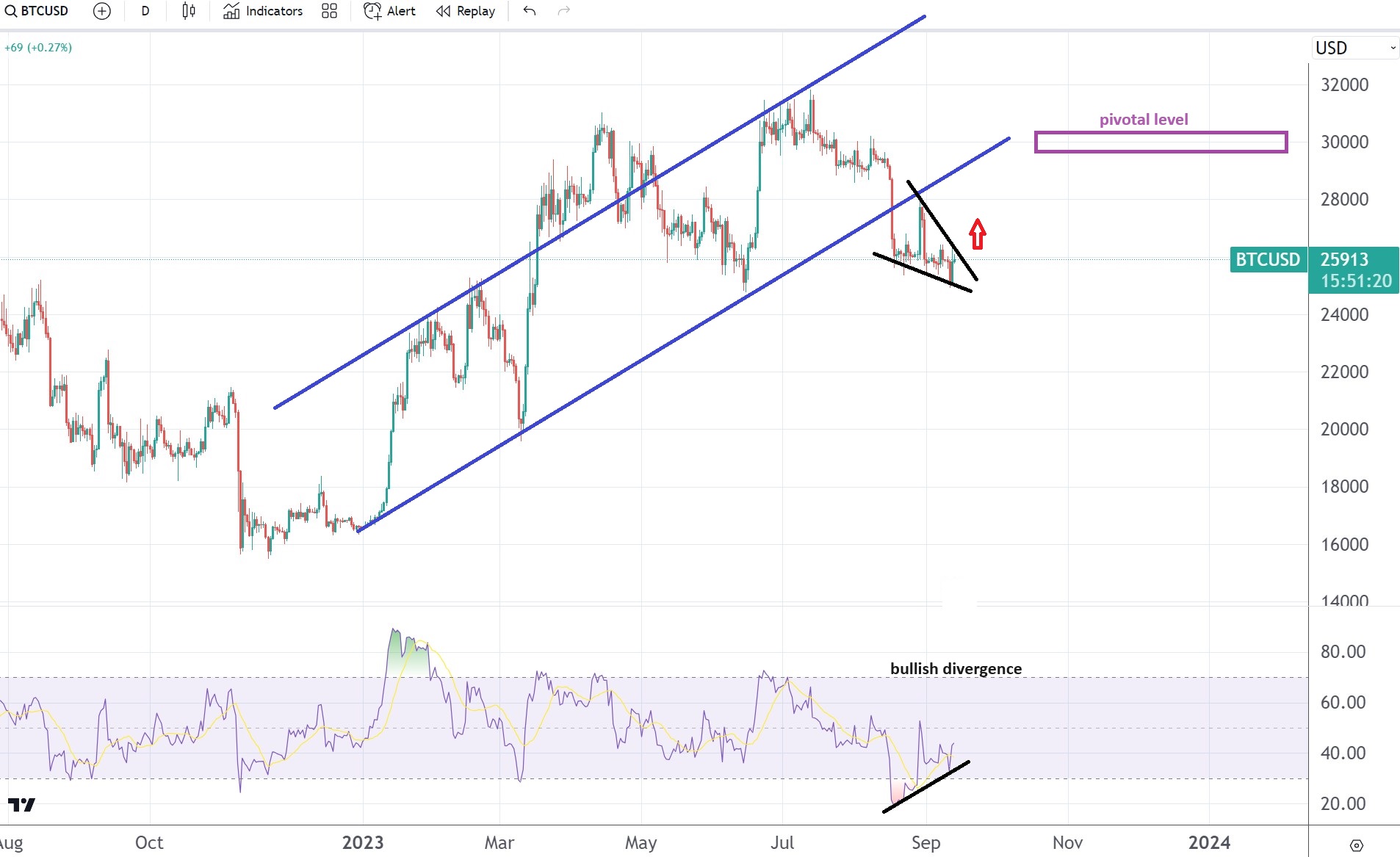 Bitcoin chart by TradingView
However, recent price action suggests that there is scope for optimism. First, the market formed a bullish divergence with the RSI. Second, a falling wedge pattern suggests that a reversal might be in the cards.
All in all, we will all find out where Bitcoin goes next sooner rather than later. Now that the lull summer trading is gone, expect the market's volatility to pick up as important economic data is due.