Bitcoin breaks horizontal resistance at the $32k area
The rally extended above $35k
Bulls should be worried because Bitcoin diverges from the US dollar
Bitcoin investors are thrilled to see the cryptocurrency jumping to a new high for the year. More precisely, Bitcoin traded above $35k for the first time in over a year. 
It did so by tripping stops seen in the $32k area. This area provided resistance for quite some time, and Bitcoin finally broke above. 
That is the good news for bulls. 
The bad news is that in doing so, Bitcoin diverges with the rest of the fiat currencies. More precisely, while Bitcoin gained against the US dollar, the greenback rallied against its peers. 
It may or may not be something to worry about. But if I were an investor in Bitcoin (which I'm not), I would worry. Here is why.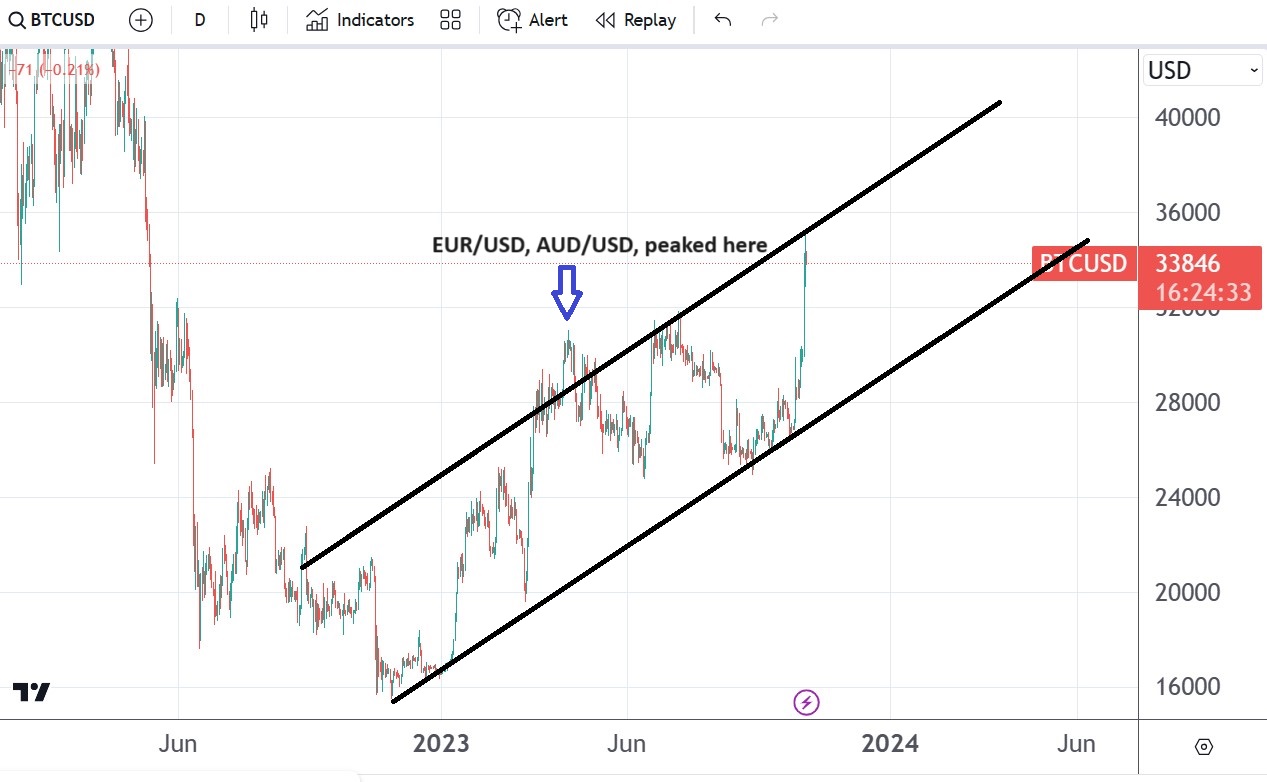 Bitcoin chart by TradingView
Bitcoin and the US dollar have diverged since Q1 2023
The problem for Bitcoin is that the dollar strengthened since Q1 2023 against its peers. Two examples are the EUR/USD and AUD/USD exchange rates, which peaked in the year's first quarter. 
EUR/USD, for instance, peaked at 1.12 and now trades around 1.06. AUD/USD erased almost all its gains from the lows in October 2022.
Bitcoin is the last one standing against the dollar. While bulls may say that it is only normal because Bitcoin is not correlated with macro risks and positioning, I beg to differ. 
Since Bitcoin is part of many institutional portfolios, it does react to macro. Therefore, the rally we see here would likely be reversed unless the US dollar strength dissipates. Only if the dollar starts weakening it makes sense to cheer for a Bitcoin rally. 
Until then, caution is needed.