There are numerous businessmen in the country who possess extensive collections of luxury and exotic cars. Yohan Poonawalla is one among them, and he arguably owns one of the most expensive supercar garages in the nation. Last year, he made a grand entrance at the 2022 Valley Run in a private helicopter and departed in cars worth Rs 100 crore. Just prior to the Valley Run, Yohan Poonawalla had added another car to his collection: the current generation Land Rover Defender. Yohan Poonawalla shared an image of himself with his new Defender, along with an online photo depicting the Series I Land Rover parked next to the new Defender.
Since its launch, the Land Rover Defender has gained immense popularity as an SUV among celebrities, sports personalities, and billionaire businessmen, including Yohan Poonawalla. The billionaire businessman acquired the car in Santorini Metallic Black, which not only looks extremely appealing but also gives the SUV a rugged appearance. The Land Rover Defender has always held a special place in the hearts of enthusiasts and avid off-roaders, possibly explaining why Yohan shared an image of himself standing beside the current generation Defender and a Land Rover Series I.
Yohan Poonawalla wrote, "Have you ever wondered what 'The Theory of Evolution' looks like for a car? Here's a real-life example of the concept: the 1951 Series 1 Defender (formerly owned by the Royal Family of the Princely State of Kutch) alongside the 2022 Defender. While design language, technology, size, and other creature comforts have come a long way since the 1951 Series 1, the classic design and ruggedness of the Series 1 will always hold a special place in my heart."
It's abundantly clear from the post how deeply he adores cars. The Defender has consistently been portrayed as a rugged-looking, hardcore off-road machine, and the new generation Defender upholds this reputation. The sole difference is its heightened technological advancement and provision of a luxurious cabin. This is likely a contributing factor to the surge in its popularity. The Land Rover Defender is available in two body styles in India: the 110 and 90 versions. The 110 version is the 5-door variant, while the 90 is the 3-door variant. Yohan Poonawalla acquired the 110 5-door version.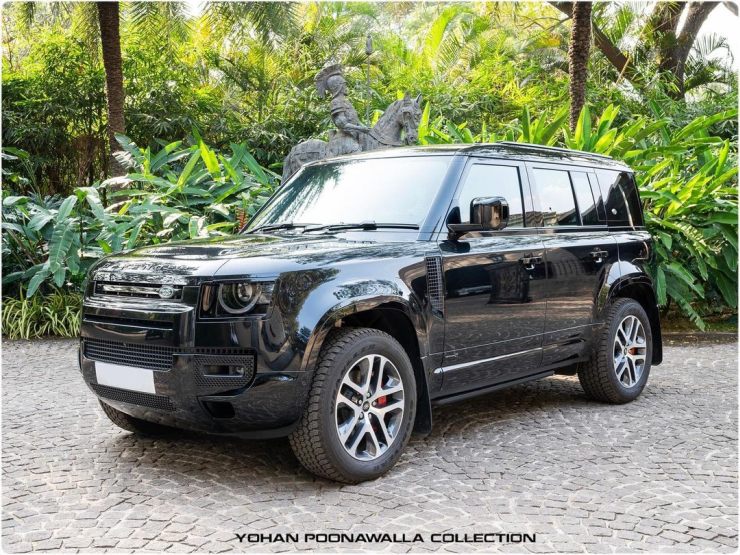 Land Rover offers features such as a 10-inch touchscreen infotainment screen, a fully digital 12.3-inch instrument cluster, automatic climate control, a head-up display, a wireless phone charger, connected car features, a premium speaker system from Meridian, electrically adjustable front seats, electronic air suspension that can be raised at the touch of a button, a 360-degree camera, heated front seats, blind spot assist, front and rear parking sensors, six airbags, ABS, traction control, leather upholstery, rubber flooring, and more.
The Land Rover Defender is available with 2.0-liter and 3.0-liter petrol engines, as well as a 3.0-liter diesel engine. Last year, the manufacturer also introduced a 5.0-liter V8 petrol engine option for both the Defender 110 and 90 versions. All these engine choices come with an automatic transmission as standard. The vehicle features a permanent 4WD system with a locking center differential and active rear-locking differentials.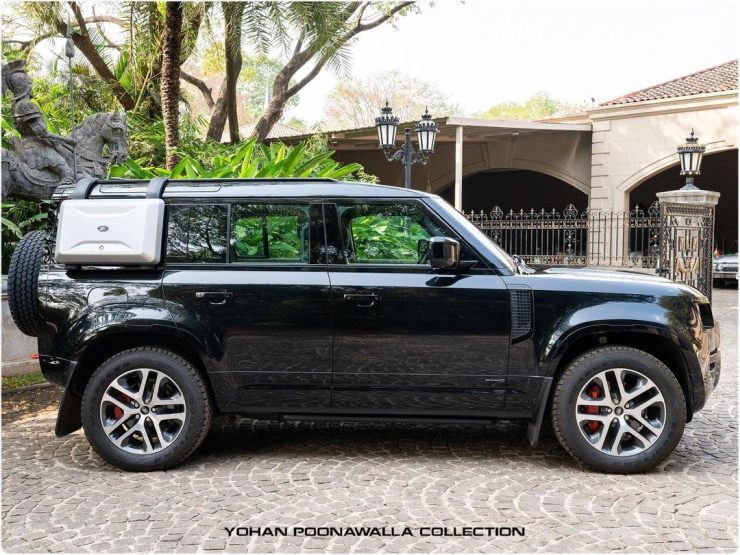 In addition to the newly acquired Land Rover Defender, Yohan Poonawalla boasts an impressive collection of cars, including the Ferrari 458 Aperta, Ferrari 488 Aperta, Ferrari Portofino, F12 Berlinetta, Mercedes-Benz SLS AMG, Rolls Royce Phantom Drop Head Coupe (DHC), Rolls Royce Phantom VII Mansory, Bentley Continental Flying Spur, Lamborghini Gallardo SE, Rolls Royce Silver Cloud 2, Bentley Bentayga, and many more.