Hollywood and AI are like that couple you see everywhere: inseparable, intriguing and constantly making headlines.
CLICK TO GET KURT'S FREE CYBERGUY NEWSLETTER WITH SECURITY ALERTS, QUICK TIPS, TECH REVIEWS AND EASY HOW-TO'S TO MAKE YOU SMARTER 
While studios are singing praises about AI's endless capabilities, traditional performers are biting their nails, wondering where they fit in this evolving tapestry.
How the AI celebrity revolution is playing out
Ever wished for a personalized message from soccer sensation Lionel Messi? Lay's, joining forces with UEFA Champions League and tech partner Synthesia, transformed that dream into reality. This initiative, dubbed "Messi Messages," lets soccer fans globally send or receive tailored video messages of Messi in multiple languages. 
Here's the kicker: Users punch in a name and a favorite team, and the system crafts a video in which Messi seemingly addresses that individual directly.
Synthetic greetings from a celeb 
Thanks to Synthesia's advanced facial mapping, Messi's face aligns with the voice-over, making it seem like he's uttering the entered details. Available in 20 countries and encompassing languages from Spanish to Russian, this tech marvel utilizes AI to narrow the gap between Messi and his fans, offering a unique, personalized connection. 
Such innovative partnerships underscore the blurring lines between real and virtual in celebrity endorsements yet offer a reach that was not possible before this technology.
MORE: 5 DISTURBING EXAMPLES OF WHY AI IS NOT QUITE THERE  
Beckham made waves in a malaria awareness initiative 
Lionel Messi isn't the only star in the virtual constellation. David Beckham made waves in a 2018 campaign for a malaria awareness initiative.  
The ad featured Beckham "speaking" nine languages, calling for an end to the deadly disease. But the multilingual prowess was an AI facade, with Beckham's voice and lips altered to fit different languages. 
Bruce Willis is transported back in time 
Bruce Willis, famed for his adrenaline-charged roles, recently startled fans when he was seemingly transported back in time.
A Russian bank advertisement showcased what appeared to be a '90s-era Willis, full of youthful swagger. In reality, it was a cutting-edge deepfake, leveraging AI to bring back the iconic action star's younger likeness to promote the bank's financial services. 
'SPOILED' HOLLYWOOD ACTORS SHOULD GET BACK TO WORK, SAYS ONE REP, AS CONGRESS WRANGLES AI CONCERNS
Cashing in on the digital self 
For those unfamiliar with the Southeast Asian entertainment scene, Jamie Yeo is a household name in Singapore. An actress, former radio DJ and model, her career spans decades.
In a bold partnership with Hugosave, a rising fintech firm, Jamie Yeo is doing more than just lending her famous face for promotional ads.
She's embarked on a groundbreaking journey, granting the company the right to use an AI-generated digital twin of herself. With this, Hugosave can craft ads featuring her likeness without the real Jamie being present for countless shoots or voice-over sessions. 
The process behind this collaboration is intricate yet efficient. Jamie spends a few hours recording in front of a green screen, capturing her face and movements. Another session in a sound booth immortalizes her voice. These recordings then undergo AI magic, synchronizing voice and image to craft a lifelike digital avatar.
Yeo acknowledges the concerns around such technology but remains bullish. In her words, the future is AI-driven, and those who shy away from it might find themselves lagging behind. Her message is clear: In an industry as dynamic as entertainment, adaptation isn't just beneficial, it's essential.
MORE: ARE YOU READY FOR AI VOICE CLONING ON YOUR PHONE?  
The celebrity backlash 
Yet, not all of Tinseltown is ready for this new era. The magnetic Scarlett Johansson, often a victim of deepfake misuse, vocalized her fears in an interview. She expressed concern over the inability to control one's image, with AI potentially transforming an actor into something they're not, or worse, something they wouldn't ethically support.
Similarly, Keanu Reeves has been candid about his reservations. The star emphasized the sanctity of human experience in storytelling and expressed worry about the industry commodifying and manipulating an actor's very essence without their explicit consent.
While AI's intervention in ads is an innovative marvel, it raises questions about authenticity and ethics. When the boundary between the real and virtual fades, trust is on the line.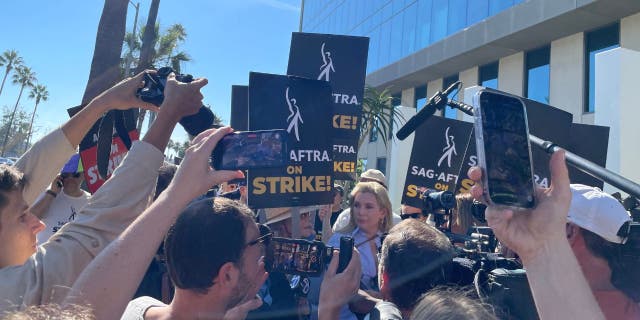 MORE: AI'S IMPACT ON HOLLYWOOD AMIDST THE 'BARBENHEIMER' EPIC FRENZY  
The Hollywood uprising: AI's role in the latest strikes 
Here's the juicy bit: Hollywood's buzzing with its first major actors strike in decades, all thanks to our friend, AI. While Hollywood has witnessed labor strikes before, the current discontent brewing in its alleyways and studios is unparalleled.
The Writers Guild of America (WGA) was the initial torchbearer, voicing concerns about AI's capacity to mimic writing styles and craft scripts without a human touch. When you think about it, the very essence of storytelling – a deeply personal, human endeavor – is at risk.
MORE: HOW TO GET RID OF ROBOCALLS WITH APPS AND DATA REMOVAL SERVICES 
SAG-AFTRA joined the chorus 
Following closely on their heels, the Screen Actors Guild – American Federation of Television and Radio Artists (SAG-AFTRA) joined the chorus. If AI was the metaphorical monster once hiding under Hollywood's bed, SAG-AFTRA is now shining a glaring spotlight on it.
Their pressing concern? The rampant misuse of AI, particularly the synthetic replication of performances. Imagine an actor pouring their heart into a role only to find their digital twin reenacting it in another movie without their knowledge or consent. Or what about a person whose entire career is based on background acting?
Will those people simply be discarded because we can replace them with some AI-generated pixels? It's obviously a financial concern for those in the industry but even more an assault on artistic integrity.
We reached out to SAG-AFTRA, and this is the statement their spokesperson provided to us: 
"Human creativity has brought forth a wealth of brilliant creative material over the ages. When it comes to AI, our concerns for the creative industries mirror the concerns all other industries have. There must be transparency, accountability, consent and compensation for the intellectual property of others, and that includes voices, likenesses and writing styles.  We are addressing these concerns by bargaining with our employers. The contractual foundations we build in bargaining will allow the creative industries to flourish and humans to remain at the center of the story."  
The core of the unions' grievances boils down to a singular issue: The lack of protective measures against AI misuse. While the technology promises efficiency and innovation, it also threatens to undermine the very foundation of Hollywood's creative ethos.
And as the echoes of protest grow louder, one thing is clear: The narrative of AI in Hollywood is still being written, and its cast and crew are fighting to ensure they remain the protagonists.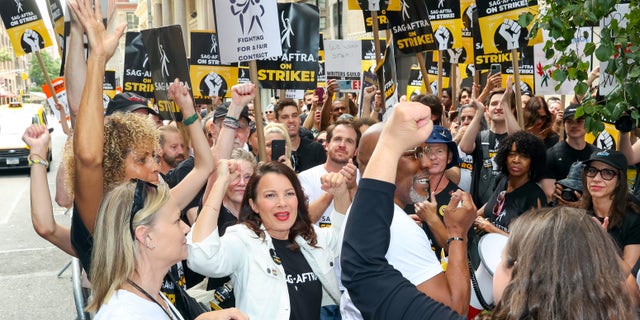 MORE: IS THIS NEW TECH GOING TO COST YOU YOUR JOB? HERE'S PROOF 
Kurt's key takeaways 
Hollywood stands at a crossroads, the shimmer of technological advancement on one side and the heartbeat of traditional filmmaking on the other. With AI, the realm of possibilities in storytelling, character creation and production efficiency appears limitless.
Yet, as with any groundbreaking shift, there are real concerns about preserving the human essence, authenticity and the art of storytelling.
In this unfolding narrative, it's essential to weigh the magic of human creativity against the marvels of artificial intelligence. The big question remains: Will the industry embrace a future that harmonizes both or will one overshadow the other in the final act? Would you support AI-generated content, especially if it's well done? Let us know by writing us at Cyberguy.com/Contact 
CLICK HERE TO GET THE FOX NEWS APP
For more of my tech tips & security alerts, subscribe to my free CyberGuy Report Newsletter by heading to Cyberguy.com/Newsletter
Copyright 2023 CyberGuy.com. All rights reserved.