"A Hundred Years Ago" falls somewhere between the 50-minute failure that was episode three and last week's almost-successful run. The storylines revolve around the past as all three women dip into it, possibly spurred by Carrie's embrace of her former failed relationship. And while she's canoodling with Aidan, Charlotte returns to the world of art galleries as Miranda puts her law degree to use once again.
At times throughout this season, the show has focused too much on the various (mostly inconsequential) secondary characters' plots. And while "A Hundred Years Ago" falls prey to this a teeny bit, the episode does mostly focus on the original trio, making the story feel more centered. Unfortunately, the trio's storylines aren't captivating enough to truly hold our interest; they dance around themes without diving into them with full force. And it's not like the clothing is helping. Once again, Carrie's wardrobe feels inauthentic as she continues to drape every fabric in sight over her petite frame. Charlotte, meanwhile, spends the episode obsessing over a dress that would look better on Gallerist Barbie than the "Gallerina" she's so desperate to embody. That doesn't leave us with too many covetable style moments in episode eight, but there are still a few that sneak in there.
Episode 8: A Hundred Years Ago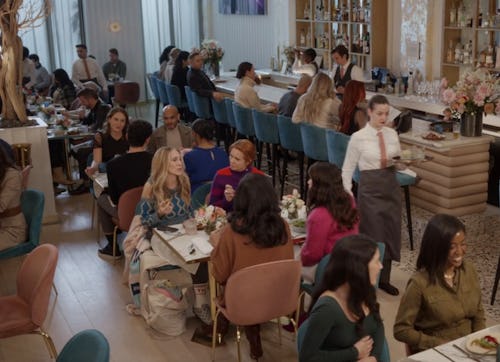 I'm beginning to wonder how the invites for these women's lunches work. Do Nya, Seema, and Lisa join on a rotational basis? It's very rare to see two of the side characters in the same scene at once—and at this point, it seems like the writers are still undergoing tryouts to see who will win the role of permanent Samantha replacement. This time, it's Seema's turn at bat. She joins the original trio as they discuss Carrie's rekindled relationship with Aidan and her plans to visit his farmhouse in Virginia and meet his kids.
About a month has passed since Aidan and Carrie went on their first date, and things have definitely escalated since then. Carrie is already scheming on how to split her time between NYC and Virginia, dreaming of a quaint life in a red brick house where she can wear all the plaid she has ever desired. For now, though, she's attempting to bring back the cold-shoulder trend in a blue patterned Vivienne Westwood sweater with matching arm warmers. Charlotte, meanwhile, wears a gray dress with a ruffled collar and cropped mohair cardigan, while Miranda completes the colorful threesome in a striped sweater from The Elder Statesman. Per usual, Seema is in the most subdued look: a brown top. The choice makes her obviously stand out among the other three—possibly a hint at what's to come.
The Elder Statesman Cashmere Nightfall Rib Mock Sweater
FWRD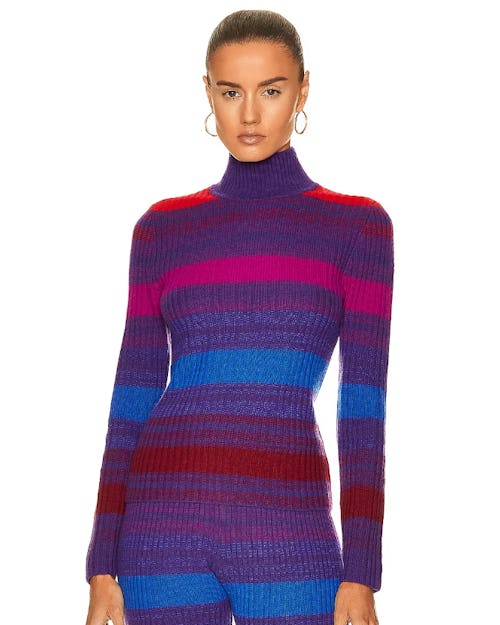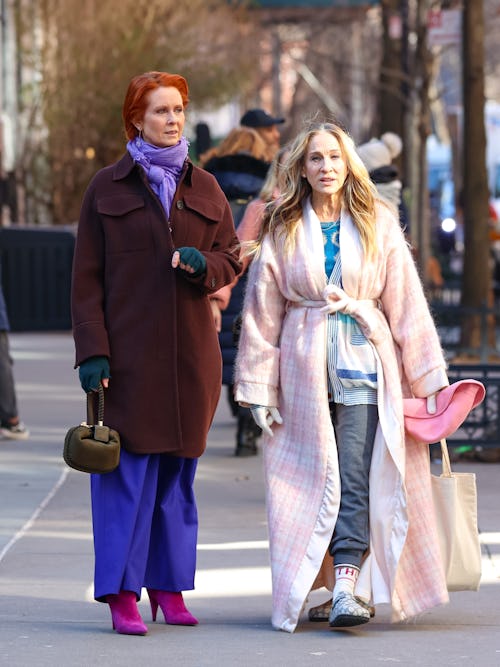 After lunch, Carrie and Miranda go for a stroll as they discuss Miranda's new internship (yes, internship) at the Human Rights Watch and Carrie's orgasms (yes, finally some orgasm talk) with Aidan. The two show off the rest of their outfits in the process, revealing Miranda's bright blue, wide-leg trousers and magenta boots, along with her purple scarf, fingerless gloves, Vince coat, and Gabriela Hearst bag. Carrie, meanwhile, wears what I am willing to dub her worst outfit of the season thus far, layering a striped Vivienne Westwood cardigan over her other sweater, along with gray sweats, a pink-and-white striped mohair robe coat, and Gucci Birkenstocks.
Vince Double Wool Shirt Coat
Revolve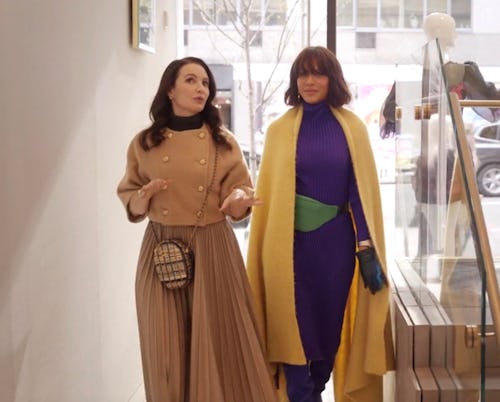 Seema got the chance to attend one lunch—so now, it's Lisa's turn for some screen time as she heads out shopping for Charlotte's new job. The two go to a boutique looking overdressed as ever. Charlotte wears a gray turtleneck sweater underneath a light brown cropped jacket with a pleated skirt and Chanel crossbody, while LTW opts for a purple knit dress, green leather fanny pack, and a yellow shawl over her shoulders.
It's time for Charlotte's weekly chastising of a mid level employee. This time, she snaps at the sales clerk for recommending some dresses. "You're 25, that's your crime," Lisa explains to the confused woman. "You'll understand one day, I promise."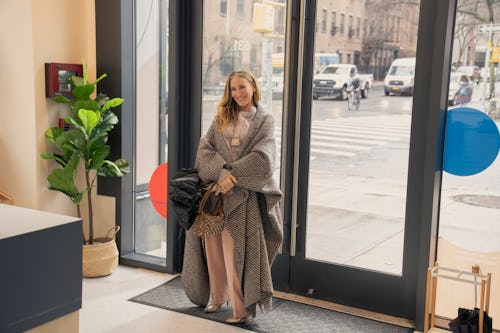 While Che and Miranda have officially broken up, Carrie is working overtime to make sure the comedian remains relevant in the story. Carrie stops by Che's new job at the vet in a pair of cuffed, muted pink trousers, silver heels, a gray sweater, gray coat, studded Sonia Rykiel bag, and the pièce de résistance of her look, a tiny Fendi bag on a necklace. She asks Che to lunch, but she has an ulterior motive: to Airbnb Che's apartment when Aidan's in town so he doesn't ever have to enter her dreaded West Village apartment (I don't blame him for not wanting to hook up on a full-size bed).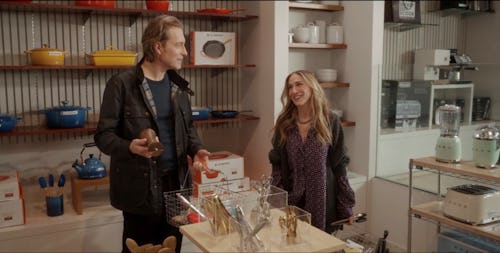 Aidan and Carrie continue their honeymoon at the home store, where they pick up some must-have items (like a Himalayan pink salt grater) for their new Chebnb. Despite Carrie's struggle to poach an egg earlier in the season (and her known tendency to store clothes in her oven) she seems more excited to buy a cutting board than about a Manolo sale at Bergdorf's.
Large Tile Rivière Necklace
Nak Armstrong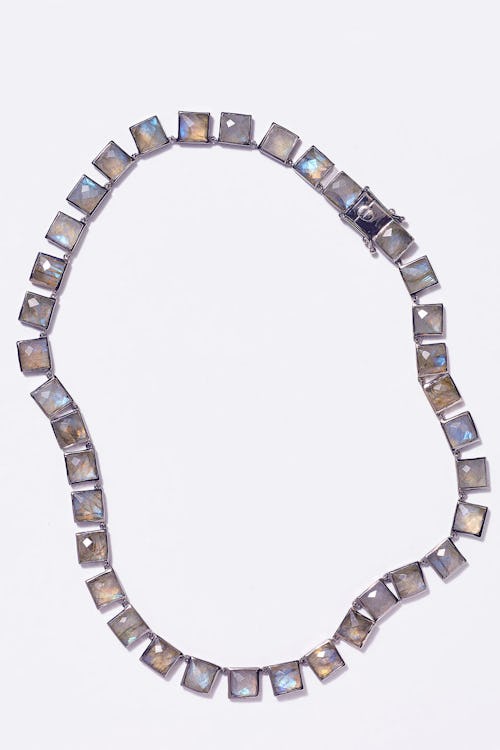 Small Dot Rivière Necklace
Nak Armstrong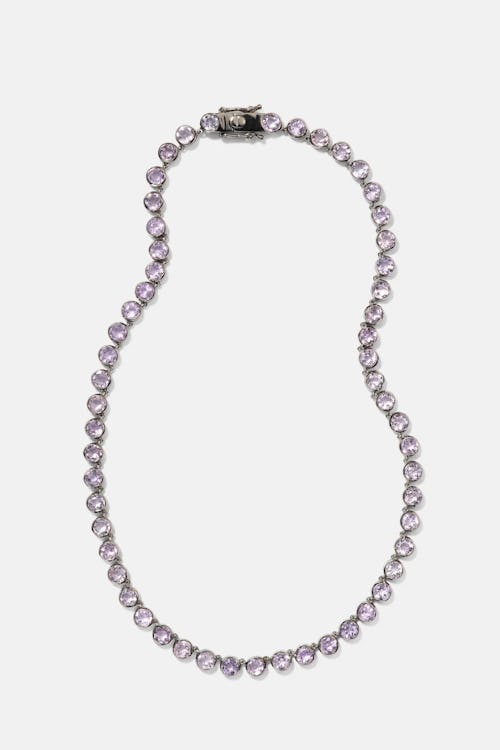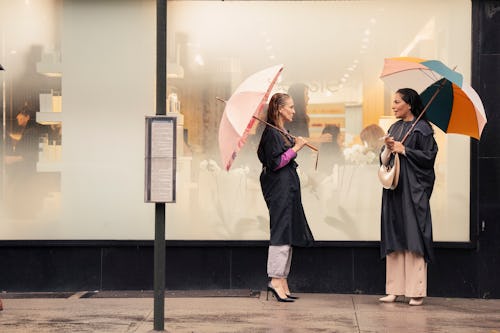 Carrie and Seema strip down for a real talk outside the hair salon—rocking wet hair, robes, and towels draped over their shoulders, their expensive handbags still in their clutches. After dodging her calls for days, Seema finally admits what's been bothering her: the fate of the Hamptons house. It seems petty at first, but she does make a good point. Who wants to be a third wheel all summer?
I've been complaining that Seema is underappreciated, so it feels nice to see her have a real moment. This chat feels authentic, and it feels hard. To admit to your friend who's happy and in love that it pains you to watch them is not easy, but it's also very valid. Thus far, Seema and Carrie's relationship has been all designer handbags, massages, and quick quips, but now it's finally getting deeper.
Benedetta Bruzziches Curved Leather Tote Bag
Farfetch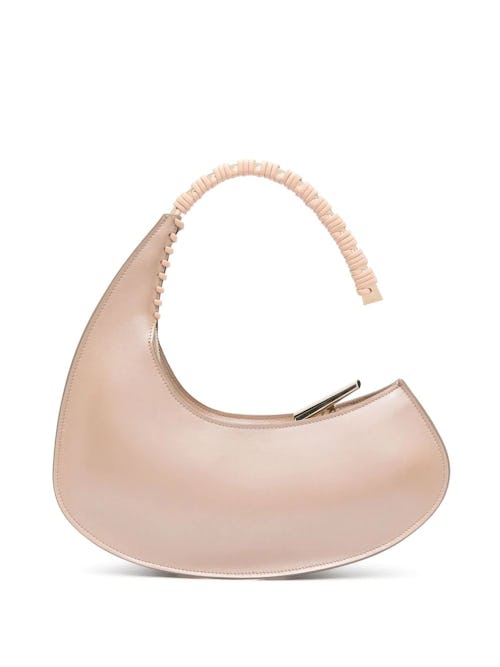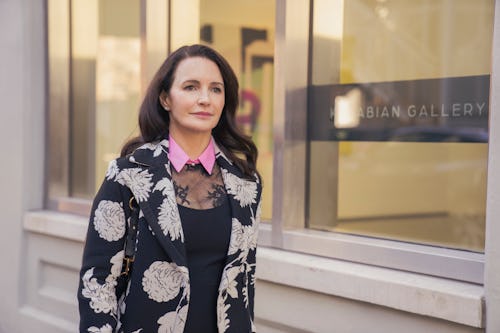 Charlotte, meanwhile, is drowning in a pile of Spanx, trying to recreate her youth as a "gallerina." Everyone keeps telling her to lose the belt on her black Prada dress with a bright pink collar and lace detailing, but she keeps hearing "add more shapewear," the photo of a 30-year-old Charlotte literally haunting her closet. Eventually, though, when she finally gets to the gallery on her first day, likely feeling empowered thanks to her Oscar de la Renta coat and go-to Tod's handbag, she's ready to ditch (almost all) her Spanx and the old world view of women's bodies. It's a bit of a cliché storyline, but it is nice to see Charlotte get her gallery groove back nonetheless.
Cady Midi Dress with Lace Inserts
Prada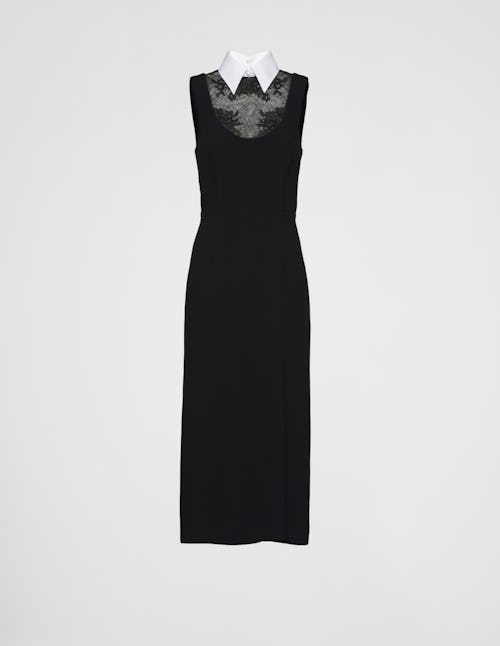 T Timeless Shoulder Bag
Tod's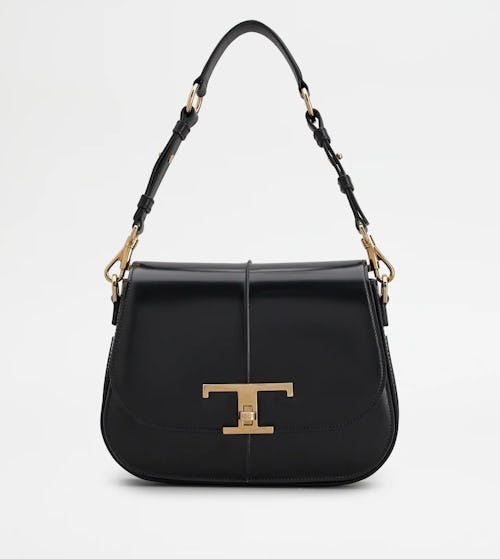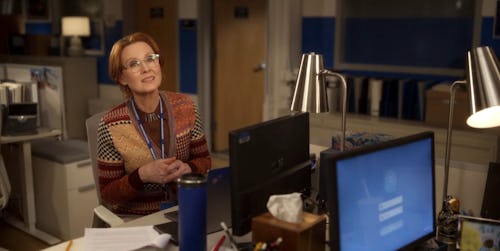 While Charlotte is busy fighting herself in this episode, Miranda's at war with her fellow interns. She shows up to the office in a never-ending supply of warm-hued clothing, and immediately becomes the apple of her employer's eye. It's an odd dynamic—Miranda is a former corporate lawyer, so of course her new boss is going to take advantage of those skills. Instead of understanding the reality of the situation, though, Miranda's fellow interns get heavily petty, failing to realize it might be extremely difficult for a woman in her mid-50s to be interning alongside people half her age. Give the woman a break, Serena and Sloane. She has 30 years of experience over you, of course she's going to be a socially awkward nerd who climbs the ladder faster.
Ulla Johnson Women's Medina Cardigan
Amazon