Fahadh Faasil is one of the leading actors in the Malayalam film industry. He is also known for his roles in a couple of Tamil movies that were recently released in theaters. The actor is an automobile enthusiast and has several exotic cars in his garage. Fahadh Fassil and his wife, Nazriya Nazin, recently celebrated their wedding anniversary. On this anniversary, the star couple got themselves a brand new Land Rover Defender SUV. This is not just any Defender, but the 3-door Defender 90 with the powerful 5.0-liter V8 engine. Pictures of the actor's brand new Defender have already surfaced online.
The current generation Land Rover Defender has been an absolute hit among celebrities and businessmen in India and around the world. In most cases, we have seen them buy the more practical 110 variant of the Defender. However, Fahadh Fassil has bought the Defender 90, which is the short wheelbase variant. This is also the three-door variant. This is probably the first Defender 90 to be registered in Kerala.
The Land Rover Defender has been a popular SUV among enthusiasts for years. It is known for its rugged looks and extreme off-roading capabilities. The new generation Defender is no different in this regard. It has a premium yet rugged-looking exterior and a luxurious interior. It offers several modern features that were not available before. The Defender manages to provide a comfortable cabin to the occupants without compromising on the off-road factor. Land Rover offers features such as a 10-inch touchscreen infotainment screen, a fully digital 12.3-inch instrument cluster, automatic climate control, a head-up display, a wireless phone charger, connected car features, a premium speaker system from Meridian, electrically adjustable front seats, electronic air suspension that can be raised at the touch of a button, a 360-degree camera, heated front seats, blind-spot assist, front and rear parking sensors, six airbags, ABS, traction control, leather upholstery, rubber flooring, and more.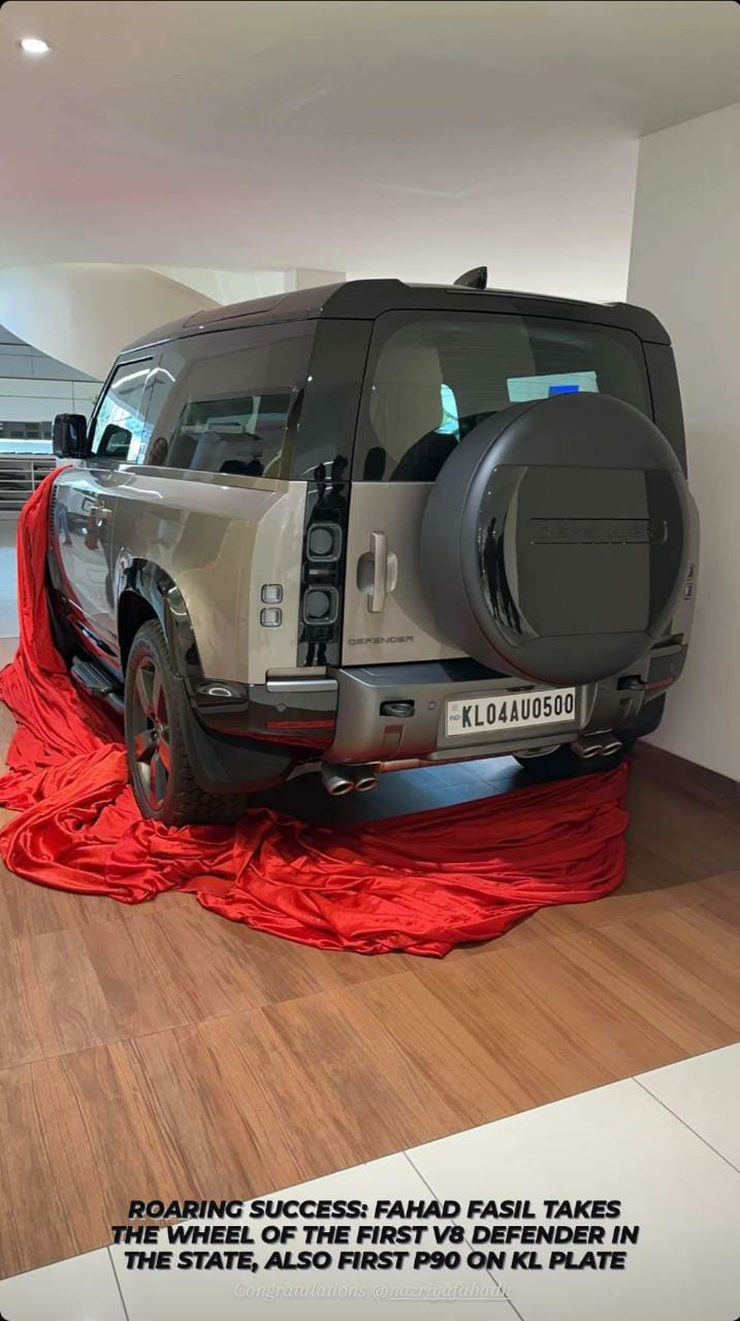 The SWB version of the Defender is not usually seen on the road, and that too the 5.0-liter V8 version. This shows how different Fahadh is when it comes to buying a car. The Land Rover Defender is available with 2.0-liter and 3.0-liter petrol engines, as well as a 3.0-liter diesel engine. The one that Fahadh has bought is the 5.0-liter V8 variant that generates 296 Bhp and 650 Nm of peak torque. It is mated to an automatic transmission and comes with a permanent 4WD system with a locking center differential and active rear-locking differentials.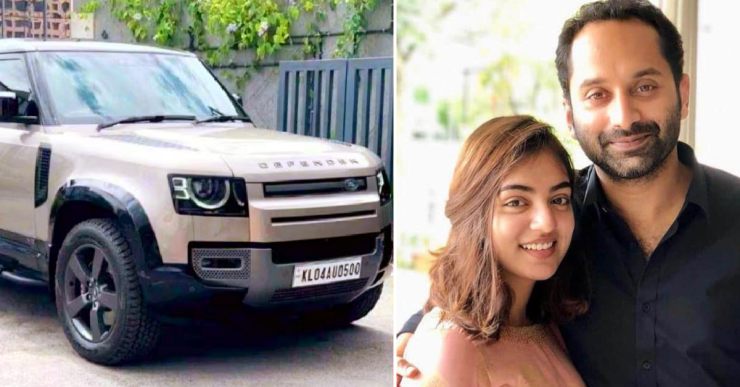 The price for the Land Rover Defender P90 5.0 V8 is around Rs 2.12 crore, ex-showroom. This is not the first time the actor is buying an expensive car. Other cars in Fahadh's garage include a Lamborghini Urus, Mini Countryman, and Porsche 911 Carrera S sports car in the Python Green shade. Apart from Fahadh Faasil, Malayalam actors like Mammootty, Kunchako Boban, and Asif Ali own the 110 variant. Other actors like Sanjay Dutt, Arjun Kapoor, Suniel Shetty, Prakashraj, Ayush Sharma, and Sunny Deol also own a Land Rover Defender SUV. Detailed images and videos of the SUV bought by Fahadh Faasil and Nazriya are yet to surface online.