This content contains affiliate links. When you buy through these links, we may earn an affiliate commission.
Until very recently, most public schools in North America shared a significantly edited version of the European treatment of Indigenous people. Honestly, it's still the case in many places. I know that I was raised with a vague idea that Native Americans had some horrible luck, and they were mostly gone in the modern day. This gross simplification of the trauma inflicted by settlers is horrible on its own, but the damage caused by that narrative is deeper than white shame and refusal to accept culpability. With the ignorant erasure, people as a whole have lost some amazing stories. 
Rudine Sims Bishop originally presented the idea of children's literature as providing "windows, mirrors, and sliding glass doors" to young readers. Some will see themselves reflected in stories. Some will get a glimpse into a life they might not otherwise encounter. All readers can use literature with good representation as a chance to step into a world of greater acceptance and understanding. There is a great need for stories that provide mirrors for Indigenous children who are still very much living in North America and, additionally, serve as sliding glass doors for the rest of the people who are currently living on the land originally stewarded by Native Americans. Luckily, there are excellent books out there to fill that need.
Below, I've gathered wonderful middle grade story collections, fiction, and graphic novels from Indigenous voices. While eight books can never represent the entire vast network of First Nation communities in North America, this is a great place to start. Whether you are looking for books to reflect yourself or teach you about others, you'll find something in the list below.
Indian No More by Charlene Willing Mcmanis and Traci Sorell
Set in the 1950s Civil Rights era, Indian No More gives us a powerful look into another marginalized group's efforts to achieve the American Dream. When Regina's tribe is disbanded by the federal government overnight, her family is reeling. Suddenly, the 10-year-old is facing a new home, new friends, and new brushes with heinous racism. Through all the changes, her family bands together to define themselves in a new world while holding on to their deepest beliefs.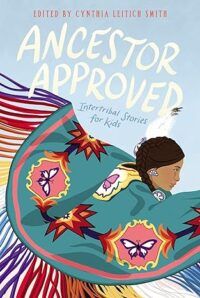 Ancestor Approved: Intertribal Stories for Kids edited by Cynthia Leitich Smith
This short story collection is strung together along the backdrop of a huge Powwow in Ann Arbor, Michigan. Headlining Indigenous voices populate the pages, from Monique Gray Smith to Joseph Bruchac. This book is an excellent correction to the assumption that Indigenous people are a monolith, highlighting the vast array of First Nation communities that exist in North America.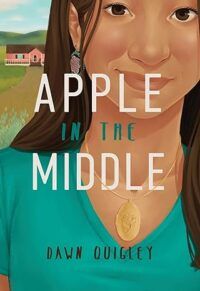 Apple in the Middle by Dawn Quigley
"Apple" is sometimes used as a racial slur for someone of white and Native American descent — red on the outside and white on the inside. When Apple has her name used against her in such a way, she strives to act as white as possible while feeling like she fits in nowhere. Eventually, she spends a summer on the Turtle Mountain Indian Reservation, learning about her relatives, her dead mother, and herself in the process.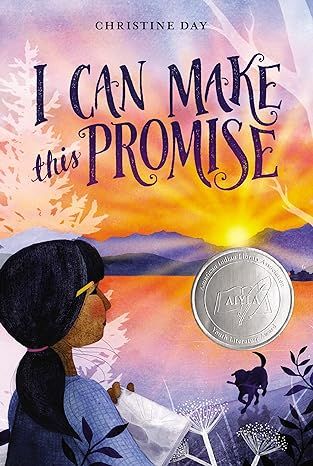 I Can Make This Promise by Christine Day
Tackling issues of cultural heritage and adoption, I Can Make This Promise follows a young Indigenous girl who cannot get answers about her identity from her white adoptive parents. After the discovery of some letters and pictures of a person who looks just like her, our heroine has to face questions about the family she knows and the one she's never met.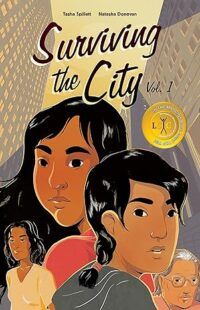 Surviving the City Vol. 1 by Tasha Spillett, Natasha Donovan, and Donovan Yaciuk
The violence Indigenous women face is unparalleled, and Surviving the City asks the reader to face this fact head-on. Two best friends are balancing the work of respecting their different heritages with the pain of losing family members and having to look out for themselves. Saturated colors and vivid backgrounds add depth to the wonderful storytelling.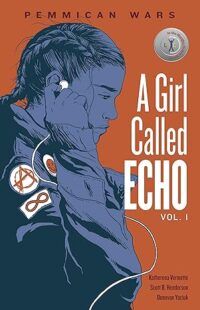 Pemmican Wars: A Girl Called Echo (Volume 1) by Katherena Vermette, Scott B. Henderson, and Donovan Yaciuk
History blasts to life in this graphic novel about a young Métis girl who finds she is able to slip back and forth between the 1800s and the present day. Gorgeous illustrations highlight the ancestral revelations as Echo finds herself learning about her heritage in an unusual way.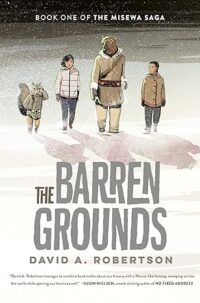 The Barren Grounds: The Misewa Saga, Book One by David A. Robertson
What caught my eye about this series is the comparison to the Narnia universe infused with traditional Indigenous stories. Two Indigenous foster kids are struggling with their new home when they discover a portal that takes them to a frozen wasteland. As they become close with survivalist Ochek, a hunter supporting his community, they learn about traditional survival skills while experiencing heart-racing adventures.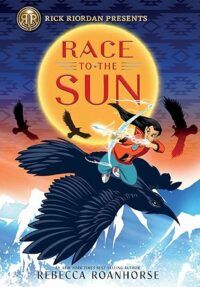 Race to the Sun by Rebecca Roanhorse
The Rick Riordan Presents publishing label has produced some of my favorite new books. Race to the Sun is no exception. Nizhoni is a 7th grader who discovers she is able to see monsters. What follows this revelation is a hero's journey stocked with Navajo folklore and mythology, following three kids as they struggle to prove themselves and complete a dangerous rescue mission.
Hopefully, you've found something in the list above! Looking for more Indigenous children's literature? Check out this list of Indigenous picture books. Happy reading!