Suzuki has officially showcased the fourth-generation Swift hatchback at the Tokyo Motor Show in Japan. The new hatchback will come to the Indian market next year. Even though Suzuki calls it a concept, the car looks in a production form.
The next-generation Swift retains the unmistakable silhouette of the hatchback. However, it now looks sharper than before including new design cues. The Swift gets flatter front-end and sleeker headlamps. The LED DRLs also look sharper than before but they retain the shape.
The grille of the new Swift also has been restyled and now has become larger than before. It also has rounded edges and is finished with gloss black and dark chrome. The Suzuki logo is now positioned above the grille itself. The front bumper is also new and gets new creases and cuts.
The Suzuki Swift displayed at the Motor Show also has ADAS, which is unlikely to come to the Indian market due to the cost effectiveness. Currently, no Maruti Suzuki car offers any kind of ADAS in India.
The new Swift also looks bolder than before with the strong character line dissecting through the side on the new Swift that merges smoothly into the headlamps. The roofline and glass house of the Swift are very similar to the outgoing car but the design of the doors are new and now get conventional handle instead of the pillar.
The rear design of the Swift comes with angular shapes. The Japanese and international models will also come with strong hybrid system, which is why it gets a badge in the tailgate. However, the Indian version will not come with hybrid either, simply to keep the costs down.
The cabin looks quite similar to the Fronx and the Baleno with the freestanding infotainment system. There design of the steering wheel and shape of the HVAC also match the new Baleno and Fronx. Maruti Suzuki India might introduce the new Swift next year in the Indian market.
Maruti Suzuki eVX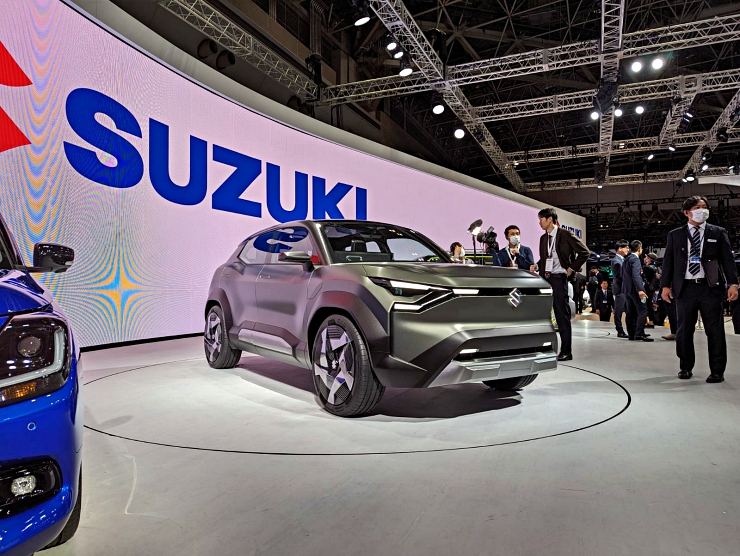 Suzuki also showcased the eVX electric SUV at the Tokyo Motor Show. First time, the brand showcased the eVX in India and now the brand has also revealed the cabin of the car. The interior of the eVX looks very futuristic with a steering yoke and an expansive screens including the instrument cluster and infotainment system. Being a Born Electric car, the vehicle also gets flat floor.
The eVX will be available with a 60kWh battery pack and will offer a maximum range of about 550 km.