This content contains affiliate links. When you buy through these links, we may earn an affiliate commission.
It's officially fall! October is my favorite month. I love the cooling weather and beautiful multicolored trees, and it's a great month for both snuggling under blankets to read and hiking outside with books in hand. Okay, maybe most people don't bring books on hikes, but I rarely leave the house without one. October also tends to be one of the biggest new book release months of the year, and there are some amazing ones on this list of October children's book releases. I say it every month, but narrowing down my long list to 12 books is truly agonizing!
Common themes for my October picture book release picks are community and giving back to the Earth, with beautiful new books by Jason Reynolds, Phùng Nguyên Quang, Dare Coulter, and more. Transformation and change are unintentional themes for my October middle grade release picks, with books about the challenges of moving — both forcibly and by choice — beautiful fairytale retellings and searing dystopians. Authors include Amber McBride with her first middle grade novel, Jacqueline Woodson with another powerful middle grade, and Pura Belpré Award winner Donna Barba Higuera with another thought-provoking dystopia. You're going to want to read all of these October children's book releases!
New Children's Books October 2023: Picture Books
The Only Way to Make Bread by Cristina Quintero & Sarah Gonzales (October 3; Tundra Books)
This joyful picture book for food lovers instructs the reader on how to make all kinds of bread in direct, simple prose. The narrator tells the reader to begin with a clean counter and a favorite bowl, and as the instructions continue, the advice becomes broader. The richly hued, warm illustrations depict families of all kinds making bread, and at the end, they all join together at bread-laden picnic tables outside. Back matter includes descriptions of the types of breads depicted in the book, from challah to Canadian dinner buns to puri and more. The author also includes recipes for arepas and pandesal. It's a heartwarming picture book about community and food.
Zora, the Story Keeper by Ebony Joy Wilkins & Dare Coulter (October 3; Kokila)
Have tissues handy for this beautiful picture book about grief that celebrates the abundant memories of a Black family. Zora's Aunt Bea is a storyteller, a former actress who loves performing family history for her niece. The two have a blast dressing up and remembering family stories. Aunt Bea has a book where she keeps the family's stories, and Zora is curious about what her story will be. When Aunt Bea gets sick, Zora is the one to tell her the stories, and when she passes away, Zora inherits the book, and it's up to her and her uncle to tell Aunt Bea's story in its pages. The mixed-media illustrations are stunning.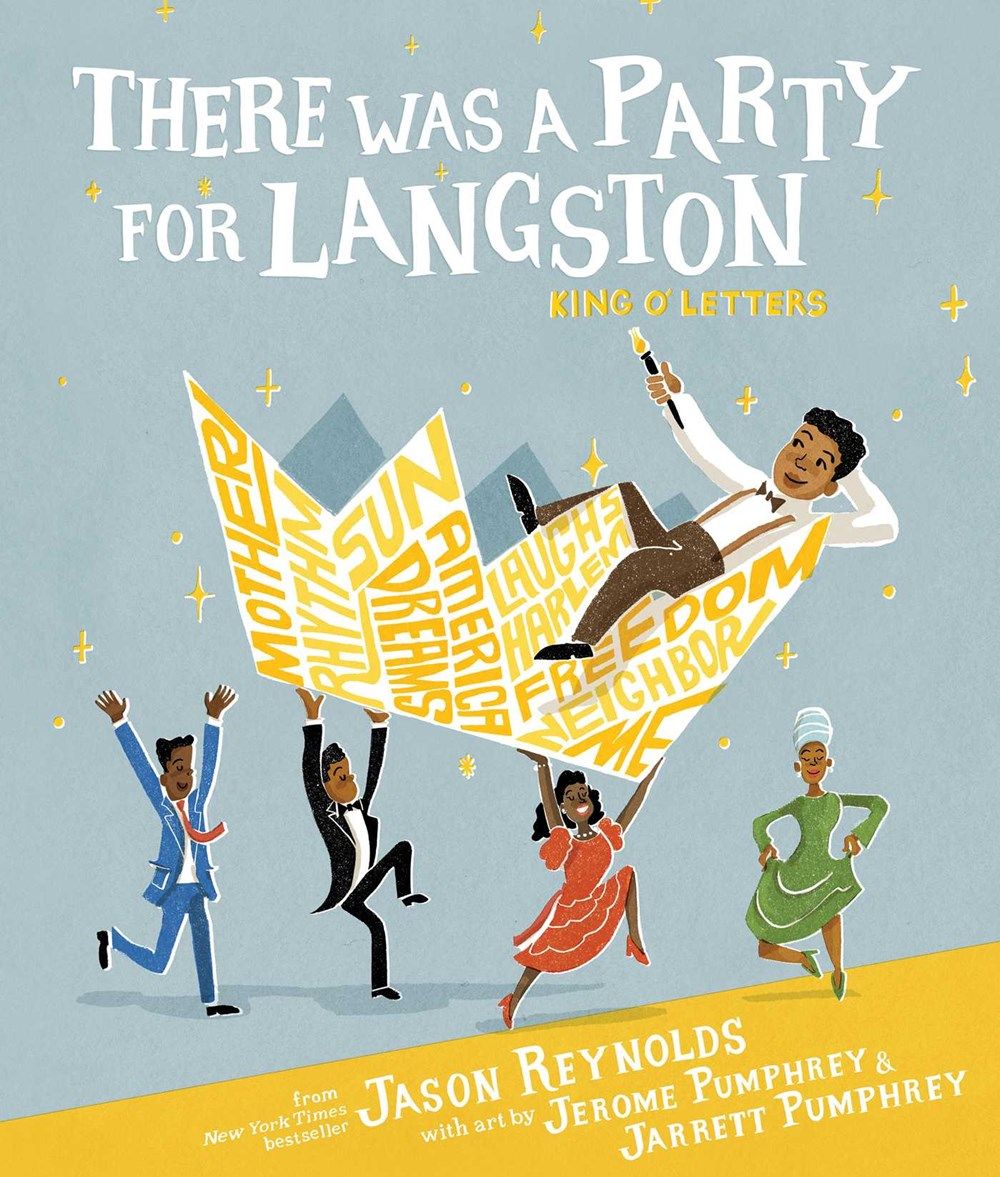 There Was a Party for Langston by Jason Reynolds, Jerome Pumphrey & Jarrett Pumphrey (October 3; Atheneum/Caitlyn Dlouhy Books)
Join luminaries like Maya Angelou and Amiri Baraka in a party for wordsmith Langston Hughes in this jubilant picture book honoring his legacy by award-winning author Jason Reynolds. The rhythmic story is a blast to read aloud, not so much a biography of the man but a biography of his words and the way his words could evoke emotion. The colorful and clever illustrations embed words and phrases into each scene: a mother's body composed of the letters in mother, Maya Angelou walking up stairs made of words, and lights in an apartment building spelling "Harlem." It's a stunning picture book and a wonderful way to introduce children to Langston Hughes, though I imagine all Langston Hughes readers will want this on their shelves regardless of age.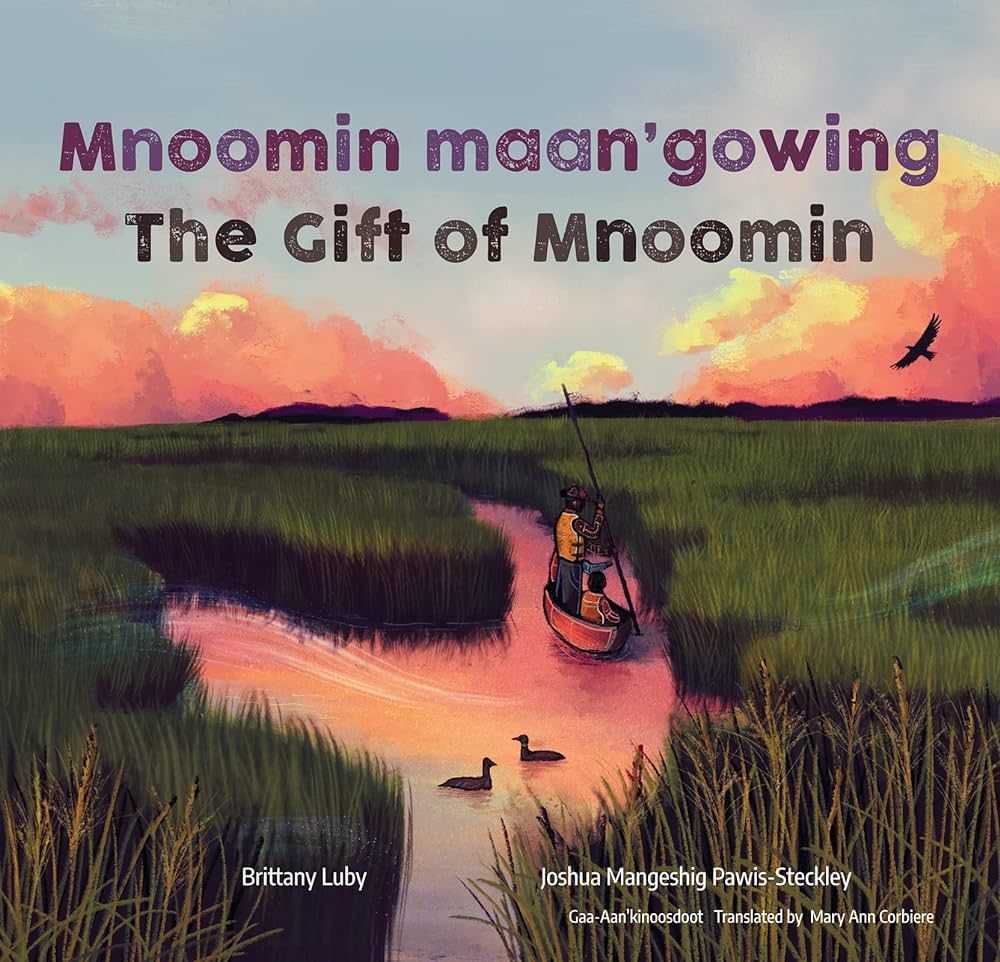 Mnoomin Maan'gowing / The Gift of Mnoomin by Brittany Luby & Joshua Mangeshig Pawis-Steckley, translated by Mary Ann Corbiere (October 3; Groundwood Books)
This beautiful Indigenous bilingual picture book is written in both English and Anishinaabemowin. It opens with a child holding a mnoomin seed, imagining everything a seed remembers and experiences, from the moose uprooting plants to prevent overcrowding to young fish hiding from a heron behind seed sprouts. Halfway through, the story moves back to the child and the way the child and community care for the mnoomin seed and harvest, ensuring the interconnected ecosystem continues flourishing.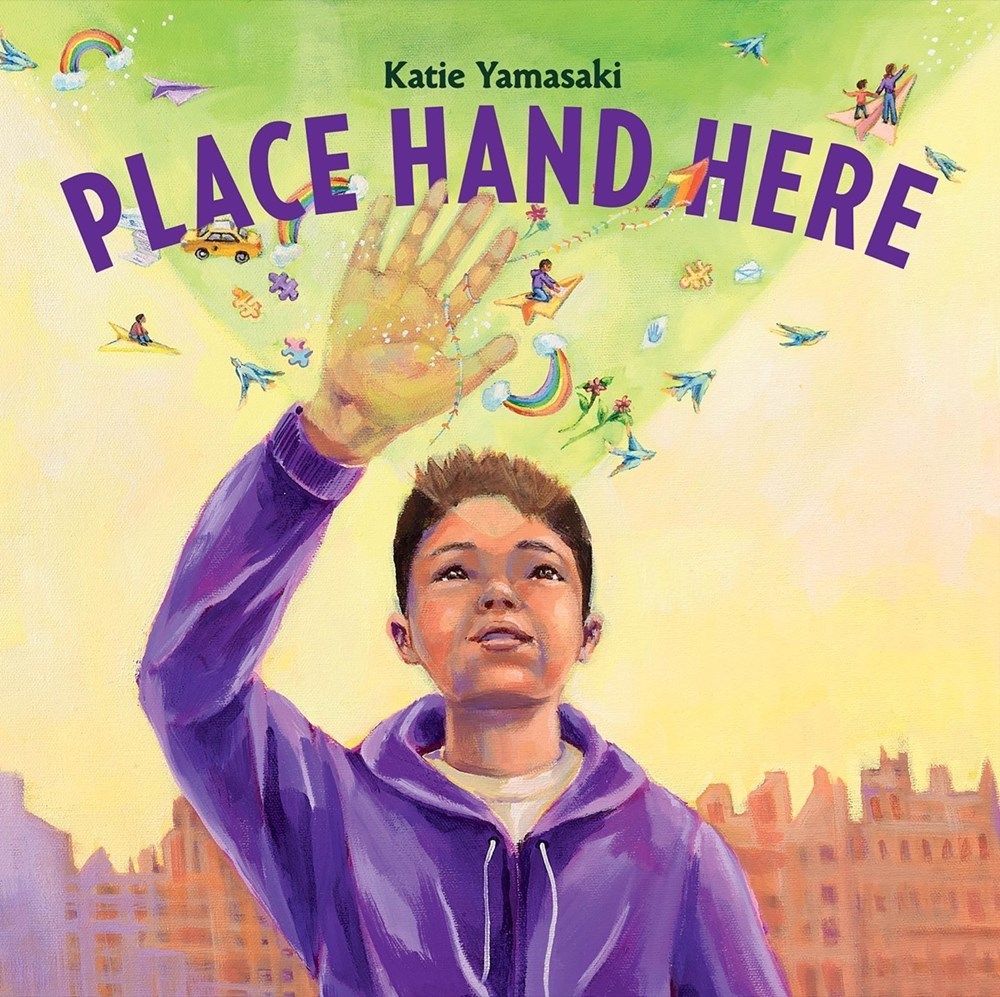 Place Hand Here by Katie Yamasaki (October 10; Norton Young Readers)
A young boy has moved into an apartment building with his grandmother after his mother's incarceration. On the side of the building is a painting of a green heart with a yellow hand in the middle. When people touch the heart, they remember something that makes them happy. One neighbor recalls cooking dumplings and filling red envelopes with her sister. Classmates think of their father, who had to travel to the South to work harvesting in fields. The boy loves learning other people's stories, and when he's lonely, he knows he too can touch the hand and remember his mother, and know that she will come back someday. This is a stunning, compassionate, and hopeful picture book about a topic that gets little coverage in picture books.
My Grandfather's Song by Phùng Nguyên Quang & Huýnh Kim Liên (October 17; Make Me a World)
This lyrical and beautifully illustrated picture book is by the same creators behind My First Day. When the grandfather left his home, he found a new one in a beautiful jungle where he built a house and farmed the land. He's now taught his grandson Tí how to care for the land, listen to its songs, and find its gifts. When the son grows up, he continues the tradition of watching over the land and listening to its songs, and teaches his children how to do the same. Magical illustrations pair perfectly with the tender intergenerational story.
New Children's Books October 2023: Middle Grade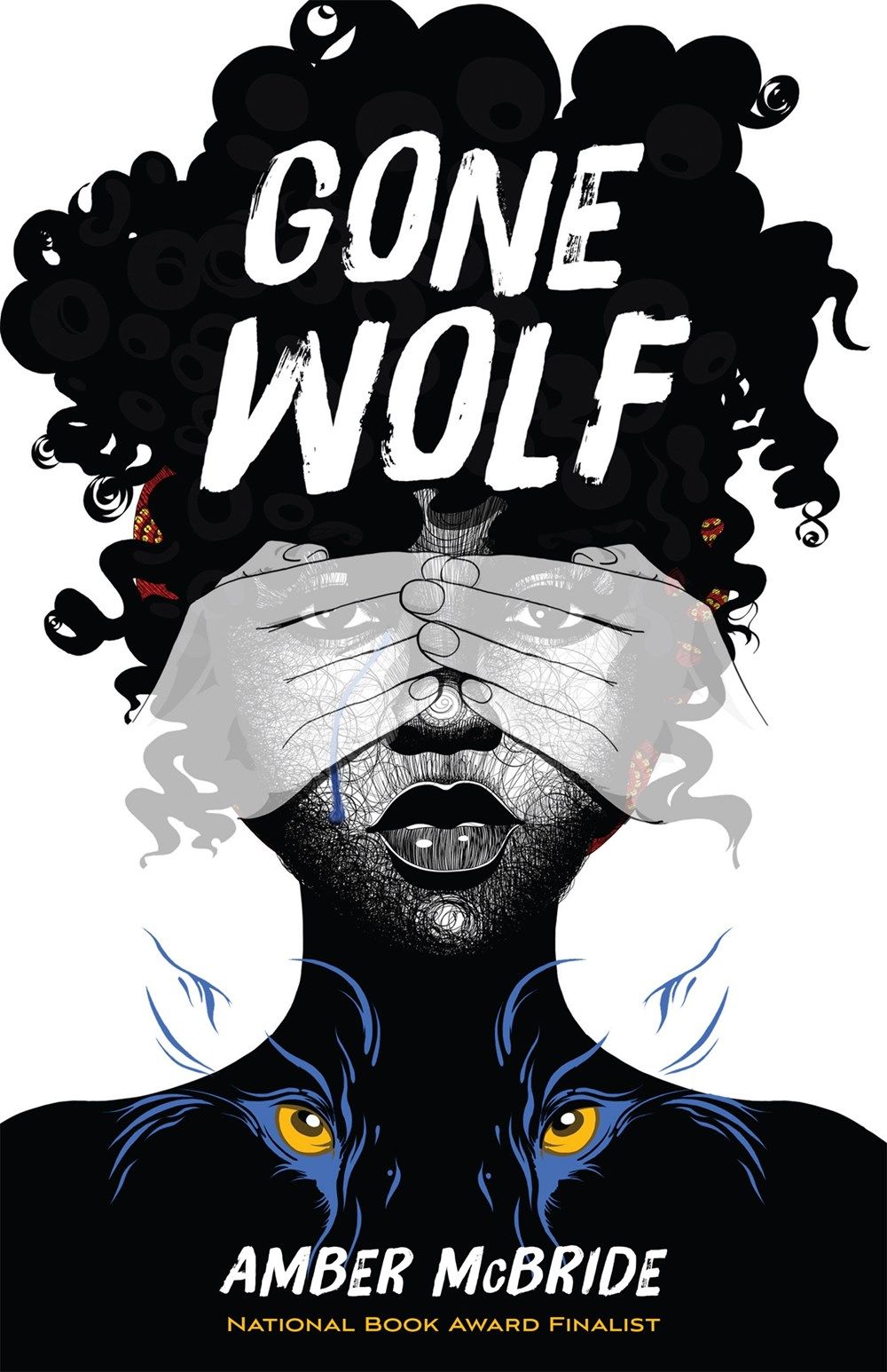 Gone Wolf by Amber McBride (October 3; Feiwel & Friends)
McBride's debut middle grade is a piercing glimpse into the present and future for two young Black girls. In 2111, Inmate Eleven is presented with a test: which doll is more beautiful, the white, blonde doll or the doll with blue skin like her own? Inmate Eleven's world is confined to a tiny cell she shares with her dog, who is becoming more feral every day, a feeling she understands very well. Meanwhile, in 2022, Imogen, who has an immune system disorder, grapples through poetry with life as a Black immunocompromised tween in a pandemic America. Between chapters are textbook excerpts about real Black history. This is a powerful middle grade, another one I'm adding to my list of award contenders for next year!
The Cricket War by Thọ Phạm & Sandra McTavish (October 3; Kids Can Press)
This slim, moving middle grade novel is based on the author's experiences. Eleven-year-old Thọ spends his days cricket fighting and playing soccer with his friends. But it's 1980 in Vietnam, and he's aware that the Communist army could force him and his brother into the military at any moment. He's already had friends disappear to escape this fate. His parents buy him and his brother a means of escape on a ferry, but the ferryman charges more at the last minute, and only Thọ's brother is able to leave with the ferry. Thọ flees another way, but his journey is fraught with danger. This is a compelling refugee story.
Alebrijes by Donna Barba Higuera (October 3; Levine Querido)
Thirteen-year-old Leandro and his younger sister Gabi live in a future dystopian California ravaged by climate change and other disasters. As Spanish speakers descended from farmers, he and his sister are at the bottom of a social caste system. Leandro has always dreamed of leaving the city and exploring, but there is little hope of that ever happening. When his sister is caught stealing, Leandro takes the blame for her and is exiled by having his consciousness downloaded into a hummingbird drone. Now, he can explore the world, but he's left his sister in danger. This imaginative and beautifully rendered dystopian is by the author of the award-winning middle grade The Last Cuentista.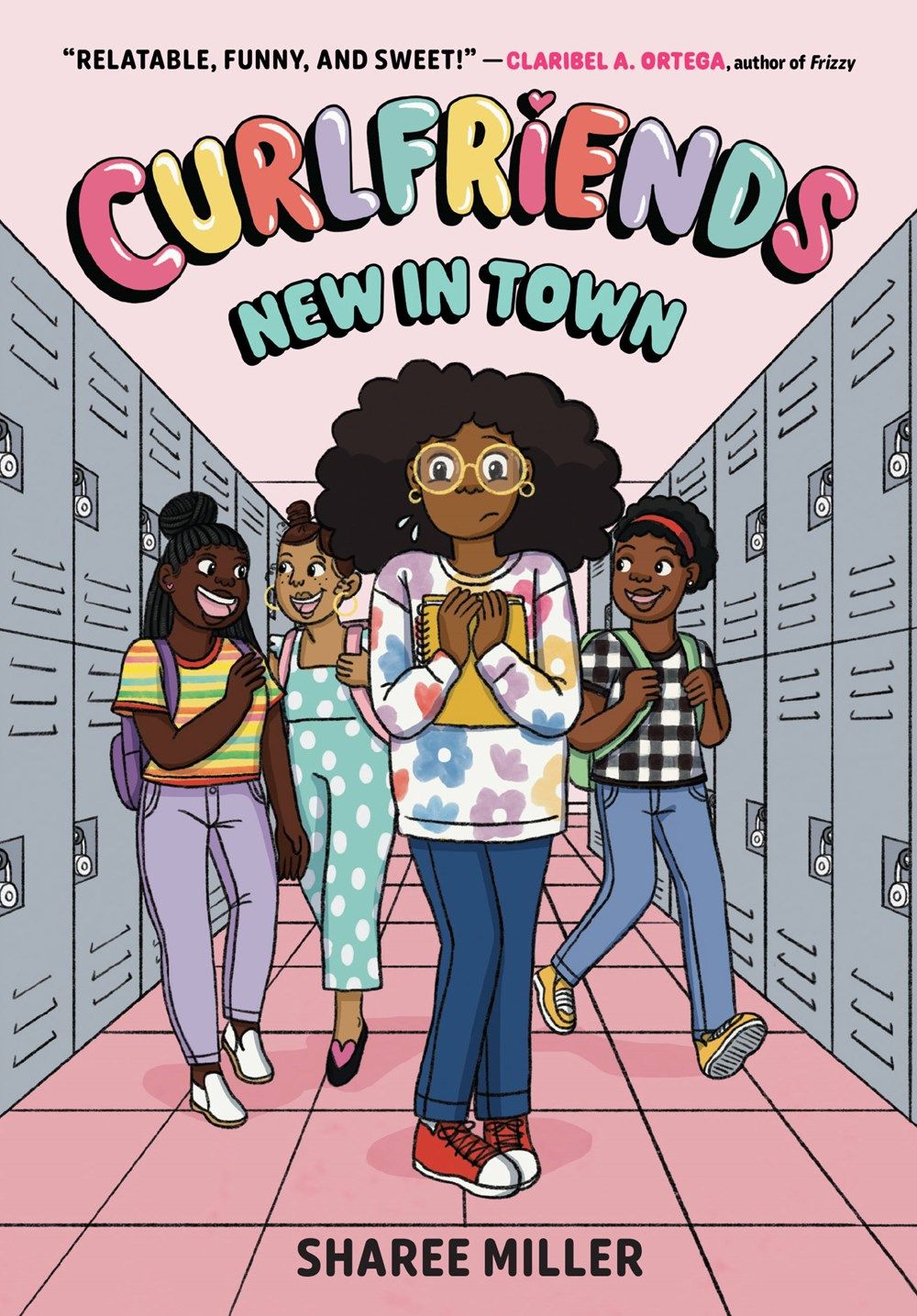 Curlfriends: New in Town by Sharee Miller (October 10; Little, Brown Ink)
This charming and very relatable middle grade novel explores middle-school friendships and personal identity. Charlie's father has just retired from the military, and she's spent most of her life moving, constantly having to start over in a new place and make new friends. She's never been very good at making friends, but now that she and her family have finally settled down and bought a house, she's determined to make a good impression. Things get off to a rocky start when the janitor accidentally spills water over her as he cleans the window on Charlie's first day of school. Another girl comes to her rescue, and Charlie is invited into her friend group of three other Black girls with curly hair. However, Charlie isn't so sure about one of them, and she mistakenly thinks if she pretends to like everything they do, they'll like her better. This plan definitely backfires.
Remember Us by Jacqueline Woodson (October 10; Nancy Paulsen Books)
This impressive historical middle grade novel by Jacqueline Woodson takes place in 1970s Brooklyn, New York, in an area known as Bushwick. It's summer, and Sage's firefighter father has recently died. Sage's mother is writing a book, and Sage roams the neighborhood, befriending a new boy named Freddy. Sage loves her neighborhood, but a string of fires leads the media to dub it the Matchbox, and her mother decides they'll need to move. Meanwhile, Sage struggles with local bullies who don't think girls should be playing basketball. She also doesn't want to leave her community, her home, even though she can see that the neighborhood is changing.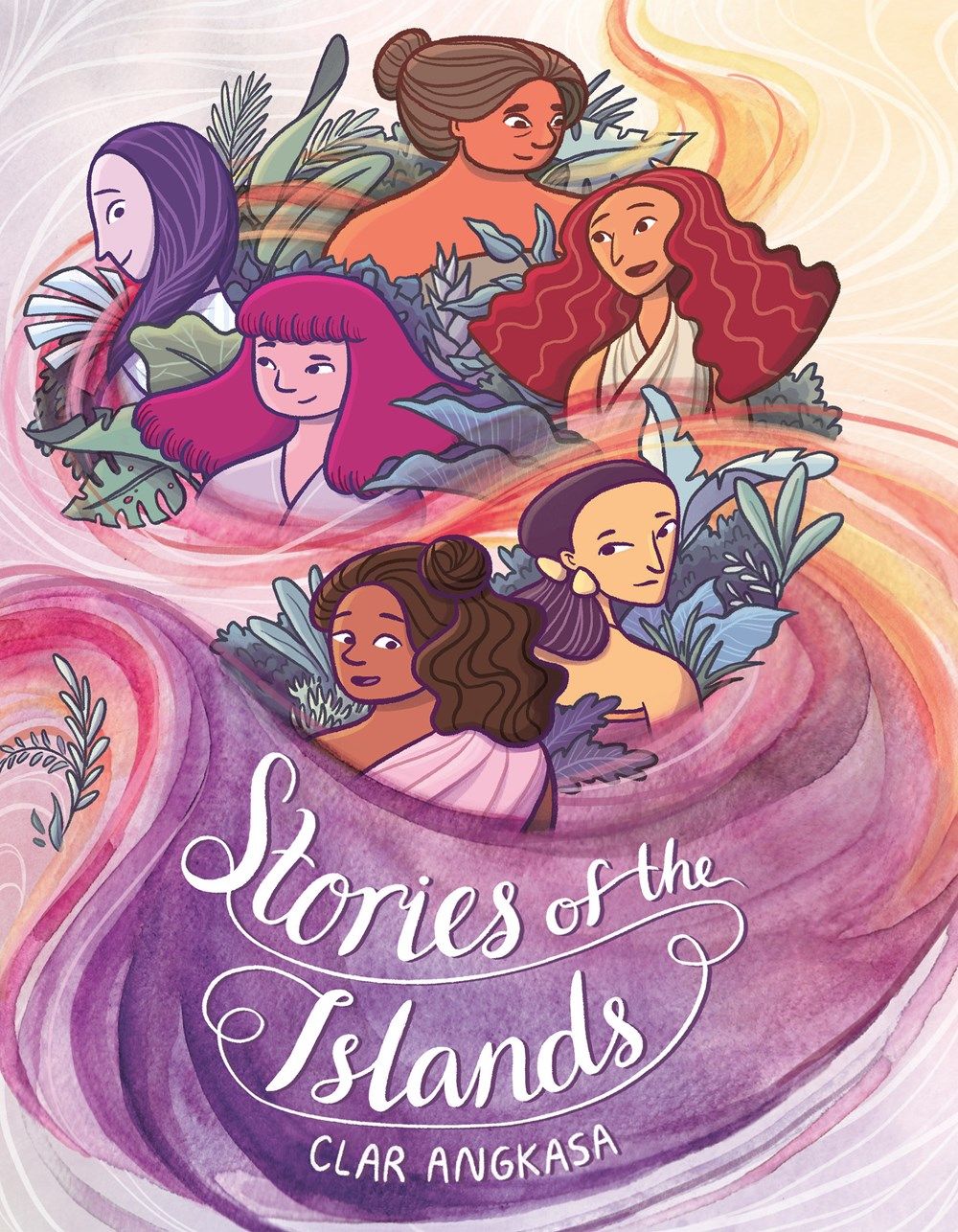 Stories of the Islands by Clar Angkasa (October 31; Holiday House)
This is a lovely collection of three Indonesian fairytale retellings in a graphic novel format based on stories the author heard as a child. Clar retells them in a traditional way but with a feminist focus. In one, a selfish princess's sister curses her to live life as a snail, but when a fisherwoman rescues her, she gains a different perspective on life. In another story, two sisters take solace in the scarves their mother made them before she died. But they know they'll need to eventually escape their abusive father if they can find the courage to do so. In the last story, an older woman unexpectedly becomes a mother after a giant visits her and gives her a seed. She loves her daughter but knows the giant will be back for her one day. These gorgeous stories show how nonromantic love can change us, keep us safe, and empower us. I would love to read even more retellings like this!
If you'd like to read about more new children's book releases beyond these October children's book releases, check out my list of July children's book releases, August children's book releases, and September children's book releases. I review more in Book Riot's The Kids Are All Right newsletter as well.
You can find a full list of new releases in the magical New Release Index, carefully curated by your favorite Book Riot editors, organized by genre and release date.